What Are The Digital Marketing Trends For 2021?
---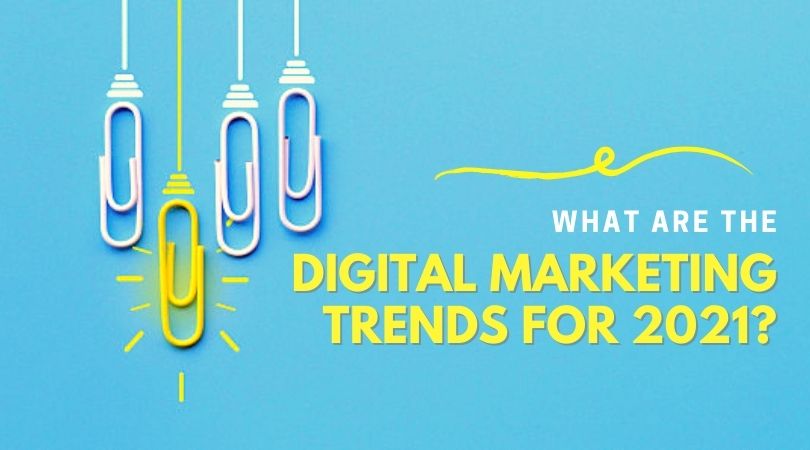 Technology is taking over every industry not only in developed countries but also in a country like India. With about 450 million internet users in India, one cannot ignore the importance of Digital Marketing services. From designing banners to designing a website, digital marketing has always worked for generating brand awareness.
With changing time, the only change we can see is digital marketing strategies. Earlier, it was more focused on a traditional marketing method, which transformed into modern marketing techniques. Now you must be thinking Why is digital marketing important?
Digital marketing is the cluster of services which is a proper combination delivers the best results at minimum cost. With technological development, marketing methods have changed tremendously. Another reason for the shift in digital marketing is; it is more result-oriented marketing method.
Whether you opt for, social media marketing, content marketing or SEO, the main focus should always be your target audience. You should focus on providing better customer experience instead of only profit-making.
Here are some of the fundamentals of Digital Marketing that you should not avoid. It is correctly said digital marketing can either make you or break you. DotCreative is here to discuss the top 14 digital marketing trends to follow in 2021 to grow your brand.
Artificial intelligence: Artificial intelligence is the process where machines, instead of humans, do any particular work. It is more cost-effective and equally efficient. Microsoft and uber uses knightscope k5 robots to patrol large parking areas to prevent any untoward activity. It is comparatively less costly as compared to guards. With the growing importance, you should implement artificial intelligence in your daily needs. Digital marketers should especially follow artificial intelligence because Google also works on the method of artificial intelligence for your website rank.
Voice Search optimization: With around 88% of the total web searches, users use mobile phones to search. So, if you want to succeed in 2021, you should have a website that is optimized with voice search. It means when a visitor searches your website using the voice command, it can find you. Follow these 7 steps to optimize your website for voice search to stand a better chance and draw traffic. Imagine having a website that your target audience can find using voice command where your competitors might lag. It gives you an extra point to improve your sales ratio.
Personalization: It is time again proved through surveys that users like personalized content. Recently Cadbury ran a personalized campaign on Facebook for the dairy milk flavours that are picked most. It gained 65% click-through rate and a 33% conversion rate. The survey above clearly depicts the love of the users for personalization. Focus on using some personalized content on your website. You can try using personalized email, products, images, videos, etc. to gain more user attention and engagements.
Influencer marketing: When we hear something about a brand from the person we admire, we somehow start liking the brand. The process of getting some renowned and famous persons to attract large groups is called influencer marketing. For instance- whenever we see Lux soap, the first thing that comes to our mind is Kareena Kapoor Khan. Influencer marketing can involve celebrities, but it generally takes Instagram or Youtube celebrities to target the relevant audience. To survive the competition in 2021, you should try influencer marketing to gain healthy traffic and conversion rates. It is because of the audience's trust-related with the face involved in marketing.
Social Media Marketing: After Reliance Jio introduced affordable 4G mobile data, the use of social media has grown significantly. Being a business owner, you will find your potential customers on Social media. You should have a strong social media strategy to promote your brand here and target the relevant audience. The most common question- Does Marketing on Social media works? Yes, when you know the best practices to get your targeted audience and convert them into your customers. You have to spend real time with your audience and convince them. They should know the benefits they can get from you instead of your competitors. Though it is a time-consuming process, the outcome is fruitful. You need to focus on social media marketing and connect with your audience on social media.
Content Marketing: Content is always the king of how good your web design is; it does not matter it your content is not good. Content does not mean what you write, but it also includes pictures, videos, GIFs or any other visuals that provide information in a specific way. You need to wisely choose the content you want to use on your website. Written content improves the SEO of the website, which ultimately improves your search engine rankings. Here are some of the trends to know in SEO and content marketing. You must use natural language, which is simple and easy to understand with proper keywords implementation. In 2021, you should focus on content marketing, because in the end, it is the content that delivers all the information related to your business. You must always frame unique, accessible and engaging content to better results and more traffic involvement.
Use of Chatbots: Chatbots continue to maintain their position in 2021 as well. According to a survey by 2022, the businesses will save $8 billion every year. Chatbots are AI technology of instant messaging. While using chatbots, the audience gets every answer within seconds. Secondly, chatting with chatbots is far more convenient because they are 24/7 available and they give prompt response without any biasedness. Try using a chatbot for your website also, because they never lose patience. Ask any question chatbots reply to them very politely because at the end they are machines and not humans.
Video Marketing: Frankly speaking, the persons who want to read are significantly less; instead, they opt for videos that explain everything in details. So you must use video content in your website and social media pages to tell your audience about your brand. Video marketing is by far the best way to share information about any product. It is seen that about 70% of consumers have shared a brand's video, which is a significant number to get more traffic. Not only in 2021, but video marketing will moreover be the best marketing platform for the subsequent 5-10 years You cannot ignore the fact entertainment is a preferable option to attract an audience. Use some creative and unique ways to make your video content and engage the audience.
Push Notification: Push notifications have grown immensely in 2020, with around 85% online stores using them. Push notifications are a method where if you subscribe to any newsletter, you will get messages for any update. Suppose you have subscribed to a newsletter from DotCreative, you will get a notification every time, DotCreative posts blog on its site. It is an excellent way for marketers to get regular traffic for every update you make into your website. It can be for the update in your products and services as well.
Shoppable posts: You should try to post the shoppable images. For instance, you have a jewellery shop, and you should post pictures of bangles, necklace, earrings etc.; instead of the photos of a shop or the staffs. When you post the products that can be purchased, it creates more user engagement for genuine customers who want to shop.
Omnichannel marketing: Instead of focusing on one single marketing networking, you should try different marketing methods at the same time. In 2021, there is a great competition to win the race, so when you choose a single marketing strategy, you are sure to lose because your competitors are using various marketing options to convince customers.
Augmented reality: PokemonGo, the most famous game in early 2019, is what augmented reality means. You can use this in your business as well. For example, see Lenskart uses augmented reality when it shows the images of you with the glass you chose. It makes it easier to decide to purchase the spectacles that suit your face.
Smart bidding: Google Ads smart bidding is a great way to improve your Google rank. When you use smart bid, you can bid for a specific and make it rank on Google's first page. You will have to pay that bid amount for every click on your website with that advertisement. There comes confusion, SEO v/s Google Ads- The better Marketing option? Using SEO services is suitable for the long run, but we are here talking about the short term. When you use Google Ads, you have more chances to rank in short time duration.
Website security: Security is an important aspect that the users keep in mind at every cost. If your website is not secured, the visitor's personal information shared with you can be used by a third party. Google has also made it mandatory for an SSL certificate for your website. Understand the Importance of an SSL certificate for an online business and accordingly update your website with the SSL certificate. You must be thinking about how to differentiate if your website is secured or not. If your website is HTTP, then your website is not secured, a secured website has HTTPS.
Getting all these points for a business owner is quite complicated. You should contact a digital marketing agency who will increase the website traffic, improve user experience, and ultimately conversion rates.
It depends on your business niche that what strategy you need to follow. If you dream of growing your brand in 2021, you should immediately boost your digital marketing tactics for better brand engagement.
We are the top digital marketing agency in Kolkata, who believes in growing your brand using our techniques. For any further queries, you can contact us on 7980358244 or email us at [email protected].