SEO V/s Google Ads- The Better Marketing Option?
---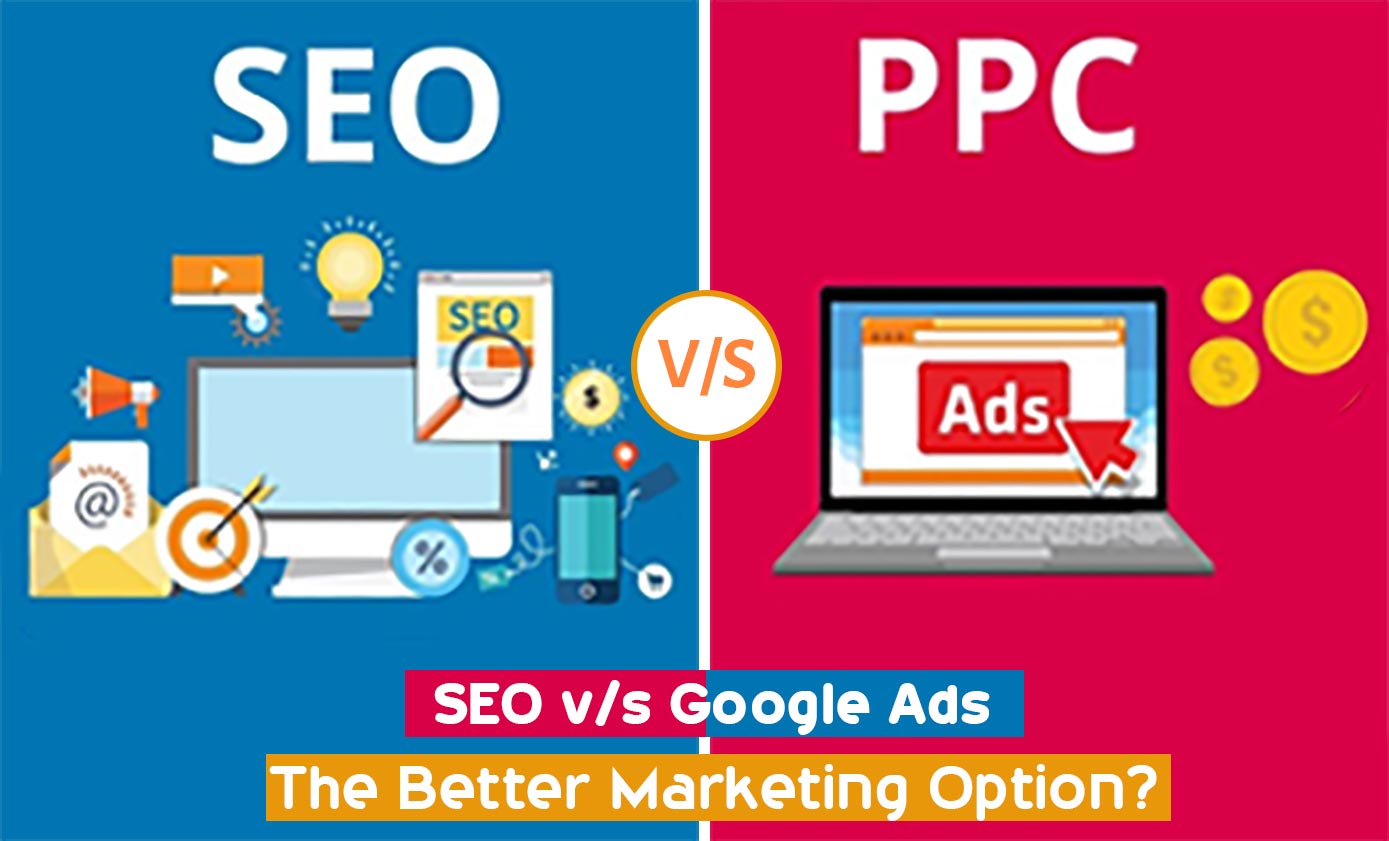 Companies and shops that have created a website to showcase their products or services would surely like that many potential customers could locate it. But they should find a means for their site to land along with search results.
How to rank on Google's first page?
The website owners should carefully plan a layout in which they can rank on the Google first page in the earliest time possible with the dedicated budget they want to invest.
To this, there are two methods firstly, one can rank through Organic search results, where Google will automatically choose your website on a certain rank. Secondly, through paid campaigns, you need to pay a certain amount to be in the top three positions.
Let us read the advantages and disadvantages of both methods.
Organic search results or SEO(Search engine optimization)
What is SEO?
SEO or Search engine optimization is a process where, through keyword research, Google will find you to rank on it. This is a time-consuming process, but once you reach on the top, it becomes difficult for your competitors to bring you down.
Though folks can discover organic search results only below paid ads, if businesses like to rank among the top in search engine results, they have to optimize their website. You being the business owner, must focus on getting the service from a professional SEO provider. Here are some tips for a reliable SEO company.
Google's first and foremost aim is to direct users to the most relevant, high-quality engaging content about the topic they are looking for. So you must have a website with properly stuffed keywords that are unique and engaging. For further details, read Great content provides better SEO.
Advantage
SEO lets the website page visible in search results without any costs. The SEO professional will plan a strategy and accordingly work. Their efforts will produce results that will last for such a long time.
Here are six benefits of SEO for a better marketing strategy.
Disadvantage
Search engine optimization (SEO) is a long, constant activity, and certainly, competition is working hard too. More often than not, the results of the efforts require time. Furthermore, if they want to maintain or improve their rank in search results, they need to optimize frequently. They ought to allocate part of their budget in hiring an expert's services to rank better.
Google Paid Ads - Google AdWords
What is Google paid Ads?
Formerly known as Google AdWords, it helps your website rank on Google through PPC(pay per click).
Pay-per-click (PPC) is paid ads on Google that can be seen at the first three positions, sometimes on the right side and at times in the bottom. Google Ads help businesses by letting them create a campaign. Where the website owners will pay Google to maintain their position. On every click on their website through paid campaigns, they will have to pay a certain amount to Google.
Though this is an easy process to be on the first three positions, it is highly costly. So it is not recommended for a long time.
Advantage
Paid advertising gets instant relevant results. Ads for potential clients will instantly be displayed. Contrary to the traditional ads on websites or TV, companies only pay for clients that engage like when they click on the advertisements and not for opinions. When you advertise a website on Google, businesses reach out to audiences trying to find the products/services they offer.
Disadvantage
When the paid campaigns are run for very general keywords, PPC can cost a lot. For this reason, they need to optimize the ads properly. In addition, once the advertising campaign fails or lacks the budget. All of a sudden, the advertisements stop displaying, and these outcomes to losing valuable visitors.
The Best Marketing method
After reading both SEO and Google Ads in detail, it is totally upon you how you want to rank on Google.
If you ask us to choose one for you, we will say, comparing both is like comparing apples and oranges. Both have their own benefits. We can't say that SEO can lead you to the top, nor the paid search can keep you on the top for very long.
It's ideal to combine both approaches. To optimize a site, a suitable manner from the start and prime is with articles. It is suitable for creating ads on Google in the beginning. To draw more visitors or possible clients to a website, you can opt to use Google AdWords in the initial stage. Alongside keep working on improving SEO. Once you have got a stable SEO, you can run Ads on Google on intervals. This is the best you can do to reach on the top and maintain your position there in the shortest time possible.
Now comes the question, can Google Ad and SEO work simultaneously?
When used properly, both can work well together. The business that works efficiently and tracks their rankings on organic keywords can strategically run paid Ads for the keywords, where they do not rank organically. In this process, they can rank on Google first page either organically or by paid means.
For example- for a jewelry website, the owner wants keywords like jewelry, necklace, ring, bangles pendant to rank. But organically, the website is ranking on jewelry, ring, and pendant. So, it can run a paid campaign for the keywords necklace and bangles. This way, the website will rank on all the targeted keywords. It is hence getting greater lead generation and sales conversion.
DotCreative, a top digital marketing company, suggests you to run the paid campaigns and work on SEO to emerge as the best company in your field in the long run. Both methods have their own merits and demerits, but it provides a phenomenal result when merged together. SEO and Google Ads work together to give you success in the earliest time. For any more queries, feel free to contact us and get all your doubts cleared.