Top Digital Marketing Strategies Followed By Big Brands
---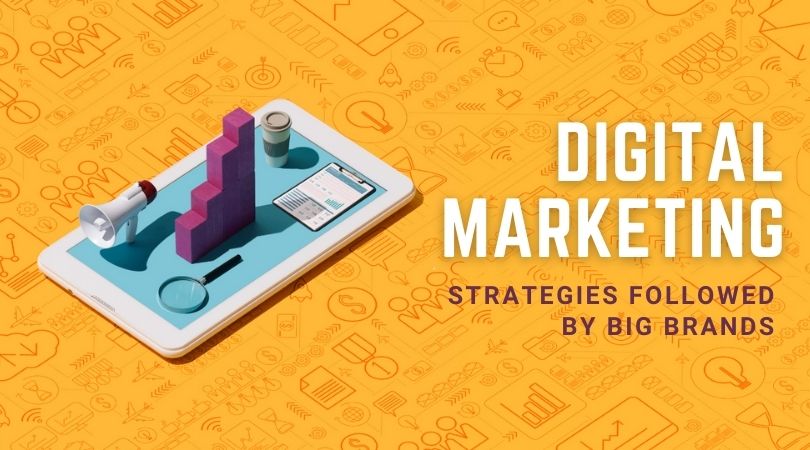 In this world of technology, the internet has forever changed the marketing landscape. Consumers have been given more choices and greater control. It results in marketers constantly refining their marketing strategies. The right digital marketing strategies can help organizations of all sizes become successful.
Digital Marketing offers a wide range of services that every business owner can use depending on the budget and rock the online business. Though every business is different and requires a customized digital marketing strategy here, we have given a standard strategy that every business must have.
There is a common misconception that digital marketing strategies are for big businesses of top brands. This is far from the truth as the correct digital marketing strategies can help Micro, Small and Medium-sized Enterprises [MSMEs] get a higher return rate with a low cost of input.
In this blog, the team of the best digital marketing company in Kolkata will describe the marketing strategies that will benefit not only big businesses but also small brands.
Some common digital marketing strategies that MSMEs can use to be successful are detailed below:-
Own a website of your own- Making a website is not a costly affair. Explain about your enterprise and describe all your products. It will provide a greater hand to customers to reach you. When you own a website, you have a wider markt range, and you can target customers from around the world. You will no longer be dependent on the customers to visit your shop. You can easily get it done through your website.
Create your own YouTube channel- Creating a YouTube channel does not cost you anything. You can upload videos about the products, which benefit and strengthen your business. With over 2 billion active users, YouTube is one of the biggest video marketing platforms to tell your potential audience about your business, products or services. You cannot forget to have a YouTube channel as you might lose hefty customers if you leave YouTube to target customers.
Online advertising- One of your steps should be to spend more of your marketing budget on online ads. Youngsters are prone to the internet, and hence many persons can reach you through online ads. You can advertise your products online for faster customer reach. It will provide you lead generation in no time, thus making your business grow faster.
Search Engine Optimization (SEO)- This increases your brand's online visibility through successful search marketing. The more persons will see, the more persons will be interested in your business. Now, when you have a website, you need to compete with your competitors to get the top position and increase your sale to get it on the top of search results. The cost-effective way to do it is through SEO.
Online Blogging- Write content and provide information about your company and its products. Persons love to read about new products and hence making it a brilliant marketing strategy. In 2021 blogging has become very common, but you need to focus on creating unique quality content that your audience will engage to.
Management of Social Media Account- Social media has become a significant interaction source between consumers and their favourite brands. Use this medium to have a conversation with customers and clear their queries. If you do not have social media accounts, make one each for Facebook, Instagram, Twitter, Linked In and Whatsapp with the same user ID.
Conclusion:- If any MSMEs want to become successful, it's high time to upgrade their marketing strategies to digital marketing strategies and expand their visibility in the market. The Digital Marketing Strategies discussed above, if implemented properly, will surely benefit the MSMEs with cost-effective methods, thereby leading to success and overall growth.
DotCreative is the leading digital marketing company in Kolkata that you can connect to get customized digital marketing strategy and implementation at affordable budgets. For any further assistance, you can contact us on 7980358244 or email us at [email protected].