12 Web Design Trends For 2021 | Web Design Company
---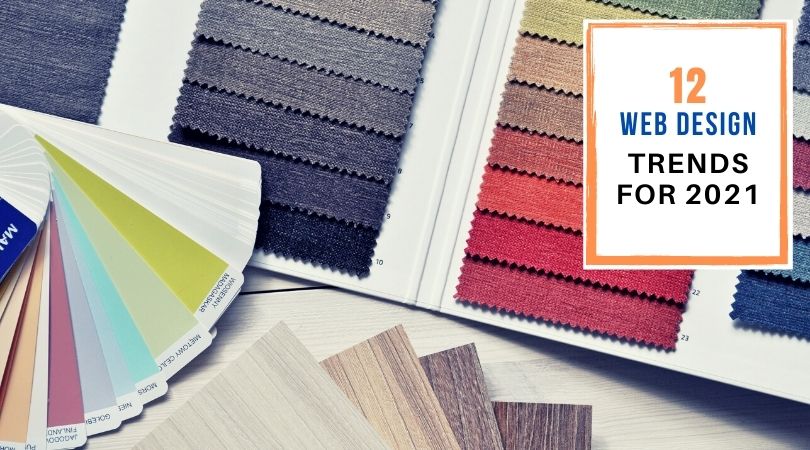 If you are new to the world of technology, it can be complicated to analyze where to start from, which field to choose and earn a good income. It is time you opt for a google search and ask your relatives about the same. The most common word you hear is 'Web Design'.
What is web design?
It not only related to designing a website but designing a high-quality functional website that must be useful to the client of the designer. By saying high-quality website, we mean a website that is:
SEO friendly
Responsive
Browser optimized
Social media integrated
Properly used Call-to-action buttons
load speed
When you properly optimize all the mentioned qualities, then we conclude a website to be a good one. Thus being a web designer demands both the artistic and logical sides of your brain. Web design is a multifaceted career with many possibilities to niche down and precisely discover what you love.
But what experiences do you need if you desire to become a web designer? In this blog, we'll cover the essential expertise you need to know to be a web designer, in addition to some extra talent that will help set you apart.
To become a web designer, you need to focus on:
Visual design and UX
Choose the right design software
Work on programming languages HTML, CSS, and Javascript
Needs to have sound knowledge of SEO and Social media
Keep updated with the latest trends
Trends are just the top strings that you need to follow to keep ruling the online world. Whether you wish to embrace or oppose them, your creative choices must follow these trends.
We provide context. Because what's discovery if it's not a break from the normal? And what're the common but last year's trends?
So, I just sat down with DotCreative's design team to follow up on what can be the design trends in 2021.
In this blog, we ought to ease your difficulty and point out the latest trends you should not avoid keeping yourselves updated.
Bold Typography: More and more organizations are adapting to big, bold typography to design their homepages. This style works great when the remaining page is kept simple and precise. You mainly need to highlight a single portion of the home page to catch the viewer's attention to that particular point.
Cinemagraphs: Cinemagraphs are high-quality videos or GIFs that run on a steady, constant loop, have become a successful way to add action and visual engagement to otherwise static pages. Full-screen loops create instant attention on a contrarily plain page.
Saturated Gradients: Multicoloured gradients were throughout in 2017, and they weren't going anywhere in 2020. But presently, using more colors is not preferable; instead, use a two-tone effect to look sharp and smooth, with the full-screen, standard look homepage.
Illustration: Many organizations are switching to illustrators and graphic designers to produce significant pictures for the websites. After years ruled by low design and straight pages, attaching illustrated techniques to your site is a great way to include a bit of style.
Mixing Horizontal and Vertical Text: Relieving text from its standard horizontal alignment and putting it vertically on a page adds some delightful dimension. Mixing horizontal and vertical text alignments on an otherwise elementary page is a great way to add life to a website.
Overlapping Text and Images: Text that somewhat overlaps accompanying pictures has become a favorite effect for blogs and portfolios. You can make your overlapping text stand out with a colorful underline underneath each title. Following this way can lead to an enormous style to make your website look catchy.
Organic Shapes: Gone are the days of stern grid arrangements and definite edges. 2021 will be all about arched lines and easy, structural shapes. The borderline, cartoonish background adds a big hit of personality and bright color to the simple design.
Hand-Drawn Fonts: Customized, hand-drawn fonts or calligraphic fonts have begun cropping up more and more in current months and for a good purpose. These unusual typefaces add quality and charm to help designers produce a different appearance and feel without a total overhaul. A hand-drawn font presents a playful anchor for the homepage.
3-dimensional illustration: Just when you believed the future was smooth, a new-old-fashioned illustration structure: 3D came into existence. Not satisfied with the cut-out design, artists are viewing to add gravity, reality, and organic shapes to graphics created to blur the edges between the digital and physical worlds.
Massive, screen-dominating text: Copywriters and different content professionals have a lengthy argument that content should always get the first position in the design process. After all, writing for the web is still publishing. And whether we've eventually succeeded to influence the world the value of content, or web designers have just started to get really engrossed in letterforms, we're starting to see websites that genuinely give a textual content center stage.
Animation: To adhere with Dot to Dot for a minute, it's also deserving calling out an emerging trend around making the utmost of the leading tool of human-computer interaction with the simple cursor. Because it plays such a prominent role in the dynamics of human communication with digital terms, many of us are unwilling to mess with the cursor.
Core Web Vitals: With Google changing the latest algorithms, Core web vitals came into existence. You need to have a good score as per core web vitals to keep your website in a good category. Make your web design score above 90 in all the four given categories, SEO, Accessibility, performance, best practices.
After reading the complete blog, you must have got some idea for the latest trends you need to keep yourself updated. For any further queries, contact DotCreative or call us on 7980358244 or email us on [email protected].