How Social Media Marketing Differs From Digital Marketing?
---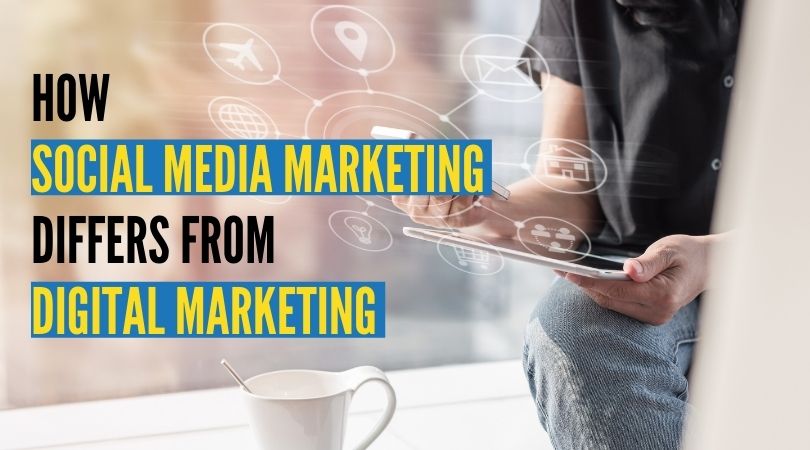 Marketing is a process to understand the customer's needs and satisfying their demand profitably. Dictionary meaning of marketing is "the action of promoting products and services to make them profitable."
<>Even though social media marketing and digital marketing are two different concepts, yet they are used interchangeably. Often the companies working as social media marketers terms it digital marketing.
Even for a regular internet user, digital marketing can be a confusing concept. Today, DotCreative is here with this important topic. Let us read this blog and understand the difference between digital marketing and social media marketing.
What actually is digital marketing?
Digital marketing is the process of promoting products or services with the digital channel to make them profitable. Apart from the general meaning, the technical concept is much more complicated. It is not only about profit, but it is much more than that. The business who tries digital marketing wants to accomplish any of the following goals:
Growing your profit or conversion rates- Using any digital platform, to increase the business profit or turnover. The main aim of the business owner is to raise the conversion rates and grow the business.
Increasing brand awareness- The owner here initially wants to grow its brand awareness. He wants people to recognize its brand. Following specific methods, he targets to make it's business famous.
Promote your business, product, or service- The main aim is to promote the products or services of the company. The owner here promotes the products and services in particular to reach more audiences.
Implement the marketing strategies to a target audience- This method follows the use of inbound marketing strategies. So the customers can reach your business conveniently.
Boosting brand visibility- When you are visible to your potential customers, you will get sales ultimately. So, aim at promoting your brand visibility, to get more audience reach.
Improve Google ranking- Google ranking is an essential factor to boost your sales. The customers will search for you using certain keywords. If Google feels you are relevant to their search, your brand will rank on the first page.
For small business owners, it becomes difficult to promote the brand using traditional marketing. So they use digital media to reach potential customers with the minimum budget investment. It is the most trending marketing method adopted these days.
Using this method, the business can target more customers in less time duration.
Reasons to choose Digital marketing:
Here are the points to prove why digital marketing is important than traditional marketing.
Cost-effective- Following traditional marketing is a tedious and expensive method. You have to print the banners and posters, and then you have to search for a place to advertise them. This is a costly method. So why not to choose Digital marketing, which is budget-friendly and easy to handle.
Result-driven- When you follow traditional marketing, you cannot predict and target your relevant audience. It is not in your hands to see who can view your advertisement. But when you choose digital marketing, You have more chances to get result driven benefits. You can study the business niche, and with proper digital marketing strategy, you can excel.
Growth report - Getting a growth report is very difficult in traditional marketing. You have to ask your customers personally, visiting the stores, about how they have searched for you. Following this way you can annoy your customers. On the other hand, you can quickly generate your growth report when you use digital marketing.
Modern marketing- Sitting at home, you can efficiently market your products to target the customers who are genuinely interested in your business niche. You can also retarget the customers who have already shown interest in your business, which is not possible in traditional marketing.
What are the different digital marketing channels used for marketing?
Anything digital used for marketing purpose comes under this category. Basically, there can be two marketing channels you can follow.
Offline marketing- It prevails from significantly earlier. Even before the internet came into existence, this marketing method was already in use. Here we use radios, television or any other offline digital medium for advertising the product. Offline marketing is now a part of traditional marketing.
Online marketing- With the introduction of the internet, online marketing took place. Here the digital marketers use the internet for marketing the products or services.
Nowadays, you can get more users online instead of offline means such as television or radios. So the trend shifted towards online marketing. Go through the tips for digital marketers to follow in 2020.
Online marketing is a cluster of different digital marketing services, which we use after preparing a digital marketing plan. If you use only a single digital marketing service for your company, you cannot term it as digital marketing. Instead, call it by the name of the particular service you take.
For instance,- You have a tourism business, and you are just promoting your business on Google using SEO. So you need to term the promotion as an SEO service instead of digital marketing. But if you promote your business using SEO and email marketing, you can now term it as a digital marketing service.
Tools for Digital marketing-
Being a digital marketing company, we always aim to keep our client's business at par or still ahead of its competitors. In this competitive world, staying visible online is a difficult task. We need to draw different strategies to keep or clients ahead of its competitors.
Here are certain tools that we use to plan the strategy to boost our clients business:
Web design and development
Content writing
Affiliate marketing
Search engine optimization (SEO)
Pay per click(PPC)
Social media marketing
email marketing
Video marketing
Marketing automation
What is Social media marketing?
Social media marketing is one element of digital marketing. Using various social networks like Facebook, Instagram, Twitter, etc. business is promoted. Typically, it involves engagement with your targeted audience in any way. It can be through a tweet, a post, a video update or anything else to gain influence of the customers.
Most of the time, social media marketing works great for business, but sometimes it cannot get the desired leads. So we recommend not to use social media marketing separately. Instead, try using social media marketing with some other digital marketing service to get better and fast results. Does marketing on Social media works?
Reasons to choose Social media marketing-
Fast in spreading the message- It used by a vast audience, which makes it easy in spreading your message very rapidly. There is no other way to reach your customers, or I say potential customers other than social media. You, yourself can communicate with them personally and clear their queries actually to get lead generation and ultimately sales conversion.
Good for SEO -We cannot say that social media marketing directly affects SEO. But with our experience, we can say that there are many signs to prove it right. Social media management impacts SEO in a good way. The two most used search engines Google and Bing affect their ranking score based on your social media indulgence.
Trending -Social media is the most used entertainment platform these days. Instead of television, audiences spend their leisure time on social media. Grabbing this opportunity, business owners can use this platform in marketing your products and services. In case if they like your business, they will make future endeavours with your brand.
Bridges communication gap between you and your customers -Social network is the best place to communicate with your audience and know what they are actually looking for. Get their reviews about their experience and accordingly upgrade your business. As a business owner, you can analyze the statistics of positive and negative feedback and improve your products and services.
Which one is more suitable, Digital marketing or social media marketing?
If you still consider which one is more beneficial? Let us recall for you; Social media marketing is just one major component of digital marketing. You must not need to follow all the digital marketing services to promote your business.
Both can bring something good for your business, depending on your business niche. You need to properly study the details about the type of audience and decide which one is the best for you. Both the services are not comparable as they provide the best results in their respective fields when used strategically.
Difference between Digital marketing and social media marketing:
After reading the full blog. We can note down some of the primary and important differences between digital marketing and social media marketing.
Digital marketing is a broader concept with many services being a part of it. In comparison, Social media marketing is just a part of Digital marketing.
Digital marketing came into existence decades ago. On the other hand, Social media marketing is a newer concept that came into existence after the internet was launched.
Digital marketing focuses on generating sales. With all the services, its main aim is to boost turnover. Social media marketing generally targets traffic and increases customer engagement.
Digital marketing not only relies on internet platforms. But can operate using televisions, radios, and other online and offline media. Whereas, social media marketing works only on social platforms like Facebook, Linkedin, twitter, youtube, etc. These social media platforms need the internet to operate.
Digital marketing aims to provide the best content, including images, videos, templates, and written content. While social media marketing mainly focuses on photos and videos instead of texts.
In the long run, Digital marketing has more effective results, as it targets a more broad audience at all locations. Social media marketing targets users on social media, which sometimes decreases its efficacy.
Digital marketing can work on a timely update of the content that we need to update our content at regular intervals. Whereas Social media marketing mainly operates on content strategy, so you need to update your posts on social media more often.
DotCreative is the best digital marketing agency in Kolkata. We are happy to show our clients the mirror of truth. Digital marketing is a vast field, and you need a professional to guide you in this. We have a skilled and experienced team in each area to guide you correctly for a better customer journey.
You can go through some of the Commonly Asked Questions About Social Media Marketing. For contact details, you can call us on 7980358244 or email us at [email protected].