Common Questions About Social Media Marketing
---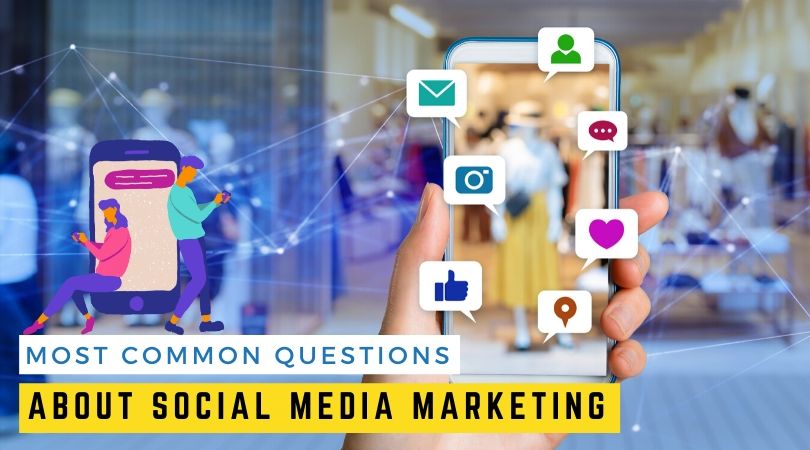 Social media has become an indispensable part of our daily routine. The first thing we do after getting up is to check our various social media accounts, and the last thing we do before sleeping is to scroll our social media pages. It is the same with many and many people around the globe. This is the main reason why a lot of business owner uses different platforms like Facebook, Instagram, Twitter, LinkedIn, to attract the audience to their business. You being a business owner can also do the same. The term used for advertising on social media is called Social Media Marketing.
You will need a social media manager who can attract and engage customers in your business. There are a lot of technicalities involved. A social media manager will run campaigns on the page, which will increase the page likes, followers, views, and ultimately lead generation.
Tips to optimize Facebook ad campaigns
While investing in anything new, there are a lot of questions that come into your mind. We being a top social media marketing company is here to answer those questions which you will need an answer before hiring us to get social media marketing done.
Here are the questions with the answers given to it.
1. Do I really need social media?
Yes, you obviously need a social media account. Let us explain the answer in detail.
The place to get the target audience- On social media, you get a lot of people who are genuinely interested in buying your product. You will get to reach more persons of every age group on social media than any television channel
It is a lot more than an advertisement- Social media is not only used for publicity, but also as entertainment and promotional media. You can advertise your products and services as well as promote your content on it with entertainment mode on. This feature engages a lot of people and converts them into your clients.
See the reviews here- Your customers on social media can review your products and services which will be read by different potential clients. In turn, they will also be attracted to your service, and you will get more customers.
Advantages of Facebook Marketing
There are a lot of reasons which prove it to be an integral part of your online business growth.
2. How to measure ROI in Social media?
Measuring ROI is one of the biggest frustrations for any business owner and also the most asked questions about Social media. The truth is you cannot measure every aspect of Social media promotion. We are here to make a proper layout to measure the ROI which you can.
Set your conversion goals- Your should firstly select a conversion goal that could be Making online purchases; clicking on a link to dealer website; Spending time on landing pages; Signing up for a newsletter, engaging in social media interactions.
Track conversions - After you have set up your goal, you have to keep track of the conversion. The more traffic you get, and then they convert into the customers is the real conversion for your business.
Assign monetary value- You should assign the monetary value based on the prediction of the lifetime income from the customer.
Collect information about the incoming traffic- With Google analytics compare the monetary value to the conversion rate.
Determine the cost per media- Finally, by adding extra costs like labours, miscellaneous, calculate the price you spend on the different social media platforms.
Top 4 Advantages Of Using Social Media Sites 2020
After following the above steps, the profit you get reduced by the cost is the ROI of the business.
3. Do I require a Social Media Marketing Manager?
Many business owners feel that why to pay just to post on social media which can be handled individually. We want to draw your attention to why you actually need a social media manager. They not only post on Social media but also manage your publishing calendar, schedule posts, create content, monitor reviews, create brand awareness, and review analytics to create a new plan for further marketing.
Any individual cannot do this, and you will surely need the professional for doing this. There is a lot of work which cannot be managed by you being a business owner. So it is better to hire a social media marketing manager who dedicatedly works to give you a better lead generation.
4. What should you post?
You should always post something related to your business that is easy to understand and interesting to read. This can be quickly done if you know your target audience.
For instance- If you are the owner of a jewellery business, you can post about the unique and latest designs; the love of woman about jewellery; the different stories of how you designed a piece of particular jewellery; etc. The main motto is, it should be exciting and engaging.
5. What social media platforms should I use?
We being a top social media marketing company suggest that you should always be present on Facebook, Twitter, LinkedIn and Google my business. Also, if you have a visually appealing product, you can opt for Instagram and Pinterest.>
6. How frequently should I post?
There is a particular limit which draws a good amount of traffic to your page as well as the website. If you post more than that, then the upward trend may flatten or even decline. The frequency is listed below:
Facebook- you should post daily, but if not, then three times a week is the best figure to get traffic.
Twitter- You should post at least two times a day.
LinkedIn- If posting daily is not possible, then you should obviously post on Alternate days.
Google my business- more posts leads you to a better listing on Google. So post more to have a good Google listing.
Pinterest- The more you post, the better the results are. You can post for 4-5 times in a single day.
Instagram- You should always post two times a day for better bead generation.
Blog- Two times a week is a sufficient quantity if the blogs posted are stuffed with the keywords and are SEO optimized.
7 ways to use Instagram video for business
7. Can I repost the same content on different social media?
Yes, you can repost the same content on different social media platforms. There are rarely the same followers on various social media. So posting the same content can increase your reach to the more extensive section of the people.
8. How to manage negative comments on Social media?
The first thing you can do is to block specific words from being published on your page. The second and the most important thing that you must do is to be polite. It is possible that a client is not satisfied with either your product or service. So you must be gentle in getting the feedback and improve your drawback so that you don't get the same complaints in the future.
Hope we have answered all the basic and commonly asked questions that might affect you in getting Social media marketing done. For any further questions, please feel free to contact us and get all your doubts cleared.