Why Is SEO Essential For Digital Marketing?
---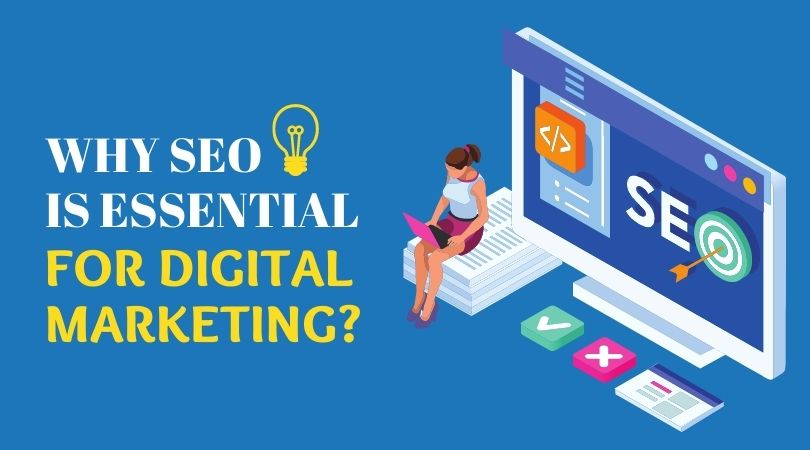 When we talk about Digital Marketing, we anticipate all the different channels wherewith the application of the internet; we carry out online marketing. Be it Social media marketing, email marketing, or Search engine optimization (SEO). Digital Marketing is itself an enormous terrain, which requires a robust digital marketing strategy to sell the products or services online.
We are the best digital marketing agency who works ample time to understand the latest marketing trends. With the growing demand for the internet, marketing trends have shifted from traditional marketing to digital marketing.
Traditional marketing includes different advertising methods through flex, hoarding, or television advertisements, but in the 21st century, nobody has time to follow traditional marketing techniques. When we are asked about Traditional marketing v/s digital marketing, we obviously suggest the second method.
Before we move onto SEO, go through the fundamentals of digital marketing and the importance of digital media to dominate online marketing. To have a strong marketing strategy, you must regularly modernize yourself and update about your business on social networks to get more engagements.
Every digital platform is imminent, but with the Google update of 2003, SEO has become an integral part of digital marketing. SEO is an abbreviated form of Search Engine Optimization where your website gets higher rankings on SERPs. Search engines are not humans, and they distinguish between websites based on keywords that the users search for. As an outcome, you get more online visibility, user traffic, conversion rates, and ROI.
Now, when we are discussing SEO, let us preeminently understand what actually SEO is? It is a marketing technique to increase your website traffic. It follows various strategies that lead to more visitors to your website, which progressively leads to more conversion rates and huge sales. Generally, SEO is of two types:
1.Organic SEO - Using specific keywords you can, you can improve your Google rankings. You need to do proper keyword research and then implement those keywords in your content and frame high-quality, unique content.
2.PPC - Pay-per-click is a google ads marketing method where you choose your keywords you want to rank on, and for every click you get on your site, you pay a certain amount to Google.
But when we are talking about SEO, we mainly mean organic SEO, where you can naturally rank on search engines without paying hefty amounts. PPC is a totally different line where you pay and your rank for that particular keyword. But organic SEO is about the efforts you put into ranking on a particular keyword. Organic SEO strategy includes:
1.On-page SEO - It is referred to as the techniques used to improve user experience and website visibility. It includes adding Meta titles, descriptions, keywords, anchor text, etc. to make your page optimized. Here you also need to take care of the responsiveness of the website.
2.Off-page SEO - It is all about link building and website promotion. You need to build links with other well-established sites on Google to improve trust in the eyes of Google. It will increase your domain authority, and you will stand a better chance to rank on different keywords.
What is the process that SEO follows?
Search engines are robots, and they do not have brains like humans. They operate on codes and have a different way of choosing a site. They are not text-driven but Instead, they complete several activities to produce search results. Crawling, Scanning, Indexing, measuring pertinence, and recovering.
We think that we used the keywords in a specific density, and we will rank. But that is not the case, and you need to have an adequately framed content with all the other elements in place to retain a decent chance to rank for those keywords.
The content plays a vital role, but here are some other elements that you need to follow while completing the process.
Website names and URLs
Page content
Meta tags
Characteristics of Link
Usability and accessibility
Page design
Here is the complete method that Google crawlers and spiders follow to display results when a user searches for a particular keyword.
Crawling- Every search engines have their software (in the case of Google it is google bots) which are used to crawl the webpage content. Sometimes these bots do not visit your site for a long time in that case you need to assure that all your pages are viewable to the spiders for them to crawl it. Images, password-protected pages, and JavaScripts are not crawlable, which will not let your page get displayed.
Indexing- After crawling the pages, spiders store the information in a massive database for future reference. Whenever a keyword is searched for in the search engine, they retrieve the result from the database. It is not possible for humans but is every second task for these search engines. Sometimes your content is not understandable, for that you need to optimize your content to improve rankings.
Search work- With every search request, these bots search for the possible matching phrases in the webpages and displays the most relevant results to provide a better customer journey to the visitors. More than a million pages have the same phrases stored in the database, but the results on SERPs are most relevant with the maximum terms or phrases matching the search query.
Algorithms- These parts inquire into the technical aspect where the keywords in the URLs, titles, meta descriptions, and other places to see the relevancy of the website to display on the SERPs. There are three types of algorithms: on-site, off-site, and whole-site algorithm. All have their own work to bring the best results on the top of the search results.
Retrieving- The end result will finally be displayed on the search engine result pages(SERPs).
After discussing the SEO in particular, let us consider the benefits of SEO.
Importance of SEO in Digital Marketing
The ranking factor is the chief reason why we need to focus on our SEO game. However, it is not so easy to achieve higher ranks, and you need to have a strong SEO strategy to rank on the search engines. Constant work on SEO will undoubtedly lead to better results over time. Here are some of the essential points you need to concentrate on.
A user trusts high ranking websites.
It boosts the marketing automation technique and gives you a fair chance to compete in this online market.
It provides a magnificent user experience for the visitors as when you follow SEO rules, and you have a good, responsive website that adapts as per the screen size.
It greatly assists in building brand awareness. When a user finds excellent content on top ranking sites, they sometimes share it on social networks such as Facebook, Instagram, Twitter, etc.
It brings more traffic to your website that will retain you in the competition. You give tough competition to your competitors when you follow SEO. It is because users trust high ranking websites, and it will help you grow your business.
SEO is pocket friendly than other digital marketing methods.
It helps in the collection of ROI. A proper SEO approach will ultimately lead you to grow your online business and have a higher return on income.
All in all, we can say that without SEO, Digital marketing is incomplete. In the world of the internet, you need to follow SEO tactics to improve your online business strategy. It can be rightly said that if digital marketing is the body, then SEO is its soul. Without a soul, a body is dead similarly without SEO, and digital marketing is dead.
Following SEO does not imply only to use keywords in your content. It is a perpetual process, where you need to update yourself with the latest trends regularly. You need to keep yourself updated with the changes that Google wants. Keywords trends change from time to time, so you need to update your content on a regular basis.
We never said that the following SEO is sufficient, and you do not require any other digital marketing techniques. You need to effectively draw a digital marketing strategy that will grow your business in short time duration.
To get professional digital marketing services you can contact DotCreative, the best digital marketing company in Kolkata. We have a professional team of SEO experts who will serve dedicatedly to grow your brand from zero to hero. Here are five tips to choose a reliable SEO company. You can contact us at in[email protected], or you can call or Whatsapp us on 7980358244.