6 Digital Marketing Tips For Marketers In 2020
---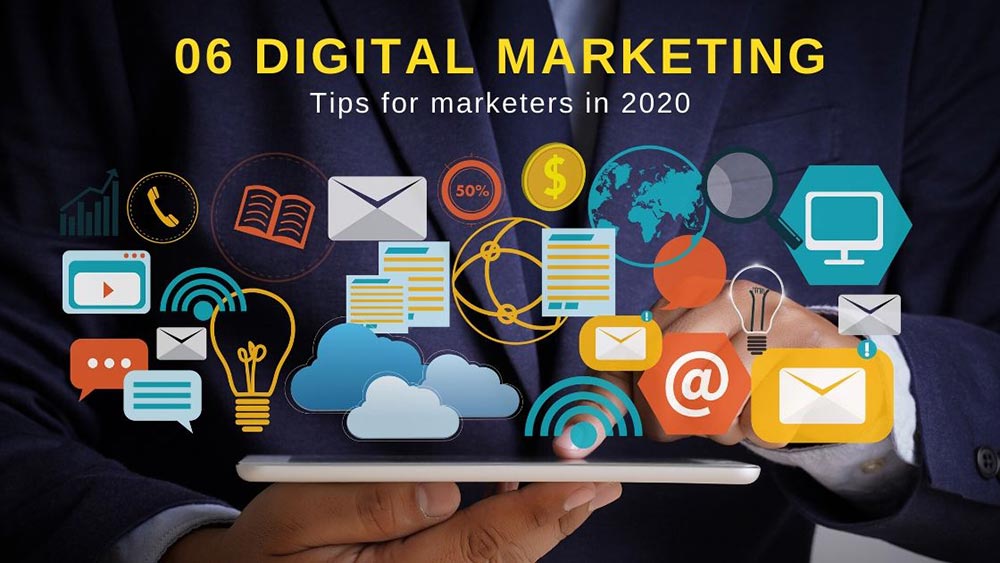 Digital marketing is a booming platform for online marketing. So if you are looking for some digital marketing and advertising tips, you are in the correct place. In this blog, we are going to discuss the six best digital marketing tips and tricks. Following these tips, you are most likely to enjoy fantastic results.
Before learning the importance of digital marketing tips, we should first understand the importance of digital marketing.

In the 21st century, all the persons rely more on online sales/purchase instead of door to door sales or store purchases. To be available 24/7, promote, and grow your business online, you should have proper knowledge of Digital Marketing.
To know more in details, read the blog Fundamentals of Digital Marketing.
Now let us learn the tips to follow and build a strong digital marketing strategy to attract customers and get the best results.
1. Optimize your Website for Voice Search
In accordance with predictions, half of the web searches will be based on the voice search attribute in 2020. Therefore, we recommend that you concentrate on this aspect of your digital advertising strategies. In other words, your company must be voice search optimized.
2. Benefit from Influencer Marketing
Currently, the fastest growing digital marketing is influencer advertising. The matter is that people often buy products advertised and promoted by their favorite celebrities. They are known as social media influencers.
Today, social media influencers are also entirely trustworthy in the eyes of their followers. For this reason, you can employ them for your influencer marketing campaigns. The good thing is you don't need to spend a massive amount of money on all these campaigns.
3. Revaluate your Paid Advertising Campaigns
With time, promotion is going through plenty of changes. And this has changed the needs of companies too. These days, the advertising trend is to focus on what a product or service can do for the users.
What you need to do is customize the ads by including the qualities of the products which the users may have a profound interest in. Aside from this, the advertisements have to be concise and straightforward.
4. Consider Personalisation
According to data, at least 70% of customers that buy online have a liking for personalization on blogs and websites. For instance, if a purchaser buys something from you, you may send them an email with their name from your email address. The fantastic thing is that personalization isn't a costly or complicated procedure. The whole intention of personalization is to earn the buyers understand that you value them.
5. Consider the Visual Search Characteristic
According to statistics, visual research is also somewhat useful these days. That is to say, if a person clicks a product photo of choice, sites like Pinterest and Google show the purchasing options right under the image of the item. So the buyers have the freedom to buy the item by clicking the photograph.
6. Post Video Content
Video content is very popular on social media platforms, such as Facebook. When you look at statistics, you may know that 52 percent of buyers feel confident when purchasing products after watching the clip. So far as learn more about a product, at least 68% of buyers prefer to watch short videos instead of reading lengthy articles, manuals, or infographics.
Even though the world of digital marketing looks quite challenging, you can make these campaigns much more comfortable to run if you hire the services of a Good Digital Marketer. Thus, it's far better to search for a fantastic professional service provider. To ease your search, you can undoubtedly contact DotCreative, and if you like our terms and strategies you can hire us to help you.