Can SEO Services Really Rank My Website?
---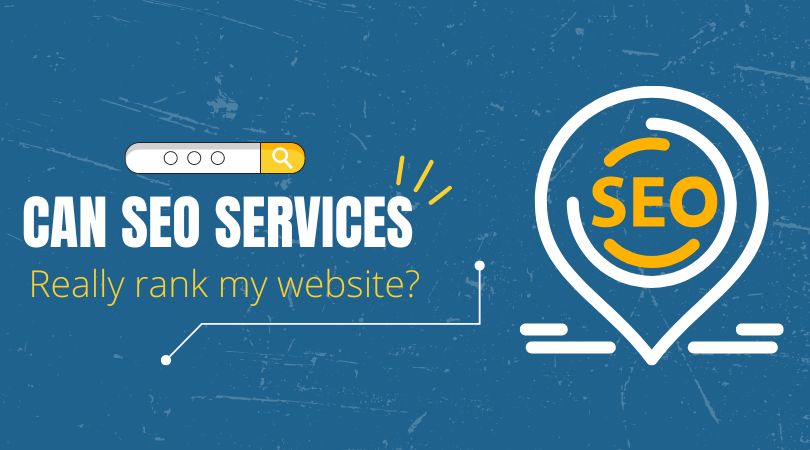 SEO or Search Engine Optimization is the method of optimizing your website to enable it to rank higher in search results of SERPs. Executed and handled correctly, an SEO approach can benefit your business and get far more exposure in generating leads.
But SEO has never been and never will be an exact science leading to great debates over the best methods to grow a website's traffic. Some wonder whether SEO is necessary as the internet grows and search engines change their ranking factors and algorithms. Getting detailed information is essential before initiating your website's SEO.
What is SEO?
The term SEO is an abbreviated form for search engine optimization, which practically means making web pages more likely to emerge on a search engine's results pages (SERP). However, does SEO truly produce any results?
Yes, SEO will function effectively as long as you adhere to current best practices. This will promote your site's rank on Google and other search engines, resulting in more visitors and revenues.
In this article, we will discuss why SEO works, how it can pay off for any business, and some of the SEO blunders you should avoid for your website.
How does SEO Works?
SEO works by integrating SEO elements and employing a data-driven approach. The better your website is on both the back and front ends, the better traffic your website will get, and the better search rankings your website will get from various search engines leading to more profit. The factors you must check when an SEO company works for you are:
Keyword analysis: Keywords are one of the causes why you require SEO for your business. Potential customers will use specific terms or phrases to search for a good or service. If your writing includes those terms and phrases searched by customers, you will improve your visibility because you provide the answers by using suitable keywords. The most useful SEO keywords will be those that are carefully researched and analyzed. Keywords can be a single term or even phrases that people often use to find what they are yearning for. Keywords must be analyzed and strategically positioned in your content so that the quality of your content is increased while still using searched words.
Backlink building: Backlinks are also known as "inbound links are links from one website to a page on another website. Pages with a high number of backlinks manage to have high organic search engine rankings. Building backlinks enhance your credibility because you are quoting sources that are related to your place of expertise. For illustration, using present, trending events directly from their source can improve your credibility. Backlink building should be done strategically so that your content does not get misplaced in a sea of other sources, which can be unsuitable. Use backlink cleanup if that is essential for your site. Backlink building can enhance your SEO, but it must be done carefully and ethically.
Content creation: Content drives SEO by instantly engaging with current and possible customers, thus driving traffic. Your content tells your audience about who you are and what you offer.
Content is anything that your customers view or hear, including:
Blogs
Webpage text
Infographics
Videos
Social media posts
Podcasts
Newsletters
Powerful content can counteract the human side of your customer-driven company with the data-driven analytics required to optimize your digital presence. Your content lets you communicate instantly with your audience of current and potential customers. This is where your keywords help you create power, confidence, consistency, and engagement.
Importance of SEO
A large part of digital marketing is search engine optimization(SEO). SEO is organic search optimization. Organic search will use more SEO techniques such as keyword research, which ultimately means that your content shows up for a wider range of potential viewers who want a particular need met.
Website traffic: Website performance is an essential element for the buyers to ultimately get users to complete a conversion or engagement. Google owns a significantly larger portion of the search market than competitors like Yahoo, Bing, and many others, which means that Google owns a considerable part of the overall search market to give you increased website traffic.
Build trust: The goal of any experienced SEO expert is to specify a powerful foundation for an attractive website with a neat, compelling user experience that is smoothly discoverable in search. It will be worth it as it will create the trust and credibility of the brand and its digital properties.
Better user experience: User experience has become every marketer's priority. Everyone wants more suitable organic rankings and the highest visibility; however, few recognize that optimal user experience is a significant part of getting there. Google has known how to decipher an excellent or unfavorable user experience, leading to a positive user experience becoming a key element to a website's success.
Increased Engagement: With the promotion and expanding power of mobile traffic, local search has become essential to small and medium-sized businesses' growth. Local optimizations concentrate on distinctive neighborhoods, towns, cities, regions, and even states to specify a possible medium for a brand's messaging on a local level.
Cost-effective: SEO is moderately reasonable in the grand strategy of things, and the earnings will most likely be significant in terms of a brand's advantage to the bottom line. It isn't an advertising cost; this is a basic business investment.
Long-term strategy: SEO can have a prominent effect within the first year of action being taken, and many of those efforts will have an effect that stays more than several years.
What Are the Main Components of Search Engine Optimization?
SEO comprises different elements that will help you boost your business growth. Businesses require SEO preferably, as it is the most feasible and cost-effective way to understand and reach buyers in critical moments. The elements that SEO is made up of are:
On-page SEO: On-page SEO is the amendments made to the content on your website to ensure that it's search engine friendly. When optimizing your web pages for search engines, you want to signal to search engines precisely what the webpage is about in various ways. With On-page SEO, you'll check on the layout of your website, SEO keywords, internal links, image alt attributes, and other approaches to enable the search engines to explore and evaluate the content of your website.
Off-Page SEO: Off-page search engine optimization strategies implicate measures made on websites outside of your website to push your ranking higher. The key factor to off-page SEO is link building or "backlinks," which is a measure to have different reputed, high-traffic websites link back to your site. Backlinks signal faith to search engines and can greatly affect your ranking position. Confirm that the links come from well-known and trusted sites, and your ranking will be positively influenced.
Local SEO: Ways to improve your local SEO include:
Using local keywords.
Claiming your directory listings.
Creating pages for your businesses on platforms such as Google My Business and Google Maps.
So if you own a local business that only serves a particular area, you should not focus on ranking your website in other cities. Search engines drag the user's location to make recommendations that are within a specific range so that they can make a fast conclusion rather than sort through businesses that are nowhere near that point in time.
Why hire an SEO services company?
SEO is a continuous process and requires professional support to get your website a great ranking. And it is for this cause that it is worthwhile for a strong marketing strategy.
SEO is complex: SEO is a set of rules that operate synergistically to gain disclosure on local search engine results pages. You may be capable of doing the bare SEO basics, but if you can't do all the tactics, your efforts may not move the needle, and your time will be wasted.
SEO requires ongoing work: There are some one-time optimizations you can perform that require less maintenance, but genuine SEO is a regular work in progress. It involves Publishing fresh, high-quality content regularly, updating existing pages constantly for accuracy, and other on-page and off-page SEO techniques.
SEO is a moving target: Google uses a tricky algorithm that takes into account various ranking factors to select the quality, relevancy, and accuracy of a page. We know a good portion of those ranking components, but not all of them. Plus, Google is always developing its algorithm, which makes you require expert help.
But does SEO actually work?
The best practices for SEO often develop because it's established on ever-changing algorithms arranged by the search engines to give people the best results. So, for example, if Google chose its preferred websites with purple backgrounds over those with any different color, SEO best practices would have to change the color to fit that parameter.
Of course, Google's choices are less spontaneous than preferring the color purple, but you get the significance. An accepted method in SEO a few years ago may not work now, leading to the perception that SEO does not operate. SEO only functions when you use the present best practices. When you do this, Google and other search engines will improve your website's ranking, directing to an upsurge in traffic and, in turn, conversions.
Should I Be Using SEO?
The short answer to this is yes! SEO is a calculated, data-driven strategy to increase the grade of your business's digital marketing and the visibility your company acquires. The advantages of SEO can only benefit your business, causing it worth the time spent analyzing. SEO is an intricate, ever-changing approach.
As new technology appears and grows, so does SEO. It compels traffic, boosts your brand, engages with consumers, and directly links to user experience. SEO is a necessary element of your business's successful digital marketing.
Conclusion
Having a powerful SEO team for your hub is vital to the success of your online business. If you have any queries about why SEO is important for your business, contact us today!
We would love to show you when SEO is done the right way and how it benefits your business's online strategy. DotCreative can help you improve your website rankings and attract more consumers through it.
Give us a call or fill out our contact form to notify us of what you're looking for. We look ahead to connecting with you!