What Are SEO Ranking Factors In 2022?
---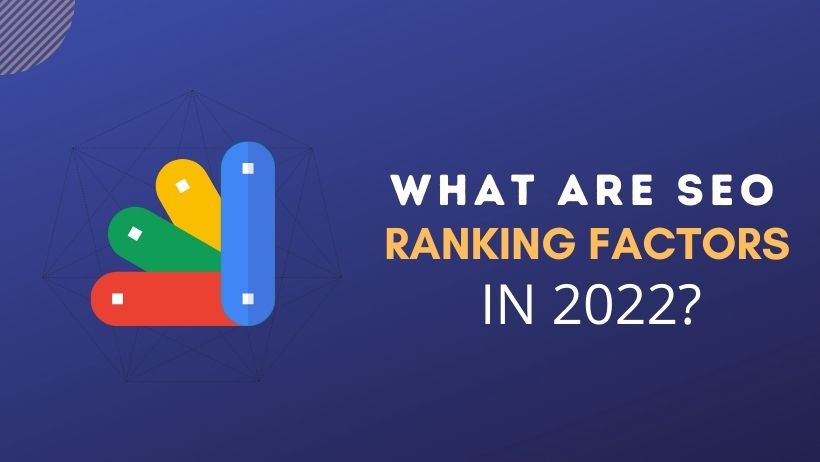 In this digital age, everybody is going online for some or the other reason. Hence, it has become a great platform for connecting with potential customers and growing your business area. There are various methods that can be used to increase your online business, but here we are talking about SEO and how it can give you business.
When you constantly practice SEO in a planned way, your website ranks on SERPs for desired keywords that will surely boost your business growth. In this blog, we will discuss the SEO ranking factors in 2022, but before moving on to that, you need to have a clear picture for SEO.
Here is a complete list of details that we are going to discuss below. Follow this link to get the complete information about the section you want.
What is SEO?
SEO is an abbreviated form of Search Engine Optimization, a set of practices framed to enhance the appearance and positioning of different web pages in organic search engine result pages. In this process, the SEO executive will take steps to help a website or a particular piece of content to rank higher on Google.
The website owners will get traffic from search engines from free, organic, editorial, or genuine search results. The main benefit of getting SEO is your website will rank higher, and the higher the website is listed, the more people will see and visit your website.
Good SEO concerns various activities, such as:
Finding suitable keywords with good search traffic potential and low difficulty.
Creating high-quality, helpful content.
Optimizing the content for search engines and users.
Including appropriate links from high-quality and domain authority sites.
Measuring the growth.
What are the types of SEO?
SEO is one of the most influential digital marketing tactics you can use your time into, and there are various ways you can take advantage of the SEO practice. Here are four SEO techniques that can support your website rank for the keywords and get business. You probably would not use all the types, but having a correct understanding of improving your rank is always a good thing to learn.
There are basically 6 types of SEO services:
On-Page SEO
Off-Page SEO
Technical SEO
Local SEO
Content SEO
YouTube SEO
What is On-Page SEO?
On-page optimization retains everything your readers will witness when they scroll through your website. At the maximum point, it depicts the content of your website. It should be cited that search engines look at a website as a whole while the ranking is executed on a page-level basis. That's why it's essential to pay attention to optimizing each page on your website.
The most important on-page SEO guidelines include:
Optimize page titles: This is a critical SEO factor. Page titles are displayed in the search engine results that should be attractive for visitors to click. The page title should also give search engines artificial intelligence enough hints on what the page content is all about.
Optimize H1 tags: While the page title is shown in the SERPS, the H1 tag is shown as the top heading of a page. An optimized page has only one H1 tag and usually has the same values as the page title.
Optimize headings: Along with the H1 tag, a web page requires to have subheadings (H2, H3) for the various sections. In the case of long-form writings, subheadings make the page easier to read by visitors and scan by crawlers and spiders.
Image optimization: All the images used in a web page must be properly optimized. This means every image must have a respective alt tag and title tag to make it easier for crawlers to understand the image characteristics. You also need to optimize the file name, file size, etc., for a better image SEO.
Page format: The work does not end just after placing the image and content. You need to beautify the look of the page by using proper fonts and font size. Though Google cannot see a page like a human, it has the understanding to distinguish between a presentable page and a normal page.
What is Off-page SEO?
Off-page SEO is almost everything that is not performed on your website; instead is done elsewhere to boost your website ranking. Defining Off-page SEO is quite difficult, but Link building is inarguably the most important part of Off-page SEO. Getting links to your website enables you to get visitors, and it exhibits to Google that other people on the internet respect your content and that your website is definitive.
The essential off-page SEO methods include:
Link building: If you are unaware of link building, it is about getting links from other reputed websites to link back to your website. These backlinks act as trust votes in the eyes of Google that help to improve the authority score, provided that the links you obtain have do-follow links.
Brand Promotion: Google generally promotes the rank of the known brands as it is trusted by the users. So you must focus on promoting your brand on different platforms and increase conversations about it on various social media networks and forums. Google will surely notice your hard work and genuinely improve your organic search results.
Competitor research: Research your competitors' profiles and get an idea about their backlinking process where you can create backlinks for your website and boost your website ranking. Find out the websites they are getting hyperlinks to and improve their link-building tactic.
What is Technical SEO?
Many people consider Technical SEO as a part of On-Page SEO, but it is quite different and unique from On-page SEO. Though Technical SEO is somehow related to On-Page SEO factors, the parameters go beyond the same. In short, Technical SEO is related to the technical factors that act as a booster for SEO ranking. Optimizing images, using a secure HTTPS connection, speed load times, detailed sitemaps, and other technical factors can improve your website SEO.
The most important Technical SEO guidelines include:
Check and optimize your robots.txt to ensure that search engines can accurately access your website.
Add and confirm your website with Google Search Console and identify your desired domain.
Utilize the Coverage report to locate and fix crawl errors.
Make an XML Sitemap and submit it to all significant search engines.
Optimize your site layout and URL structure.
Create SEO Friendly web design
Build websites with fast loading speed on both desktop and mobile devices.
What is Local SEO?
While many businesses operate online, there are still a lot of business owners who do not have any online existence and run a business offline where they need customers on their doorsteps. Through Local SEO, you can target your potential customers on Google Maps search results. There are businesses where you need the physical existence of your customers, for example, shoe shop owners. Thus Local SEO is valid for local locations only.
Follow these guidelines for a better Local SEO result:
Make sure to have a business name, address, and contact details on all pages of your website.
Enter the Local Business schema to your homepage.
Create a Google My Business Account, which is now renamed as Google Business Profile.
Register your business with different directories such as Yelp, Yahoo small business, Foursquare, and others.
Promote your website on local directories and websites (for instance, online local newspapers)
What is Content SEO?
Content SEO is a part of On-Page SEO where the SEO expert needs to focus on the quality of the content and look on the ways to make it better. Content plays a vital role in a website ranking, thus using the correct approach acts as a successful SEO factor. For a better SEO, you need to focus on the combination of content that the users interact with and the search engines understand.
To accomplish this you need to follow these guidelines.
Keyword research is the main factor that you need to do for an improved website ranking.
Choose the long-tail keywords that might benefit your business.
Publish detailed content with the correct use of long-tail keywords.
Link your content with other high-quality websites and let your users interact with your content.
Use Schemas and Structured Data to point search engines to the important part of the content.
What is YouTube SEO?
YouTube is a famous video platform where you can upload videos and reach your targeted audience. The way to reach your audience is through SEO. The SEO that is processed for YouTube is called YouTube SEO. Optimizing your channel through YouTube SEO can boost your traffic drastically. Ranking on various search terms acts like gold on YouTube.
Some of the guidelines that you need to follow:
Your video needs to be great. It must solve the purpose of your audience watching the video. The video can either be informative, descriptive, question-answer, entertainment, etc., depending on your audience type or profit area.
The title and description of your video must be descriptive same as the title and description of your web page.
Use long-tail keywords to allow Google to understand the purpose and context of the video.
While doing keyword research, try to aim at the commonly used keywords that might benefit your video ranking.
And lastly, you need to follow the Off-page SEO as well, such as link building.
How does SEO work?
SEO or Search Engine Optimization is getting your website rank on a particular keyword that might bring business to your company. But how does SEO really work? It is Search Engine Algorithms or computer programs that try to find out the clues and decide the website that is relevant to the user's query.
Search engines depend on algorithms to search the web pages and determine which website to rank for the given keyword. There are three steps to how search engines work:
Crawling: It is the first stage or discovery stage. Here the search engines send crawlers known as spiders or robots to discover information about any new web page. They also periodically visit the existing web pages to check on the content if updated. Their main purpose is to find out the relevant web pages depending on the search query. They already have a set of data ready in the background, which is used when a search query is performed.
Indexing: Indexing is the second stage, also known as the filing stage. Here the search engines decide if they will use the crawled content or not. If the crawled page is considered worthy, then it will be indexed. When a web page is indexed, it means the content is stored in the database of the search engines, which might be used when a search query is performed. Generally, web pages providing unique, attractive, and engaging content have higher chances of getting indexed by search engines. A web page might not be indexed if:

If the content is found to be duplicate
If the content is found to be low value or spammy
If the page is not crawlable
The page or domain had no or minimal inbound links

Ranking: It is the final stage, also known as the retrieval stage. It is the most important step, as in this step, the search engines decide your rank for a particular search term. So to rank your website, the search engines must crawl and index your website. Once the website is indexed, it is ready to rank. But there are certain things that search engine checks before ranking a website:
Presence of keyword in the Title tag.
The loading speed of the web page.
Website's authority score.
This is the process that search engine follows to rank your website, and this is how SEO works. So you need to follow the latest Google algorithm that the SEO experts study and analyze from time to time and work accordingly to rank your website.
What are the benefits of SEO?
Before taking up SEO services, there are a few questions that arise in everyone's mind. Will my business get benefit from SEO? Does SEO worth the money? Is SEO really important in business growth?
Though the business owner can grow their business through varied Digital Marketing Services but getting traffic through organic internet searchability has a lot more benefits than others.
Let's look at 10 significant benefits of SEO for your business that can boost your business growth in the long run.
Get more quality leads: According to 52% of B2B marketers, SEO produces higher leads than any other marketing technique. The same is with B2C marketers. In the latest study, it is revealed that SEO has a 14.6% closure rate, whereas others have just 1.7% conversion rates. It implies how crucial SEO can be for your business. It ought to be because the targeted customers search for a particular web page through the relevant keyword, and if your website ranks for that keyword, you will surely get more quality leads.
Gain credibility: When a website ranks high on Search Engine Result Pages, it gains credibility as it is considered high-quality and trustworthy by search engines. Working on content optimization, speed optimization, and link building can further improve your website ranking and credibility among users.
Stay ahead of the competition: Two businesses in the same industry have different turnovers, and you can get higher turnover if you create an impression in the online market. You have an increased market area and can trade with people whom you cannot meet physically. Gradually the major market is shifting online, and staying ahead of your competition has become a priority. It is high time to initiate SEO for your website and rank on the desired keywords to target more potential customers.
Better user experience: SEO works primarily on providing a better user experience by improving the call to action button, navigation, readability, contrast ratio, etc. So when you take up SEO services, there are chances that you provide a great user experience to the user visiting your site. It will definitely create a positive impact that will increase your business growth.
Create brand awareness: When you rank on Google, people start recognizing your website. And further, when they proceed towards buying, they confirm a lot of inquiries and get information under their fingertips. Promoting unique content and getting SEO is the best way to create brand awareness among your potential customers to recognize your brand and further indulge in business.
Get more clicks than PPC: Organic SEO is more trustworthy than paid one. The users tend to click on the website link that ranks organically because they are present at that position because of the hard work. Google has given that position to its website after crawling, indexing, and ranking them above thousands of websites. Whereas a website ranking through PPC has gotten less trust as the website has come up after running an Ad on Google.
Higher user engagement rates: Obviously, when a website rank on SERPs, it means there is something worth the visit. Hence the users visiting your website will have higher engagement rates because of the relevance of the website. The user experience is another factor that will increase the user engagement rates for your website.
Get quantifiable results: While taking SEO services, you can get quantifiable results from your SEO service provider. He will provide you with a complete report on growth, conversion, and traffic from platforms like Google Analytics, Google search console, Ahref, Semrush, etc. It will help you track your insights to adjust and improve your SEO strategy.
Rank better in local searches: Local searches are becoming quite popular, and around 80% of the local searches lead to conversions. Hence ranking well in local searchers or Google maps is highly profitable as it brings direct business. The first step to initiating a local searches strategy is to create a Google Business Profile. Optimize that profile and start getting reviews from your customers to create a positive impact on your website.
Budget-friendly: SEO is a comparatively cheaper method to boost your website ranking as compared to PPC. In the long run, SEO is a profitable business as it will give your business a boost and your website ranking a better score. All you need to pay is the service charge to an SEO expert who will work to get your website ranked on SERPs.
After understanding the given benefits, I hope you have got the answer to how your business will benefit from SEO and whether it is really worth the expense.
Is SEO beneficial for small business owners?
Definitely, SEO is beneficial for small business owners as it helps the business owners to create an online presence and brand awareness among potential customers. While many small business owners recognize SEO as a strong marketing tactic but there are still many business owners who are negligent towards it. But it is high time to buckle up and invest in SEO to improve the marketing strategy for your small business expansion.
These SEO elements contribute to setting that level of credibility.
Optimized on-page elements
Optimized content
Quality backlink
Machine-learning signals
Positive user experience
Some of the main reasons why you should initiate SEO for your business are:
It is analyzed that 46% of all Google searches are seeking information from the local area. If you're a small business that is trying to find potential customers in your area, then SEO plays a vital role as it enables your audience to discover you first.
According to a survey, 97% of people find more about a local small business online than anywhere else. People are exploring your business, products, or services, and your website is the location where they will scrutinize first. That's why it's essential to show up on their terms of use.
The type of "Near me" type searches rose by more than 900% over two years. It is another vital cause to optimize your local search actions. It depicts people are looking for small businesses in the given area.
It is seen that 75% of visitors never go past the first page of Google search results. Coming up on the first page is crucial, but it also takes intentionality.
Can you pay Google to rank higher?
Yes, you can surely pay Google to rank higher, but there is no way to do it organically. The only way you can follow is through PPC, where you need to pay Google for a particular keyword, and Google will charge you per click basis.
SEO and PPC are completely different sections, and when you opt for PPC, the word 'Ad' comes in front of your website link. The users do not want to open an Ad website and have more trust in an organically ranking website.
A website ranking organically is only possible through SEO, and you cannot pay Google to bring your website to the top list. Google can only run Ads for your website on a pay-per-click basis if you want to advertise your website on Google.
How long does it take for a site to rank?
Ranking on Google is quite a difficult task, and you need patience to get a desiring Google rank. With Google Ads and featured snippets, it becomes quite challenging to expect the results on the first page. But it is proven that maximum conversions occur for the website ranking on Google's first page.
Thus committing the time duration is impossible, and the probable answer that you will get is "it depends."
There are a lot of factors that need to be considered in deciding the time duration required for SEO to get your website to rank, such as:
HTTPS connection
Site speed
Mobile-friendliness
High-quality webpage content
Keyword competition
High-quality backlinks
Image optimization
Domain age
Schema markup
Structured data
But at DotCreative, we can commit that if you have a website of more than 1 year in age, we can bring it in ranking in a time span of 6-8 months.
Why is Google ranking important?
Google is a search engine that is used by billions of people every day to search for their queries. It means if you rank on Google, you have more chances to get traffic to your website. An upsurge in SERP (search engine results page) rankings raises your business's ability to get traffic and leads. It improves the degree to which your audience sees your business authenticity.
Basically, your SEO win is based on whether you can bring your website among the top ten or not and then again if you can maintain that attained position. Ranking on Google is difficult, but what is more challenging is to maintain that achieved position.
Some of the reasons that make Google's ranking and position maintaining an important factor in your business growth are:
Get More traffic: It is quite obvious that maximum traffic is achieved from the top website links that a user gets after the search query is performed. So when you get to rank your website in the top positions, you will get more website traffic which means a higher chance of potential customers that might bring conversions to your business.
Increased business authenticity: Better search results depict a better reputation in the potential customer's eyes that boosts your business capability to get more traffic and leads. It is shown in a study that websites ranking on the first page are considered to be more authentic in their industry, and the chances are high to get more conversions from your potential customers.
Reputed business image: When you rank on SERPs, it will definitely term your business to be a reputed one as you have worked really hard to get that position and, in fact, you are still working hard to maintain that position. It is a general tendency that you will consider the top ranking website to be reputed as Google itself presents the credibility score by ranking it on the top positions among millions of websites.
Reduced costs: It will cut your marketing cost drastically as you just need to pay the nominal amount to your SEO expert to give you a fruitful result. All you need to do is to wait and check your business growth monthly patiently. Though it will take time, it will be totally worth the wait. It will also show a great improvement in your social media marketing. Google will help create brand awareness, and people on social media will also start to follow your business whereabouts.
What are ranking factors?
The term "Ranking Factors" describes the criteria applied by search engines when assessing web pages to collect their search results rankings. Ranking factors can associate with a website's content, technical implementation, user signals, backlink profile, or any other attributes the search engine believes relevant. Acknowledging ranking factors is a requirement for fruitful search engine optimization.
Ranking factors are variables that a search engine applies to determine the best arrangement of appropriate and indexed results yielded for a search query. A search algorithm might consider ranking factors like Page rank and weight, sum, or multiply them in any way that the artificial intelligence finds best. The goal is to merge them to attain the "best" results and provide the users with the most satisfactory web links relevant to their search query.
What are the key ranking factors in 2022 in terms of SEO?
While preparing an SEO strategy, you need to focus on the key ranking factors in 2022 that plays a vital role in a website ranking. Google is by far the most used search engine around the world. And there are more than 200 Google ranking factors in 2022 that might affect your website health.
With so many things to optimize and metrics to track, it becomes difficult where to start. Search Engine Optimization is a field that is continuously changing, and you need to continue research on the things that act as an important factor in 2022.
You need to keep up with what search engines like Google and Bing believe are the most important ranking factors for a website. In this blog, we have listed some of the optimization elements we have found to be vital in building a successful SEO strategy and that we anticipate to be important as we head into 2022. Here are the top 13 SEO ranking factors in 2022.
Content Quality: Content is essential in SEO as it will help the search engines to understand the context of the web page and then index it for users to visit the page. Google measures content quality by checking the website structure, keywords relevance, internal and external link, etc., and then determines if the website is worth the rank or not. So maintaining the content quality is essential, and you need to regularly update fresh and unique content on your website to enable Google to index your page at regular intervals.
Content-Length: There is no clear rule that gives you the minimum or maximum word count for an article. But it varies from subject to subject, and we have noticed that a detailed blog ranks comparatively fast. So you must always try to use long-form content, but that does not mean that you need to exaggerate the content unnecessarily. Write descriptive content providing all the necessary information in the best way possible.
Technical Health: Optimizing elements through technical SEO is quite essential as you can update the technical errors and boost your website health. Missing metadata, broken internal links, and HTML source code can adversely impact your on-page SEO score; thus, you need to have a healthy website that stabilizes search positions and improves your website rank.
Quality Backlinks: Backlinks are the links that your web page gets either from your own website or from a different website referring to yours. It is an essential SEO ranking factor that creates trust in the eyes of Google if you are getting links or references from the website having more importance or authenticity in Google's crawlers database. It will more likely improve your authority score for the web page, which is a healthy sign in SEO ranking.
Site architecture: Google always aims to provide a great user experience to its visitors. Hence, a website having a proper site structure ranks above as it is preferred by Google. A well-to-do site structure starts with proper navigation skills and a call-to-action button that makes the user experience easier and more convenient. You also need to consider the technical factors such as title tags, H1 tag, H2 tags, and image alt tags to be properly placed so that the user can easily navigate to the required section of your website.
Load speed: Web page load speed plays a crucial role in a website's ranking. Google prefers a website with a fast load speed as the users will obviously not want to wait for long to get results for the search query. If even Google gives you a ranking, a website with a low load speed will definitely not get traffic as the users will switch on to the next website, which is not good for your website.
Site Security: Since 2014, Google has made it mandatory to have HTTPS access which is secured instead of HTTP. Google wants users to experience secure surfing without any worries. When your website is not secured, Google will automatically reject the website from coming in ranking because it is about the security of the users surfing your website. When you perform a search query, you might have noticed that you get the results from all the secured websites.
Crawlability: Google's crawlers and bots are continuously searching the web to discover and index webpages which aid with enhanced visibility and SEO ranking. However, Google crawlers can often skip sites because they are difficult to crawl, or privacy policies block them from crawling. Ensure that your website is crawlable where the policies allow them to crawl and categorize the content and support to improve SEO rankings.
Mobile-friendliness: It means that your website must be capable of adjusting its layout as per the screen size. In technical terms, it means your website must be responsive. In today's world, most of the search query is performed with mobile phones and tablets instead of the desktop, so if the website does not adapt itself to screen size, the users will not visit your website, and Google will not improve your ranking.
Domain authority: Though authority score has somehow become secondary with the latest Google algorithms yet you need to focus on improving your website's page and domain authority score. It is generally seen that the websites with higher domain authority rank higher as compared to the websites with low domain authority.
Core web vitals: It is the latest Google algorithm update necessary for website ranking. While measuring core web vitals, the metrics main focus is on page load speed, content load speed, and the visual stability of the page. Though it sounds scary, there is nothing to worry about if your website is prepared in accordance with the SEO guidelines. You can easily rank on Google with a strong SEO strategy.
Search intent: Obviously, content is important, but Google is saying that you need to focus on intent more. Search intent means creating content that satisfies and meets users' queries. When you do not have a proper intent, you will not rank on SERPs and also target the wrong customers.
Bounce rate: It is generally considered that a website with a higher bounce rate is less likely to rank. The bounce rate shows the number of visitors visiting your website who left it without interacting. But Google does not mark it as a negative impression, as the user might have got the answer to what he wanted as soon as he clicked your website. Hence you should focus on getting more traffic instead of checking the bounce rate.
Yes, Core Web Vital is a ranking factor because it is a set of metrics related to speed, responsiveness, and visual stability, which helps site owners measure user experience on the web. There are three Core Web Vital metrics as follows.
Largest Contentful Paint (LCP): Measures the time duration of getting the largest image load on your website.
First Input Delay (FID): Measures the time of response by the browser while the user is using the page (button click, tap, etc.).
Cumulative Layout Shifts (CLS): Measures the proper visual stability of the content ad elements on screen while the page is getting loaded.
Thus, Core Web Vital is a vital ranking factor in 2022 for any website, and it plays a significant role in mobile rankings as well. In 2021 core web vitals were important only for desktop sites, but in 2022, it has now become mandatory for mobile sites as well.
How long does it take to get your website in the ranking?
Generally, you need to keep in mind that the first few months or, let's say, the initial six months is basically your investment period. It is a timeframe for preparing a solid SEO strategy, after which you can see the visible results.
After six months, you will get the largest gains. But again, it is an investment where you need to pay the maintenance cost regularly to maintain that achieved position.
Being the top SEO company in Kolkata, we would like to define that every business has a different niche, and every keyword has its own level of difficulty; thus, the time period may vary depending on the same.
All you need is to have patience and trust in the SEO provider. If any SEO provider commits you to get a Google ranking in a short time span, you should definitely understand that he is going to follow black hat techniques. Google is suspicious of a website ranking very fast, and if they find anything malicious, your website will be banned on Google. Thus you need to choose the SEO company very wisely.
Do Google sites rank well?
A Google site (free sites for ranking) is only effective in Google Business Profile (GBP). Google sites only help to know the people about your firm/ business. It does not help your site rank in the Google search engine.
If you want to rank your website, firstly, you need to choose the best domain suitable for your business niche and accordingly get it designed by following the strict SEO guidelines and later host it with an excellent server to get the fruitful result in Google rankings.
You need to design your site with proper UI/UX that is secured and has good load speed. Proper keyword research is also necessary to attract the targeted audience so that your customers can contact you for your products or service.
What are the best SEO tools?
Learning SEO completely and finding out the SEO mistakes is difficult but searching for the best SEO tools is easy. The use of the best SEO tools makes it easier and effortless to confirm that your website is optimized for performance. It also manages and monitors your search engine rankings.
We have compiled a complete list of the best SEO tools that you can use to get a detailed analysis and report on the current position of your website. You can also track your monthly growth with these tools and software.
Ahref: Ahrefs tool is a widely used SEO tool online. It has the second largest website crawlers, only after Google, which crawls millions of website timely and help you get the complete report for your website as well as for your competitors' growth. It is advised to use the paid version of the tools as it offers more features and detailed reports as compared to the free analysis.
Google Search Console: It is a free SEO tool offered to everyone that lets you observe and report on your website's existence in Google SERP. Search Console can support you in comprehending how Google and its users consider your website and enable you to optimize for better execution in Google search results.
SemRush: This tool is actually the favorite of SEO experts. The main reason for this favoritism is that it allows you for Domain Vs. Domain analysis, to compare your website to your competitors easily. It can easily show you your website performance and enable you to improve the performance with analytics reports.
Moz Pro: It is an SEO software that keeps coming up, which the SEO experts actually use to analyze the reports and growth of a website. You can get complete insights into how your website is ranking. They also have a free Mozbar tool that you can use to get an overview of the website's report.
Ubersuggest: It is a free keyword finder tool developed by Neil Patel. This tool helps you find the proper keywords with the search intent behind them in the top SERPs results. It helps you get the suggestions of both short-tail and long-tail keywords. Thus it is a free and great SEO tool.
Note: There are some other SEO tools that you can use as a beginner, such as Spyfu, SEO, spider, Majestic toolbar, Woorank, etc.
What is the latest Google algorithm update 2022?
Google in every 2.5hours releases a new update, so discussing every update is not possible. But here, we will discuss some of the latest Google updates in 2022 that came as a surprise for most of the users.
On 1st March 2022, Google Business Profile announced double verification of some business listings.
On 7th March 2022, Microsoft launched "Professional service Ads" for professional service companies.
On 16th March 2022, Google announced that it is shutting down Universal Analytics, AKA Classic Google Analytics.
On 21st March 2022, Google announced GA4 integration with Google Merchant Center.
On 23rd March 2022, Google released the 3rd version of Product Reviews Update.
On 28th March 2022, Google announced that it is shutting down the URL parameter tool of Google Search Console on 26th April 2022.
Does your business need SEO services?
Using SEO services is quite necessary if you want to promote your brand online. Having a website is not enough. You need to rank your website to reach more people who are your potential customers and who can give your company ROI.
We have discussed this topic in detail in one of our blogs, "Why is SEO important in Digital Marketing?" It will help you realize the importance of SEO when you want to create an online presence and expand your offline business in the online market.
Thus, if you are a start-up, small business, or MNC, you should get the SEO services at your level to boost your online ranking and growth.
How to select the best SEO company that provides correct SEO services?
Choosing the best SEO company is not an easy task, but you need to check on a few things that the SEO company providing SEO service promises to serve you.
The time duration must not be very less as it can use black-hat SEO techniques that might adversely affect your website health. The standard time duration is 5-6 months, which may vary from business to business.
The budget should not either be very high or very low; it should be in accordance with their portfolio and the work they have done previously.
The SEO expert must have complete knowledge of the latest Google update, and he must continuously update your website as per the latest Google updates.
DotCreative is the leading SEO company in Kolkata that works dedicatedly to rank your website on SERPs. We promise to offer white hat SEO services that are necessary for your website. Our budget is customizable and depends on your website's current position.
If you need SEO services, feel free to contact us and get free guidance on your website's current position and a layout that we will follow to rank your website on your desired keyword.