What Is The Importance Of UX Design In Web Design?
---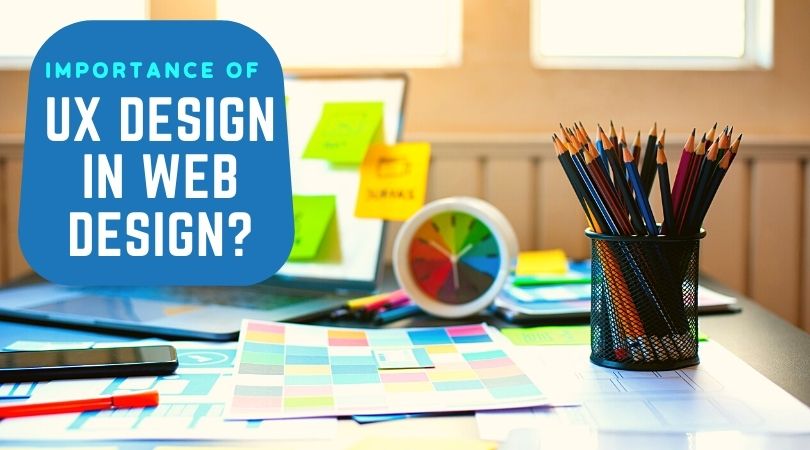 When you create a website for your business, the primary thing that you must keep in mind is the web pages must be pleasing, informative, and easily accessible. If the web pages miss any of the following components, there is a significant chance to loose your potential clientele and hurt your conversion rates.
In the end, the main reason is growing the business. So it is essential to have a great user experience (UX) design for a website that showcases your products and services. Team DotCreative is here to discuss UX in detail. Here are seven important elements of quality web design.
Before we move on to know the importance of UX, let us quickly understand what exactly UX design is?
If we technically define UX design, ISO 9241-210 describes human-system interaction ergonomics, which defines user experience as an individual's perceptions. The result of using the anticipated use of a product, service, or system.
The term user experience is a confusing area as it is a wide community in itself. Let us help you describe UX in simpler terms.
Consider the last time you visit a website; what do you remember? Maybe the website design, content, or the functionality, but you do not remember the actual experience you got from using the website. The reason is the UX design of the website seamlessly blended into the background.
Hence, UX design is a process where using coding languages like HTML and CSS, and a website is designed. Where user research for their desired information without facing any complications in it.
The question that now comes to mind is; How to create a great user experience?
Focus on creating the user-centered design instead of what you like. You are not the user for your website, and you need to keep a close eye on your users and notice their day to day activities to understand their preferences. Here is the process that DotCreative refers to the process that usually creates excellent design decisions.
Here are the nine basic steps to start with that create a great user experience.
User testing Before you create a UX design, the first step is to know your audience. It allows you to generate experiences that relate to the emotions of your users. To know your audience, you need to do proper market research and generate user personas. User personas are the semi-fictional representation of the ideal customers that can visit your website. Some of the key points that you must keep in mind while building your persona are demographics, age, personality, motivations, and any other piece of information that can attract users.
Interface testing When you are building an interface, the more research you do, the better results you get. Draw a comparison among different user interfaces and see the effectiveness and quality of experience that the users get.

You can try the Google optimization tool to split your website impressions to see what gets more engagement. Accordingly, reframe your website based on the outcome you get.

User surveys Conduct surveys and ask different questions related to your website that might affect its experience. Interview your customers or potential users to get insight into what can be an effective design be. User's experience is subjective, which can be best analyzed with direct communication with the users. You might be surprised by the feedback that can severely affect the UX of the website. While changing a single piece of content may lead to great changes. These are some of the tips for writing web content.
User flow diagrams Make flow charts for the users so that they can easily navigate your site. Prepare a flow chart in a way you want them to scroll your web pages and compare your layout with how they actually want to move. The user personas can here be beneficial as it can help you create a better plan for an optimal experience. You can use different tools to check user engagement in real-time. One of such tools is mouseflow that can help you see the user's cursor to create a strategy.
Sitemaps Once you have studied the user flows, do thorough planning. Create a proper site mapping strategy to create a better user experience. Creating a sitemap is essential as it leads to a proper hierarchy on the web pages. It is an essential tool as it helps to eliminate bad ideas from the website. Instead of doing structural changes, we suggest you use a sitemap for every such change.
Wireframes and prototypes The visual matter of a website is as important as its structure. You should invest proper time in creating wireframes. It is a representation of the skeletal framework of the web pages. We at DotCreative often use canvas board and a marker with a whole lot of ideas and content that needs to be framed for a website. After the design is finalized, you can go for a prototype and see how the website actually looks before it goes live. Mind it, and you need to make the necessary changes in every step if required.
Design usability Designing a website is not enough; you should have the proper knowledge to know the user interface and use the design to bring the best results.
Style guides Maintaining consistency is quite a difficult task. Using style guides, you maintain consistency in all the web pages of a website. By means of a style guide, we mean fonts, font size, patterns, and image format that has been chosen. Do not forget when you work on the style guide, and you need to emphasize the accessibility of the page. All the web pages must be easily accessible for the user to find the information he wants.
Usability testing After all the above steps are done, now comes the time to check the usability of the website. We have to see if the website designed works perfectly on all the screen sizes such as desktops, tablets, and mobile phones. Check the responsiveness of a website, as it is a vital part of UX design. You must know; Why you need a user-friendly website for any business?
Once the website is UX optimized, now comes the turn to update your website's content, and then the website goes live.
Now, let us come to why is exactly UX design so important in web design. Here are certain statistics that you must go through to know the importance of UX design.
More than 65% of people prefer to read a UX-optimized site rather than a normal webpage.
In a study, nearly 40% of people exit websites that load slowly.
Incorporating a more popular color can improve your profit.
It is compulsory to make your site responsive, which means that the website adjusts itself in accordance with the screen size.
Having a UX designed website is highly beneficial; here are some of the benefits of UX design mentioned below.
When you invest money in UX design, you can surely save a lot of money in the coming future. UX design comes with a lot of research and analysis that gets you to get success in a very short time span.
It helps to increase the conversion rates as they seamlessly blend with the marketing strategies. It gives you CTAs meaning, which is obviously a great way to improve the sales ratio.
A great UX design will provide better SEO; in fact, Google itself promotes the user experience websites to improve better on search engines.
Brand loyalty increases with better UX design. When a user visits your site, you will indeed create brand loyalty among your users if he gets a great user experience.
We at DotCreative knows the importance of having a User experience in web development. We are a leading web design and development company in Kolkata that will work dedicatedly to provide the best user interface and experience for every website we create.
All the websites we design are mobile-friendly, UI/UX optimized and came with an SSL certificate. For any further queries, you can email us at [email protected] or call us on 7980358244.