7 Important Elements Of Quality Web Design
---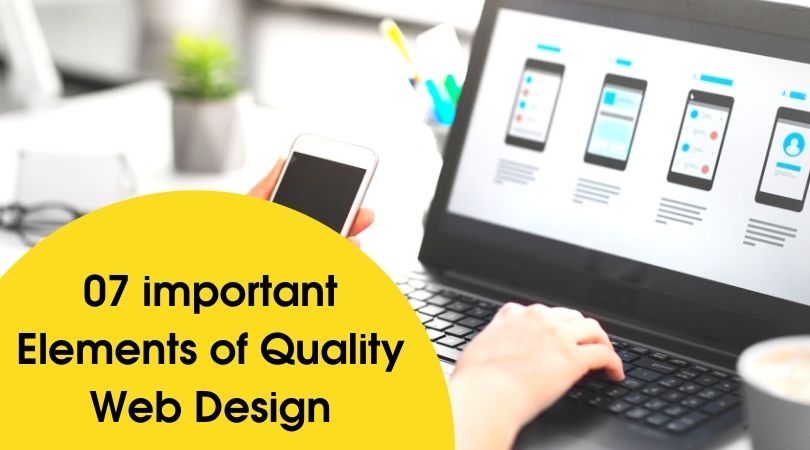 Web design is a simple word with great significance. When a user hears this term, web design, the first thing that must come into his mind is why web design is important?
Website design is essential for a business owner to grow its online presence. With a properly designed website, you can get lead generation and, ultimately, sales conversion.
Designing a website does not only mean creating a site. It has a lot of deeper meaning. A website is intended to promote the products or services of any business online. It is a platform where the business or company, starts or elaborates on their business even without having a physical shop. Thus, the website must look creative and eye-captivating.
Apart from visual design, other design elements are essential to bringing the targeted audience to your site. When a customer goes to a store for purchase, the owner tries the best to impress the customer.
The owner remains polite throughout and shows the best as per the customers' requirements. We have to do the same while building a website.
When a visitor comes to your site, it is because he is genuinely interested in the products or services you provide. But if he sees a bland, boring and unprofessional website, he will obviously move to another site with the same business niche. It means your loss is your competitors' gain. This is what you will not want.
Here are seven important elements that improve the web design for your website. With these elements present on your website, you will get more user interactions in a short time duration.
When users visit your website, they come to collect the information. The website must have solid navigation for the audience to search efficiently. It is key for making a good website.
The audiences that visit your website are always in a hurry. They will just scroll and try to find the information. If they do not get the information, they leave within seconds.
To keep the lead intact, you must use navigation that is easy to use. The audience will not struggle to find the information. They will simply leave. They will access the navigation bar to get directed to the desired location easily. If your website has poor navigation, the website will be of no use.
Your navigation should be simple and explanatory. You should also use headings with sub-headings to portray the information in a systematic form. This is the best way to deliver information to your audience in limited time duration.
With the boost in the usage of mobile devices, responsive design has gained a prominent position in the web designing sphere. The audiences will search your website from different multimedia, including smartphones, tablets, desktops, etc.
If you want these leads to stay on your website, you should have a positive impact on all. Responsive design provides an excellent experience to all. The responsive site adjusts itself as per the screen size, and nothing is left out of the screen. Why You Need A User-Friendly Website For Your Business?
For instance, if you are using a desktop, you will get the landscape view of the website, but if you use a mobile phone, you will visualize the website in a portrait version. This is valuable to keep the leads engaged and intact on the site.
Responsive design keeps the leads stay on the web pages of your site much longer. Thus you should have a responsive web design for your website for better lead generation.
One vital reason why web design is important is because of its consistency among the website. It means the website must have the same fonts, colors, effects, and format on every page.
Consistency on the website makes it easier to go through it. If the website has differents formats, it becomes difficult to understand. Consistency also helps in creating brand recognition among your audience and make them stay longer on your website.
The style guide is a format of how you want your website to look. Your website must have the same fonts, colors, effects, designs, and topography on every web page. This ensures that whenever you edit the content on your website, the layout should remain the same to maintain consistency.
When you have the same design across the website, it will create a powerful impact on the audience. they will stay longer on your site and help them build brand recognition. This is a way to build better engagement for your small business.
Somebody visits your site, the first thing he will look is the design. If you fail in impressing your audience at first glance, you lose the battle. The visitor will leave your website and search for some other attractive websites of your competitors.
Though creative visuals like images, videos, and animations are attractive for your websites, some go overboard. This kills the essence of the website. Everywhere on the website, you see the images which make it over-crowded with it.
You may think it looks great, but it does not provide the space to add information. This creates a problem for the audience to know and understand your brand.
If you want to see your website ranking and generating leads, you must balance the images and text on your website. Don't just try to implement images for the sake of increasing engagement; it creates a harmful impact on your website.
Use visual elements wisely. If you have grid-based text detailing you must use it to deliver the necessary information. If possible, add short videos describing the products and services of your company.
As you build your dream website, do not overload it with many images, because having a website is essential that gains lead.
The audience visits your website to collect information. If your website lacks information, there is no use of how many leads you get. In the end, the lead you get is transferred to some of your competitors.
As you must have heard of Great Content Provides Better SEO. SEO is something that you cannot ignore. If you have better SEO, the chances for your ranking on Google increases. When you rank on Google is the time when your website is visible to your audience.
They search for specific keywords, and it is your website that appears on the top. Content is the king; thus, you should write high-quality content that can keep your audience engaged on your website and collect the data they require.
Eminent Call-to-action button
You must have a distinguished Call-to-action button on your website. It must have different and bright color that quickly gains the attention of your audience.
Suppose your website has white, orange, blue, and red as the colors. You can choose either red or orange as the CTA(call-to-action) button.
A well-designed call to action button will process the request of the audience to the second step, where the audience can directly contact the owner to get the answers which he requires.
Your website must have a fast loading speed. The visitor will not wait for a long to open the website. The website keeps buffering; it will move to another website.
The website must be lightweight that can load even with a slow internet connection. It is not necessary that all the visitors will have wifi to search and scroll a particular website.
You can use different tools to see the page loading speed. One such website is Google page speed Insights, GTmetrix, etc.
When you have all these elements in your website, the audience will have a positive user experience after scrolling your site. You might also land up selling your products or services if the visitor likes it.
The design of your website plays a vital role in online campaigns.
If you want to drive traffic to your website, you must invest in web site design. Professional web design brings a significant amount of traffic if SEO is done correctly.
DotCreative has more than four years of experience in the field of web designing. We have a dedicated team of professional web designers that put all their efforts to design a website with all the above elements in it.
Our designers generally, use HTML and CSS(cascading style sheets) to develop a website. The website that we design is as per user interface design, which makes it easy for the audience to scroll and reach the required information.
After a website is designed, we go for web development. We also write unique and engaging content that is SEO friendly.
If you need a website, you can feel free to contact us at 7980358244. We will love to help you and do the best we can to generate leads for your business.