Why Is Web Design Important? | DotCreative Web Design
---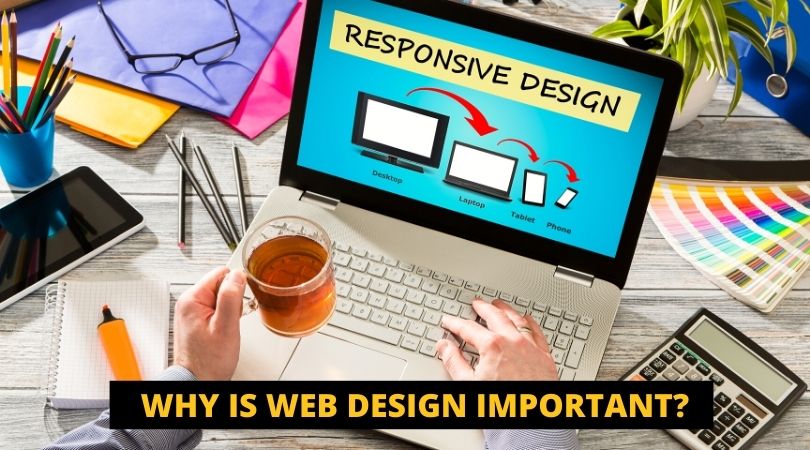 Web design is one of the most known words in the digital marketing business. With everything shifting online, you must look for either designing or redesigning your web page. Creating a site is easy, but creating high quality and responsive web design is complicated. Why You Need A User-Friendly Website For Your Business?
Most of the users searching for something does not sit on a desktop to scroll. He will just take out his phone and search for what is required. You must have a responsive website that looks good on the mobile device as well.
When a user visits a site, it stays there for just a few seconds to decide what the website wants to provide. According to a survey, 66% of the viewers are tempted towards professionally designed websites. Here are some Ways To Create A Powerful Website Design
Just having a website is not enough. You need to have an appealing user interface design to engage your audience into your website. After all, the website you make is for the audience to know about your products and services. 5 Important Things That Your Website Must Have is a burning question of which you must have an answer.
With good website design and an engaging web content creation, you can provide a better user experience to your audience and create lead generation for your website.
Let us understand what is web design?
When the trend started shifting towards digitalization, the business also started growing online. So to start a business online, you obviously need your shop here. The shop in the digital sphere is called a web site. It is a platform where you can display your products and services, which will attract the targeted audience.
A web designer or UX designer can design a website. He will generally use HTML and CSS(cascading style sheets), etc. to generate different design elements for creative design.
to start a business online, you require a website. Thus it is essential to have a website in today's world. Here are six reasons to list why web design is important.
To Set The First Impression
As you might have heard of, "the first impression is the last impression," the same goes for the website. When that audience visits your website for the first time, he must like your website at first glance.
All you have is the few seconds to impress your audience as you will surely want to positively impact your audience. When a visitor visits your website, they expect it to be appealing, but if the design is not good enough, the will leave in disappointment.
Web design is essential as it creates a brand awareness of your brand among your audience. to reach a targeted audience, you have to set an excellent first impression. It is the audience who perceives your brand. So to make them stay, it is you who is responsible.
When you lose an audience, your competitor gains one. Thus a good web design keeps your audience on your website.
It Assists In Your SEO (Search engine optimization) Approach-
Search Engine Optimization is a process to make your website rank better on Google. It is believed that great content provides better SEO, but web design also plays a key role in building a better SEO strategy.
Many web design elements and strategies influence the content to publish on the site. The crawlers will then crawl your website and improve your SEO ranking.
This is what you cannot afford to mess up with. If the On-page SEO is not proper, you will battle to rank on the top from the very initial, which is not a good sign.
Apart from the content published, individual web design elements directly affect the SEO of the website. Hence, web design plays a vital role in your website to rank better. Here are some of the Trends To Know In SEO And Content Marketing.
Set Impression For Customer Service-
People can judge you just by looking at your website. They can decide how you will treat them when they see your web design.
If the design is bland and simple, the audience believes that you will not pay attention to your clients. It is thought that you are not much serious about your business.
With an apprehendable, bright, modern, and creative website, the audience feels more welcome. This acts as a welcoming gesture for your audience.
It is thus said to have a great first impression for better lead generation. When you take your website as your business' face, you should have significant user interaction. Let us take an instance when your client visits you at your physical location. You will be polite and welcoming. This is what you must portray through your website.
Build Trust Among Your Audience-
People do not trust a website that is not professionally designed. To generate trust among the visitors, you must not poorly design the website.
Think about a company looking to place a bulk order of books, but it visits your website, he is not satisfied. He will move out and search for someone that has a professional website.
Generating trust among visitors is an important aspect for you to look after. Suppose you are not giving importance to this arena. You are at a major loss.
When a visitor visiting your website, trusts your brand, likes the website, and stays there for a longer duration. You have time to persuade him from your content as he would be genuinely interested in marketing with you.
Your Competitors Are Present-
With the world going digital, everyone is shifting their business online. So your competitors are present online with a creative website designed as per their business niche.
Just you are left out, which means you are losing your customers to your competitors because of your absence. So you must have a website to boost your online presence.
When you are here to provide competition to your competitors, you must have an updated, creative, modern, and well-designed website. This will generate more leads to your website as your website is more appealing than that of your competitors'.
Website design is one essential feature to distinguish your website among all. While having the same business niche, the selling price and strategy will more or less be the same. Then how to attract customers on your website.
Web design is precisely the answer. Your website's excellent web design differentiates you from the rest, which is suitable for your business.
When you are trying to start your online business, the first thing you should do is to create brand awareness. You would want your brand is recognized and praised among your audience.
Web designs are vital as it helps to create consistency. While designing a website, you must use the same fonts, style, colors, effects on all the page designs.
Having a different design on all the pages makes it challenging to generate brand recognition. A professional web designer designs a website with the same effects but better looks to create consistency in building your brand famous.
It is advised to use the same colors to depict your brand with those colors. You should use your colors wisely as it will represent your brand among the audience.
If your website doesn't look professional, the visitors will search for another website that looks professional. Create a consistent website for the audience to stay longer and understand your business's policy and services.
DotCreative is a top web design and web development company in Kolkata. We are working in this field over the years. Thus we understand the importance of professional website design. You might think, what is the big deal in designing a website.
But it is not that simple. We choose a proper layout that suits your business niche. Our designers work hard to design the pages by selecting different fonts and colors, and after mix-match, an arrangement is finally prepared.
The website prepared by us is easy loading, which opens within seconds. We design a mobile-friendly responsive design that is SEO optimized. If required, we write SEO friendly content that is unplagiarized and Grammatically error-free.
For any further queries, you can feel free to contact us. You can call us at 7980358244 or mail us at our email address [email protected].