5 Important Things That Your Website Must Have
---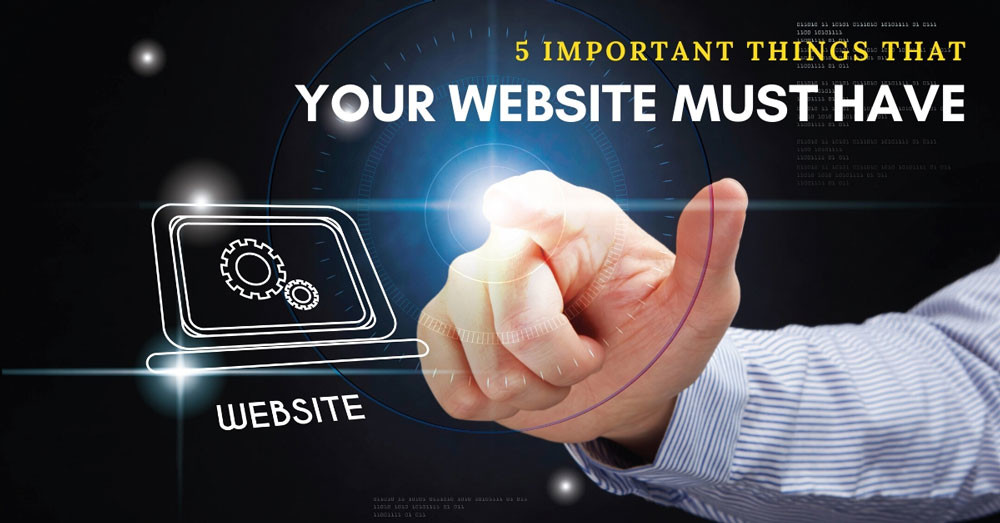 Digitalization has made more than half of the business go online. Instead of store sell and purchase, the demand for online marketing is more. The persons are running short of time so they instead of hopping door to door, prefer to go for an online business. Thus, the need for the website grows.
Typically having a website is a must to boost your sales because you get a lot of customers online. Here are the 5 important things that your website must have. While building your website, you must note down these following points.
1. A Call to Action.
Your website visitors are on your website for a reason. Your website is a marketing instrument to find website users to request more info, purchase a product, download an app, program a booking (or even the 100s of other variations which lets you profit in your business). You have to present a clear call to action, which means that your site visitors don't leave your website and take their business interest to one of your competitors.
2. Responsive design
Based on your organization, over half of your website, visitors might be coming from either tablet or mobile devices. You need to supply a good user experience for all those users. To understand Why you need a user-friendly website, there are many specific elements to create a responsive design. The simple idea is that you are formatting your site based upon the user's browser/system and also how the user contracts or expands your own website.
3. Clear Contact Information.
Even today, there are many sites that make it hard to contact the business enterprise readily. A number of the biggest businesses in the world do make it hard to get a user to contact them as a means to decrease customer support cost. Unless your company has a monopoly, we would strongly suggest making some kind of contact to your business easy. With an email ID, contact form, live chat, or by any other means, you need to stay connected. So, there should be some means for potential customers to contact your company 24/7.
Tips To Get The Best Domain Name For Your Website
4. A secure host and Site.
It would help if you were sure that your host is at a secure data centre with a few choices for back-ups of your site. You should keep a local backup of your site as well. One of the hazards of DIY site development or enabling an amateur build your website is that many security defects can unintentionally be added to your site. There are certain factors to be considered while choosing a web host. We at DotCreative have many years of web development and internet security expertise. If you've got a currently working site, we can test your site and fix any issues as a paid safety adviser (contact us on our Contact Page for more information). Or, if you'd like us to create a new site, we can ensure that your website is not vulnerable to potentially devastating attacks such as SQL injection attacks.
5. Social Media Links.
Social media is a great way to attract targeted users to your site. There are a lot of advantages to using social media. Through social media, any individual liking your site could bring in hundreds or even thousands of new users if a product goes viral. Allowing your customers or clients to share the content of your site to their network through social media links is very important.
These 5 points should be put into place to build the website for your business.
If you are looking to create a top-notch website, contact us, and we could build you a site with all these features or implement them into your current web site. Contact DotCreative, and we are ever happy to serve you.