Tips To Get The Best Domain Name For Your Website
---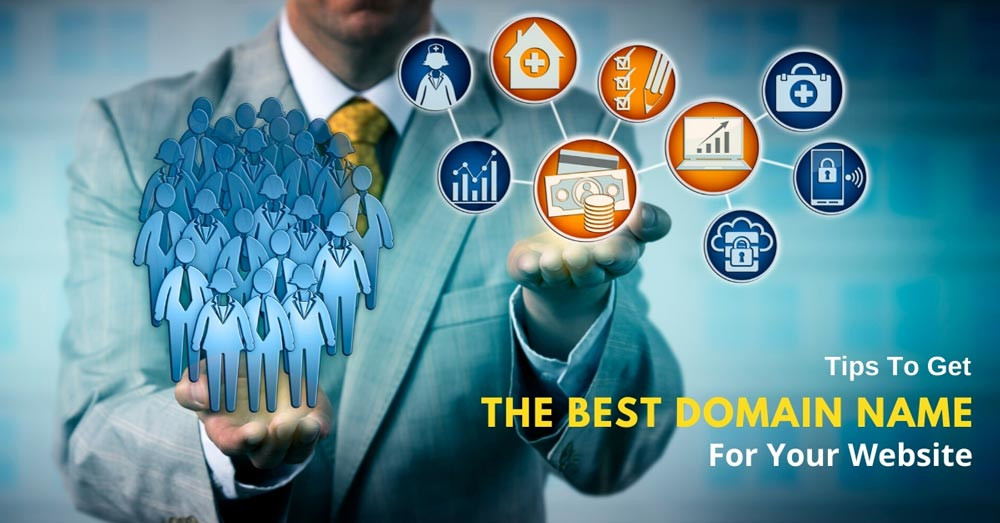 Website is the key to start an online business. In this world, where users search for everything online; don't you think you must also be online? The answer to this would be yes! But your online presence doesn't describe your business' online presence. For your business to be online, you must have a separate online entity of your business.
The website does it all. It provides a unique identification of your business, which can be visited by various clients to involve in sell and purchase with your company.
To start am online business, you must have a user-friendly website that has a unique name, and it must be registered with Google. This is called a domain name where no two sites have the same domain name.
A domain name can be any combination of letters and numbers attached with various extensions such as .com, .net, .in, and more.
Below are the proven tips for selecting the best domain name for your website.
1. Start with keywords
Before logging into in your preferred domain registrar, take some opportunity to brainstorm a few ideas. It could be practical to have 3 to 5 keywords in thoughts while doing this exercise. These words and phrases need to specify what you do (or need to do). Blend and mash them together and see what seems appropriate and makes encounters. Do not use the keywords forcefully.
For example, let's say you are starting a local grocery. A few terms you wish to include could be your city, fssai products, retail grocery, home delivery and so on.
2. Make it exceptional
Making certain it stands out is essential for you and your customers. Having a domain that looks like another famous brand is never a terrific idea as it might lead to confusion.
Be careful that you do not want to be too unique, however. Forcing an alternative spelling of a frequent word can cause huge trouble. An example mentioned in this eBook, "The art of SEO: mastering SEO," is that of the famous picture site Flickr.
While the site founders established their area, they did not use the usual spelling, flicker.com, and they could have lost visitors. They concluded up having to get the spelled domain and have the supplementary domain redirect to Flickr.com.
3. Go for a.COM
In the case you are critical about building a long-term brand on the internet, there might be not anything higher than a.com. The use of a 301-redirect to induce visitors to a. internet or.org is the first-class, however possessing the.com or the equivalent TLD for your goal market country is critical.
There are lots of explanations for why these topics, however, the maximum essential one is to your users. When there are hundreds of TLDs to pick from, .com still conveys the utmost confidence with it.
Many internet users are still unaware that the reverse TLDs exist and doubtless will hesitate to click on after one. Make it easy for your customers and select a.com. You'll thank you in the long run.
4. Ensure it is clear and understandable
If your URL is hard to kind, individuals won't. Hard words to spell and long URL strings can be frustrating for your end-users. Surely, you might add a friendly keyword with a lengthy URL; however, if it adversely impacts the person's experience, you are going to suffer.
5. Make it unforgettable
Word-of-mouth promotion remains the best of all. If you want to help your brand disperse quicker, make your domain smooth to consider. Having a terrific site won't matter if nobody can remember your domain.
6. Keep it Short
Shorter URLs are more comfortable to type and remember. They also permit more of their URL to appear in the search engines, they fit on business cards, and they seem better at other offline media.
7. Create and meet up to the expectations
What is the expectation you want to place while a person hears your URL for your very first time? If they can't grasp exactly what you do or who you are, you have a problem. While sites such as Amazon, Trulia, Google, and Trivago sound trendy, it requires loads more marketing and branding to make them operate. Domains such as NYtimes.com and homes.com all will allow you to know what to expect ahead.
8. Build your Logo
If you can not find a top region which matches the previous rule, then use the branding to differentiate yourself.
The usage of an unusual moniker is a fantastic way to construct an additional fee. Take note that, because of this want for brand-building, you'll be slower to advantage traction compared to if you used a more considerable and easy domain name. But if performed, the effort can pay off.
9. Do not fall for trends
Simply because something is trending today, it does not imply it will. Copying what an individual else is performing could direct you down the wrong route. Live far from strange spellings and masses of all hyphens or numbers. Keep it easy, centered and easy to do not forget.
10. Use a domain selection tool
In case you are having a tough time searching for an idea, no worries, the internet gets you again. Try the use of a website selection tool that will help you find the perfect area. Tools such as DomainsBot or even NameMesh will help you locate the ideal domain name. But remember to stick to the advice over while utilizing those gear.
In case if you are still confused, you must contact DotCreative and let us help you to provide the best Web design service with a domain selection of your choice.