Cyber Security Tips To Help You Stay Safe At Work
---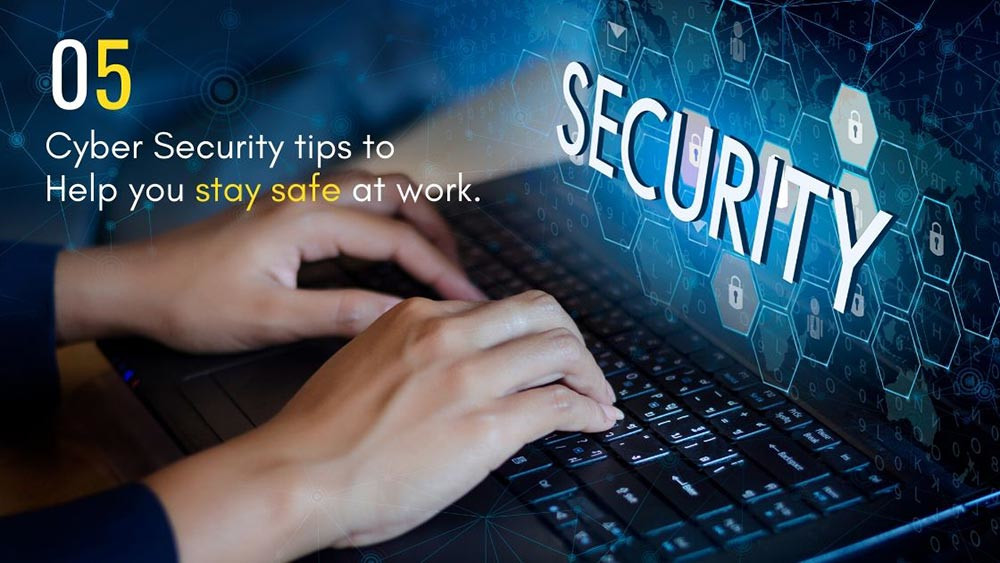 Any person going to a job is not safe in this digital world. He/she should always take care about its cybersecurity.
Now firstly, we should learn what cybersecurity actually means?
Cybersecurity is a body of technologies, that practices to protect networks, devices, programs, and data from being stolen, hampered, damaged or unauthorized access. It may also include any of your personal data leaks from your social media credentials, bank account details to the ATM pin.
You must be thinking, why you should bother yourself because taking care of cybersecurity is not you look after. But you must see through it. If something goes wrong and you are found at fault you will be held accountable.
If you want to remain protected, here are a couple of methods for cyber safety tips at work.
Avoid writing password paper
How much busy you are at your workplace, make sure you keep your passwords secure. It will not be a fantastic idea to write your passwords down on a sheet of paper like a sticky note and then put it somewhere where everyone can see it. Try out a password manager rather, which is better security and will maintain privacy and avoid its misuse.
Avoid Using Public Storage
In spite of the type of industry you're in, probably you have to do a little bit of work when you're away from your office in the marketplace. Today, everyone should remain on the Internet through Wi-Fi constantly, but using public Wi-Fi can not be a secure choice here. Use only secured Wi-Fi which enables the safety of your data.
If you are going to utilize a public Wi-Fi, then make sure you use the VPN provided by your company prior to making a significant financial transaction. This will help you preventing the essential data from being stolen.
Avoid Utilizing Unknown USB drives.
Nowadays People drop things, particularly things that are small in proportion. You might have encounter something lying on the road, like a USB drive. What could you do for this? Like many other people, you will want to make use of it.
Unfortunately, according to research studies, many people who come across USB drives connect them to their computers to see what's on it, which is precisely wrong. You don't know what's saved in the USB. It could be spyware or virus which may damage your computer or steal your sensitive data. For that reason, it's far better to avoid using such apparatus.
Prevent phishing traps
Often criminals find business networks through a phishing trap. It's important to keep in mind that no company whether large or small is resistant to these frauds. It could happen to any business, company, or individual.
You may believe that you're secure, but understand that your data may be stolen. Criminals are always waiting for an opportunity to reach their purpose and fulfill their evil thoughts. They may steal your data and sell it around the dark web, to the people who can do wrong to your company.
So, the question is, how do you avoid a phishing fraud? It is simple. You should not click on just any link that appears very similar to the website you frequently visit.
Make sure you back up your data.
Ransomware has generated billions of dollars of loss for individuals, businesses, especially companies. When individuals cannot get their files that are important, they agree to pay the ransom amount required by the cyber attackers. Many times, they target businesses since they can spend considerable sums in ransom to get back their information.
Thus, what is the way out? You need to backup your information, which is going to keep you safe when you refuse to pay the ransom, and the hacker deletes your information.
These are a few cyber safety hints you might want to follow to keep you secure from the cyber attackers and help you save your data which is necessary as well as important for you.
DotCreative being a top digital marketing company knows how these cyber attackers work. So, we just wanted to make you alert. In case of any Cybersecurity detail, if you need any help or have any query feel free to contact us and get the best solution possible from our side.