Factors To Be Considered When Choosing A Web Host
---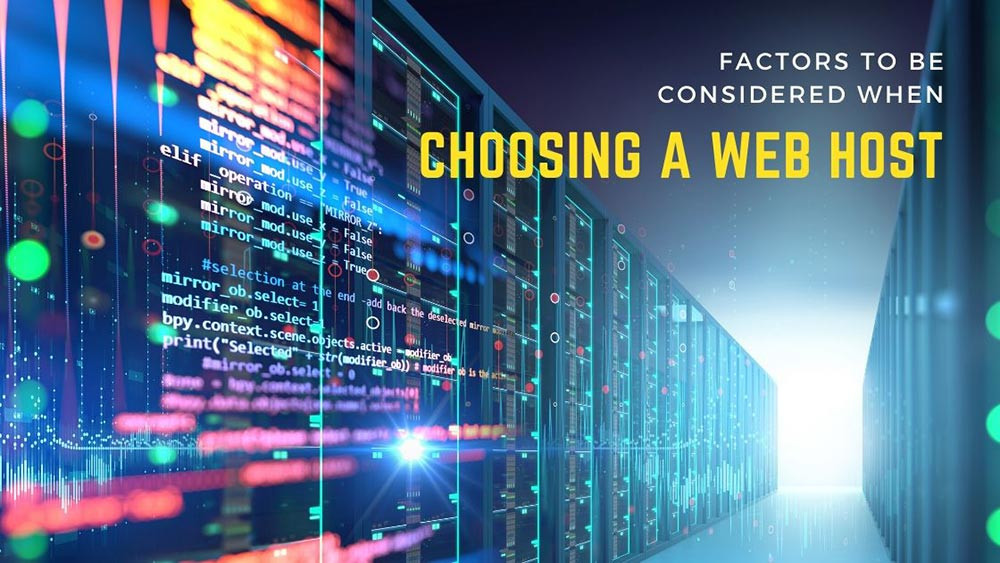 Any business or company would want a service provider that they can afford to buy also trust upon. As we all have heard, "you get what you pay for," this is precisely the feature of web hosting. It is the full return of the investment done.
To know about the important features of a web hosting service provider, we should also learn what web hosting is?
Web hosting is a service that provides the business, companies, or individuals to post a website onto the internet for the viewers to see them. If a website is designed and developed but not hosted than it's of no use, because the viewers will not be able to have a glance of it.
So choosing a correct web hosting service provider or web host is a crucial part of online marketing. The companies should first note down their requirements and then compare the features offered by different providers. It would help if you kept in mind the fees you are paying for the features you get.
Companies to make sure they get the best Web host for their money, have to implement the factors mentioned below.
Focus on their Specialties
Every website has its own needs that not all web hosting providers will have the ability to address. So, businesses first must evaluate their needs, whether they're little blog, developing, or are already established. It's essential to be aware of their current and future demands so that they'll decide on selecting the best web hosting provider.
Providers have their particular strengths and weaknesses, which should be evaluated. If you have any questions in your mind, then you should contact the web host to get the answers you need. The companies ought to list down their questions and observe the replies. They shouldn't hesitate to call the provider in the event they have other queries. An ideal web hosting provider is more than eager and always prepared to answer the questions of their clients.
Characteristics and Limitations
The companies should determine the things they want and the goal of their site. People that have a simple blog requires fewer attributes compared to an eCommerce website. Some website includes lots of RAM, adequate processing power as well as disk space to be able to function efficiently for the organization and its customers. Most economical sites don't meet such conditions.
Businesses must list down their requirements and also think about their future needs. They should see to it that the provider they are considering meets their demands or even better, exceed them. They ought to recall their requirements regarding additional domains, backups, and support, among others. They ought to observe the supplier as their partner in growth.
Technical Support
It's necessary that the service provider, in addition to the support department, has a fantastic reputation. In this respect, they should be confident that they may be able to speak with a real man anytime, no matter what.
The majority of providers give multiple support levels such as email, live chat, and toll-free contact number, are few to be mentioned. They should see to it that the provider has an in-house service section and isn't outsourced to another party. They ought to make sure the web host accomplishes customer service.
Other things that need to be considered, in addition to the above mentioned three points. The minute you find the service providers that meet your needs, the items below will allow you to narrow down your choices.
Features and Add-ons
When you have shortlisted your choices, it is time to decide on the provider that stands out from the remainder.
You should know about - Which will be the add-ons they supply? Do they make it effortless for a newbie to set up a website? Can they provide credits to the market with Yahoo and Google Advertising?
Do they come with multi-data facilities, make use of Green energy, and supply regular data backups? Do they pay for domain name privacy, or does this come with a price? At times, the option of a provider depends on a gut sense or someone else's recommendation.
After learning all the important factors related to choosing a perfect web host. We should also know about the types of web hosting for a better selection of a web hosting plan.
Types of web hosting-
Shared hosting- This is the best hosting for the business website beginners at a low cost. Because the multiple websites are stored on the same server, the price becomes relatively low making it an ideal hosting at a low budget.
VPS hosting- VPS hosting or virtual private server hosting is generally used by the website owners who need great control but not specifically a dedicated server. In brief VPS Hosting can be termed as a middle point of shared hosting and dedicated hosting.
Dedicated server hosting- Dedicated hosting provides the website builders, the maximum control over the server. In dedicated hosting, the server is exclusively rented by you for your website to be stored on.
Cloud Hosting- This hosting technology let hundreds of servers to work together to look like a giant server and make a very large grid or cloud.
Self-service web hosting- If you are not ready to rent a web host, you can do it yourself. You have to buy the servers, install and configure the software, look after its proper functioning ( sufficient cooling, power supply in the machine room, etc).
Managed Wordpress Hosting- WordPress website is more in demand and with the demand of WordPress websites, WordPress hosting came into existence, where WordPress website can be hosted. It not very inexpensive as shared Hosting but can be rented by small business owners
DotCreative being a leading web design company, helps you choose a correct web hosting service provider for your website. We are always eager and happy to serve our clients. If you need any help from us or want to ask any questions regarding web hosting. We are here, feel free to contact us.