13 Best Social Media Sites For Businesses In 2021
---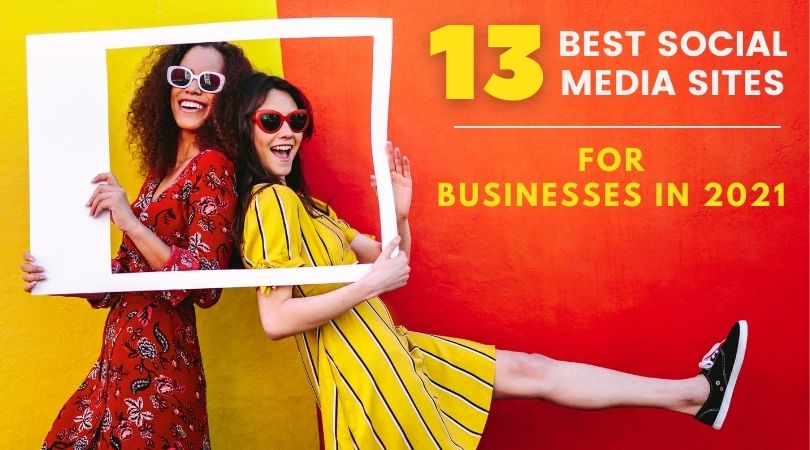 With the impact of coronavirus in 2019, the market and business have almost come to a halt. So it is when digital marketing grew tremendously, and social media, along with entertainment purposes, is widely used for marketing and business as well.
Social media marketing is a form of digital marketing where using different social media platforms such as Facebook, Instagram, LinkedIn, Twitter, etc., the business advertises its products and services and communicates with the potential customers.
But the social media marketing is not only limited to Facebook and Instagram; there are other platforms that you must not ignore as it is suitable for backlinking and drives traffic to your website.
Being a leading social media marketing company in Kolkata, we are here to mention 14 social media sites that you must not ignore to grow your online business.
Facebook: With monthly active users of about 2.7 billion, Facebook is the biggest social media platform that can be used for Engaging your audience, collecting reviews, customer service and advertising. A Facebook business page is compulsory for any company, and you should update it regularly. Today's customers demand all businesses have a presence on the platform, and many of them also await those businesses to reply to their questions and concerns. Basically, if you're only going to pick one platform for your business use, make it Facebook.
Twitter: With 186 million average monetizable daily active users, Twitter is vividly used for building industry authority and real-Life updates. Twitter is a fast-growing platform, and various users explore news and information on it. Because of this, it can be especially beneficial for companies who publish fresh content regularly.

Bestowing links to new pages and blog posts is easy, and doing it on a regular basis sends readers straight to your latest content. Moreover, if you make it your strategy to share valuable and informative content from other sources, you can develop your reputation as an expert in your industry.

LinkedIn: Registered users of 706 million makes LinkedIn a renowned social media platform. It is generally used by either the company owners or the employees. LinkedIn is a social platform for professionals, which means it can be a helpful tool for reaching B2B prospects. However, that doesn't mean it isn't beneficial for B2C companies.
YouTube: With over 2 billion registered users, YouTube highlights company culture, tutorials and demonstrations. Although you may not recall it as social media, YouTube is one of the most significant origins of user-generated content online. And if your company produces its own content, it can be an excellent way to correlate with those viewers.
Pinterest: With over 400 million monthly users, it is best used for sharing products. If you own an ecommerce business, you should be present on Pinterest; it is as simple as that. In fact, 87% of users have bought a product because of Pinterest. The platform enables you to upload single photos with short descriptions and a link. Not to forget, its built-in shopping characteristic makes it simpler than ever for businesses to advertise their products on the network.
Instagram: Over 1 billion active monthly users; Instagram is best used for building your brand. Instagram is developed for sharing photos and is excellent for any visual content. It isn't a text-savvy channel and also does not allow links inside posts.

Instagram is the best social media platform for companies that want to generate photos and videos for the public.

Reddit: With over 430 million average monthly active users, Reddit is best used for audience or content research, interacting with niche audiences. Reddit as a social media platform allows users chances to communicate with each other based on some instances.

Users can share content, links or summon questions on topic groups described subreddits on this channel. The most valuable part is you can find a subreddit for approximately any topic. Thus, you can use Reddit as a research tool to understand what your audience is discussing and then produce content for them accordingly.

Snapchat: With around 238 million daily active users, Snapchat is used for Real-time updates and promoting events. Snapchat permits users to post photos or videos that will remain visible for 24 hours before disappearing. It is perfect for businesses looking to promote a timely event, such as a product launch or conference.

Snapchat also gives marketers the capability to produce custom, branded geotags to promote specific events in certain locations within a certain time period.

Tumblr: With around 507.2 million registered blogs, it is best used for reaching a young audience. Tumblr is originally a microblogging stage and doesn't absolutely fit with the social media sites on this list. However, it's still a helpful tool for reaching customers between the ages of 16 and 34. It has the youngest demographic of any social media site, and its users are very enthusiastic.
Medium: Yet another blogging platform, Medium is a space where the companies tend to describe them in a written format. Being said that, marketing on Medium can be difficult if you're not accustomed to the platform. It has a different "community" with lots of running jokes and memes, so you should spend some time learning it before using it to market.
Whatsapp: With over 2 billion global users, it is best used for communicating directly with customers, sharing product or service information. Owned by Facebook, Whatsapp is a messaging app that enables users to interact with their contacts and businesses.

The WhatsApp Business app allows your business to set up a business profile, reply to messages from customers, and automate any of the messaging so you can remain composed. As one of the most influential social media platforms, WhatsApp also offers businesses the expertise to create catalogues of their products and services.

Messenger: With around 1. billion registered users, it is yet another booming platform that is best used for communicating directly with customers. Messenger, Facebook's other social media platforms, lets your business share one-on-one with interested customers.

With messenger, you can reply to users' messages personally or utilize a chatbot to respond to inquiries quickly. Chatbots can manage things like questions, shipment tracking, booking appointments, and more.

Quora: Over 300 million unique monthly users, Quora is best used for understanding questions your audience is asking, establishing authority. Users on Quora can question and answer questions on a variation of topics.

Your business can apply these questions to notify what you include in your content. If you have the answers users are searching for on the social media site, build influence in diverse areas.
Note: Apart from these, it not being a social media site, GoogleMyBusiness must be kept in mind to grow your local business.
After reading the entire blog, you now have knowledge on how to start social media marketing. But in case if you need any assistance, you can contact DotCreative on 7980358244 or email us at [email protected].