Which Is Better, SEO Or PPC?
---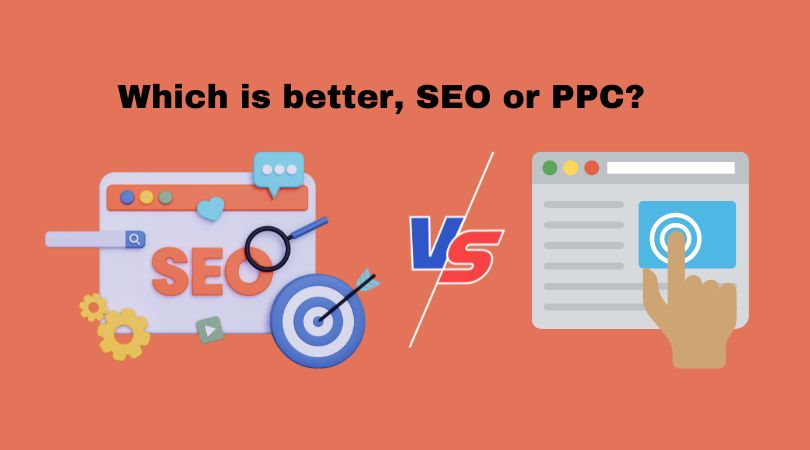 Are you stuck in the SEO vs PPC selection? CMOs for international brands always tussle with how to discover the perfect balance between their SEO and PPC strategy to deliver the best marketing ROI. We are often asked, "Which is better: SEO or PPC?" It truly relies on your current situation, objectives, and marketplace.
Traffic is what maintains a website's growth. The vast number of users that come to your website comprises a small portion of your potential customers who will pay you for using your products or services. Hence, having massive traffic to your website will guide you to the success of your business.
Which one can be fruitful in bringing traffic depends on your market position. The difference between search engine optimization (SEO) and pay-per-click (PPC) marketing is that SEO concentrates on getting traffic from organic searches. In contrast, PPC focuses on obtaining traffic from paid search, social, and display.
Here you will understand how to determine which is better for your business. But initially, let's know the basics.
What is SEO?
Search engine optimization enhances your website's visibility to push its rank and acquire organic traffic from search engines.
Just as you turn to your favorite search engines, such as Google or Bing, to search for any product, service, or information you want, so as your customers. When you get into SEO, you're growing the probability of your target audience discovering you when they do an online search for keywords associated with your product or service. In fact, 61% of marketers state that SEO is a leading inbound marketing aspect for the business.
When you hear individuals talking about SEO or search engine optimization, they're conversing about optimizing your web pages to get them a higher rank in search engine results. Organic SEO ensures that the search engine spiders understand what is on your web pages so that, ideally, they'll rank your website higher than your competitors.
When to use SEO?
Search Engine Optimization is a great way to bring a targeted audience to your website, but when should you do this? Every business owner has different requirements, so depending upon the requirements, you can check if you actually need SEO for your website.
Higher ROI: Who would not like great returns on small investments? SEO is highly lucrative as you do not have to spend money on every keyword you want to rank for (unlike PPC). You must simply optimize your website while holding all the necessary algorithms and guidelines in mind.
Cost: SEO is highly cost-effective, can improve your brand awareness, and bring you appropriate traffic when compared to different digital marketing tactics.
Awareness: Once you get into the top five ranks for your keywords, the visibility or orientation that you get is much more than you would for different campaigns.
Trust: When you start ranking in any of the first five positions of SERPs, the reliability of your website grows manifold, i.e. you appear more reliable than those ranking below you.
Sustainability: This is the most profitable part of SEO – your ranking is upheld for quite a while, even when you stop any SEO measures, unlike paid marketing.
What is PPC?
PPC or Pay-Per-Click Advertising is basically purchasing visits to your website. Advertisers pay the price every time someone clicks on one of their ads. PPC lets you quickly leverage search engine traffic by paying or bidding for keywords connected to what you are selling or a service you're providing.
PPC allows you to have full command of the messaging and links on the search engine results page. Paid search marketing is an auction, so there's no definite guarantee when your ads will appear, but the level of command in handling your campaign is distinct from SEO.
When to use PPC?
To get traffic instantly on the given keyword, you can use PPC, but is it really worth it? Check out your business requirements and find for yourself if you need PPC to grow your business.
Brand Impression: Spending on Google ads can support boost brand presence/recall in a visitor's mind as your ad seems above the fold.
Targeting: You can target your ads to a typical set of users based on date, time, location, and any sort of demographic data.
Quick Visibility: PPC offers immediate visibility as compared to SEO. Ranking for a keyword might take some time; PPC, however, can improve your visibility immediately at an affordable cost.
Cost: As you are mandated to pay per click for every keyword you want to target, the price will be more than SEO. However, we need to comprehend here that the visibility you stand to earn is much faster when compared to SEO.
SEO or PPC- Which is better?
It's just not feasible to answer this question without considering the unique situation of a given business.
A hyper-local business with low competition and a requirement for just a few weekly leads could likely generate good visibility in the local and organic search results with a small spend or some DIY SEO.
A new e-commerce store competing with a page of results from Amazon, eBay, and other major department stores and online retailers will possibly struggle in organic search, at least in the short term.
A clear digital marketing strategy and clear short and long-term objectives are important in making an SEO or PPC decision here.
SEO and PPC both propose exceptional advantages and disadvantages. If you have to pick one, most marketers recommend SEO. Resembled PPC, SEO is more cost-effective.
That's because SEO can yield long-term website traffic and revenue more cost-effectively than PPC.
Why should you use SEO and PPC together?
If you have the abilities and budget, SEO and PPC function best when they're used concurrently. SEO is most suitable for long-term goals and targeting precise, low-competition keywords that'll continue to produce results until you delete your website. PPC is fantastic for short-term goals and targeting high-competition keywords that are too saturated to operate in your SEO process.
Basically, when you utilize them together, you get the powers of both with the tiniest downsides. It always takes time to execute an SEO strategy, and it also takes money to conduct PPC ads. But the merged revenue of both will neutralize any negative qualities bringing the best possible relevant traffic to your web page.
SEO vs PPC: Make your unique strategy
You must consider both types of digital marketing, and then you can determine whether SEO, PPC, or both alternatives are the best fit for your requirements, objectives, and budget.
No one else can help you with this. It is you who need to carefully check the advantages and disadvantages of SEO and PPC and check if you really need both and also if your budget permits you.
You can definitely seek help from us once you tell us your requirements and budget. We can help you make a perfect digital marketing strategy depending on your needs.
Conclusion
If you're ready to grow your marketing technique with SEO, PPC, or both SEO and PPC, DotCreative provides expert SEO services and PPC services to clients across the country. Whether you need SEO services in Kolkata or PPC services in Kolkata, we've covered you. Get in touch and get the SEO and PPC done from the top experts in Kolkata who are always active in serving you with the latest marketing approach.