What Is Google Analytics 4, And Why Is It Necessary?
---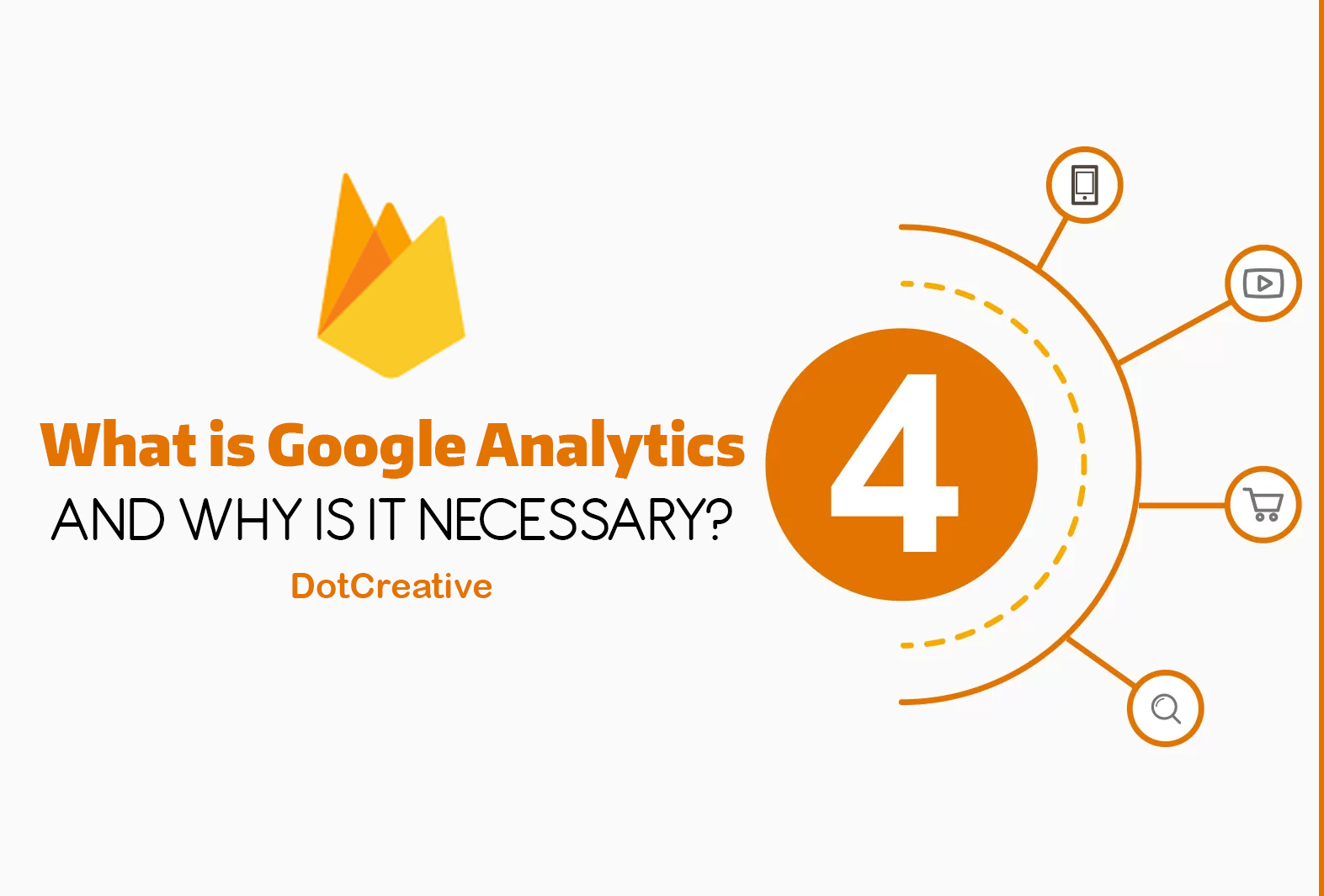 Before getting to know about Google Analytics 4, here is a quick detail regarding Google Analytics. It is a web analytics tool presented by Google that tracks and reports website traffic. Initiated in November 2005, Google analytics has become a widely used web analytics platform on the web collecting data from IOS and android apps using a software development kit.
Small and medium-sized company websites usually use Google Analytics to acquire and analyze various customer behaviour analytics, which they can imply to improve marketing campaigns, drive organic website traffic, and retain visitors. Google Analytics contains features that help users recognize trends and patterns of the visitors engaging with their websites.
Versions of Google Analytics
As it is the 4th version of Google Analytics, it is termed GA4. The various versions of Google Analytics introduced are:
Google Analytics 1: GA1 is the classic Google Analytics that uses ga.js JavaScript library.
Google Analytics 2: GA2 is the universal Google Analytics that uses analytics.js JavaScript library.
Google Analytics 3: It is also universal Google Analytics that uses gtag.js JavaScript library.
Google Analytics 4: It also uses gtag.js JavaScript library with a new measurement model called the 'Event+Parameter' model.
Google Analytics 4, or GA4, is the latest iteration of this assistance that Google brought up in October 2020. GA4 is a modified version of the previous versions of Google Analytics. It proposes an entirely new user interface and changes from reliance on third-party cookies to machine learning for advanced data accuracy.
Google recently declared it is sunsetting Universal Analytics in June of 2023. It means if you've been keeping out on switching to Google Analytics 4, your time is almost over. Before it is too late, understand GA4 and shift your analytics to it for a better online track and management.
What is Google Analytics 4?
Google Analytics 4 or GA4 is the newest version of Google Analytics. This new web analytics era will let marketers effectively analyze essential customer usage metrics, not just track traffic.
It focuses on customers' privacy with some privacy laws, such as GDPR and CCPA. With privacy-included tracking, cross-channel data calculations, and AI-driven prediction keywords, GA4 is a great tool that delivers remarkable insights.
New features in Google Analytics 4 include:
Machine learning
Artificial intelligence (AI) tools;
Integration with Google Ads;
Customer-centric reporting design;
Additional codeless tracking features; and
Improved data control features for data management.
Highlights of the Google Analytics 4
Here are the main highlights regarding Google Analytics 4 that everyone thinking about setup must know and understand:
Machine learning is the main setup of data measurement. The latest AI-powered "Insights" feature automatically highlights useful details for marketers
It's focused on giving marketers a "more comprehensive knowledge of the customer journey across devices." It does not just measure individual metrics across devices, pages, or segments.
The design is "future proof" that works in a world without cookies or identifying data.
Google Analytics 4 features "data streams."
There is no "view" level area of GA4.It only has Account and Property levels.
Google Analytics 4 enables editing, tracking and fine-tuning of events within the UI.
Differences between Universal Analytics (UA) and Google Analytics 4 (GA4)
Are you still ambiguous on the main differences between Universal Analytics and GA4? We are here to bring out some of the major differences to give you a clearer picture.
Different Measuring Models: The most significant difference between Universal Analytics and GA4 is their measurement model. Universal Analytics implies a measurement model based on sessions and page views, whereas Google Analytics 4 uses a measurement model based on events and parameters.
Removal of Monthly Hit Limits: Another important difference between Universal Analytics and Google Analytics 4 is the reduction of monthly hit limits. The free version of Universal Analytics had a monthly limitation of 10m hits. Rather, GA4 limits the number of various events that can be captured (500).
Free Connection to BigQuery: Previously, the BigQuery part was only available to GA360 customers, but with the introduction of GA4, it is available for all.
Cross-Platform Tracking: With the old Google Analytics, tracking users across different platforms was unthinkable. The new Google Analytics 4 tracks web and app data in one go. Cross-platform tracking lets you see the entire consumer journey, including investment, engagement, monetization, and retention.
Access to Predictive Insights: With GA4's predictive metrics, you can make data-driven determinations on a large scale. For most businesses, predictive analytics can greatly impact retargeting campaigns. AI metrics possess purchase possibility, churn possibility and revenue projection.
How To Set Up GA4
Configuring GA4 is quite simple and can be done in a few clicks.
The analytics property you are acquainted with will be left unchanged, persisting in gathering data. Your UA sight will remain accessible via the admin screen. Here's how to join a new GA4 data stream to your existing Universal Analytics.
Steps For Configuring GA4
Log in to the Google Analytics Account.
Click on Admin at the bottom left navigation.
Confirm that your preferred account is selected.
Ensure the preferred property is set.
Click GA4 Setup Assistant, the first choice in the Property column.
Google Analytics for Firebase
To link your Firebase account to Google Analytics 4, follow these steps:
Log in to the Firebase console.
Go to Analytics Dashboard on the left forum.
Click on "Start upgrade" in the header at the top of the page.
Follow the on-screen guidelines to finish the upgrade.
Once elevated, you can discover app analytics in both the Firebase console and Google Analytics.
Advantages of using Google Analytics 4
After learning about the highlights, differences, and how to set up Google Analytics 4, we will now discuss the benefits of using GA4. Let us know about it in detail.
Enhanced Customer Journey Tracking: With this new user-focused and event-driven data model, you can now use a single set of metrics and measurements to look at both web and app data, letting more intelligent accumulation.
Improved user engagement analysis: Google has now made it more reflexive for marketers and analysts to drill into user-centric reports by aligning report menu extracts with the consumer journey.
Simplified Goals and Events Setup: What used to be complex is now easily accessible. It will be beneficial when transactional functions, such as application forms and checkouts, are hosted on a sub-domain or third-party website.
Intelligent user privacy and tracking features: Google Analytics 4 gives users more distinct and specific control over what personal data is gathered, which will help the users yield with current and future privacy regulations. It utilizes a flexible approach to measurement and, in the coming future, will include modelling to seal in the gaps where any data may be insufficient.
Enhanced visualizations and reporting: Whilst a lot of user interface has remained similar. There are various latest visualizations and reporting functions. Existent visualizations such as 'Real Time' have been improved and made more interesting, but the reporting visualizations are something on the next level.
Other parameters: More data doesn't always mean useful data. Having the right parameters is a benefit. Most of the measurements accessible in the old version are still present, but they're made more easily usable with GA4.
Conclusion
Google Analytics 4 is a strong analytics tool that supplies valuable data to your audience. There are multiple benefits to GA4, including cross-platform tracking and AI-driven insights.
Fortunately, setting up a GA4 on your website or app is effortless. The steps outlined above should take you less than 10 minutes to finish, so there's no reason to put off the change.
In case you are not being able to do it, you can contact DotCreative, which can seamlessly merge your universal analytics account to the GA4 account, so you never miss the data after the universal analytics is sunset.
FAQ
Is Google Analytics 4 free?
Same as Universal Analytics, Google Analytics 4 is a free Google tool. No costs are linked with using one (or more) GA4 effects on your account.
Can you run GA4 and Universal Analytics simultaneously?
Yes, you can currently run both tools parallel to each other. Universal Analytics will stop collecting data in June 2023, so make sure you've established GA4 even if you aren't prepared for the switch instantly.
Why is Google Analytics 4 hard to use?
GA4 is highly customizable, which can make it difficult to comprehend. However, once you get to understand it, you'll find to get deeper insights you can use to expand your business.
Is Google Analytics 4 better?
GA4 is the next generation of Google Analytics, and hence it is definitely better than the past ones. It is more influential than Universal Analytics and provides more appropriate data about why users are on your site or app.
Is Google Analytics 4 ready to be used?
As of the current information, universal analytics is going to be unaccessible from July 1st, 2023, which means you can use it till June 2023. Thus we will recommend you install GA4 before Google completely removes Universal analytics from the web.