How To Write Catchy Social Media Content ?
---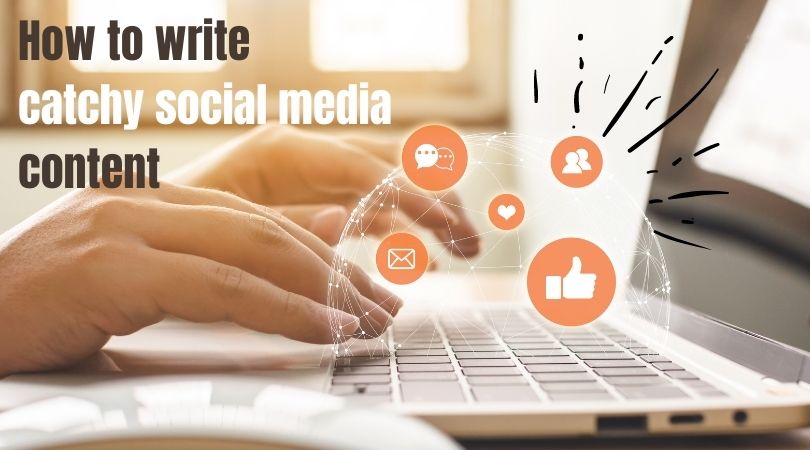 In today's world, who does not use social media?
It has become an integral part of the day to life. It used to connect with friends and family, make new friends, and even for business.
There are different social networks like Instagram, Facebook, and Twitter, where people share information about their personal lives. This is also the exact place where the business does social media marketing. The owners inform the audience about their products and services.
What is social media marketing?
Using social media platforms, the business owners advertise their products or services they offer and target the relevant audience to get a lead generation.
Is social media marketing worth it?
Yes. Instead of traditional marketing, it is used more often. It delivers better results with a minimum budget. It is both organic and paid. To get quick results, you can run paid campaigns like a Facebook ad.
You must deliver engaging content, that engages the audience and get the information required. Generally, the content is in the form of photos or videos. But sometimes, the business niche wants blogs, articles, or short descriptions related to the product or service posted.
Here we will discuss some of the ways to get engaging social media content to attract social media users on different types of social media.
While going through different social media sites, you must have come across cut off characters. Instead, you must have used it also.
It works appropriately fine when you use it for personal use. But it does not look professional when you use it in business posts. The user who visits your page is there for the content.
Suppose you read the post, "we have great offers 4 you!"
Would you visit there? Hopefully, you will not dwell there.
But instead, you read, "we have great offers for you!"
That's quite an improvement! It looks more professional to gain the user's attention.
Must write grammatically correct content
Though social media is a less formal platform in comparison with other online media. But that does not mean, you can avoid grammar.
Again it comes to professionalism. If you write the grammatically incorrect content, it affects your impression negatively.
Consider this statement in the passive voice, "Our store offers heavy discount on our products."
Now arrange it in an active voice and more engaging way " we have heavy discounts on our products."
The second statement is more dynamic for the audience. After all, it is the table of content that matters and how it is framed.
Check homophones for correct meaning
Homophones are similar sounding words that are not detected by the spell checkers. You must carefully go through the content before final publish. The homophones change the meaning of the content which misleads the audiences.
You will not want to depict a false image of your business. So you cannot ignore the homophones.
Let us take an example- you typed 'hair saloon' but instead misspelled it as 'hare saloon'. Look how badly it affected the impression you wanted to create.
Do not overuse punctuations
Discount!!!!!
This type of post looks highly unprofessional. You must not use these extra punctuations to create an impact.
Instead describe what you are offering in detail, which looks professional and descriptive.
You can write as " our store offers good discounts for today. visit our store before the stock ends."
This sounds much better. Right! Use the content in a more professional way to gain more audience reach. All the users do not like informal content in the business.
So why take a risk? Keep it professional that is liked by everyone.
Write like an 8th-grade student. It is not that they are uneducated or unskilled. But you should aim at keeping your content simple. Write innovatively without using harsh words.
The readers will not give time to understand what you are trying to portray. They will read if they know, they read furthermore or else leaves. In the end, it is the subject that matters. You must aim at providing easily understandable quality content.
Avoid using long sentences and paragraphs. Keep them short and unique with bullets and bolds as and when required.
Use unplagiarized content
The content you use must be unplagiarized. You should not just copy someone else's, content because you liked it. It may lead to copyright issues. Furthermore, it affects the SEO of the content.
If you use plagiarized content, your content will not be visible for the keywords searched. You must have unique content for the crawlers to crawl you.
The content you use to depict the seriousness you have for your brand. So you will not copy it, instead frame a content that actually describes your brand.
Take help from online tools
After the final proof is reading, check it for the grammar, spelling, and plagiarism errors. Here are some of the tools we recommend for better content output.
Checker: Use this tool to check the spelling mistakes if any. But keep in mind it will not check for homophones or any confusable words. This needs to be checked manually.
Grammarly: These are the tools to check any grammatical problem. Ensure to use any of these before the final publish..
Grammark: For any further grammar issue, check your content here. These will improve the case of active and passive voice.
Quetext and plagiarism detector: Use any of the given platforms for checking plagiarism. This lets you deliver 100% unique content that is not copied from anywhere.
Semrush: Use this for topic research and better SEO for the content you are writing.
Note: Grammarly premium is the master to use. When you are in a hurry, you can check it here. It checks overall grammar with spell-check and plagiarism. We recommend this for the content which needs to be published immediately.
DotCreative aims in helping our visitors. If you have any further queries, you can contact us. We do Social media marketing and content marketing with the best results. Providing customer service and keeping our clients happy is our main motto.