How To Improve Organic Traffic Through SEO?
---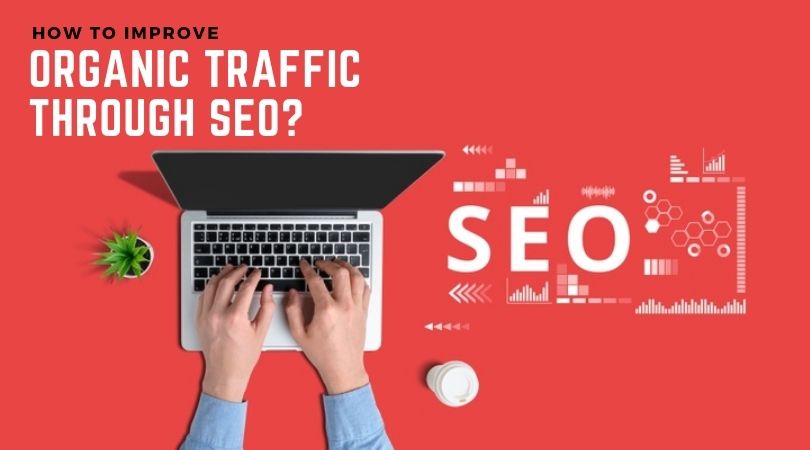 Having a website is essential, but owning a website is not enough. You have to get healthy website traffic that improves your ranking and, ultimately, sales.
There are only two ways to rank on Google:
1. Organic SEO: Organic Search engine optimization is a process to get organic search traffic. You are not required to spend a penny except your time to rank through it. All you need to do is proper keyword research and select the most relevant keywords you want your website to rank.
2. PPC: You have to run advertisements on Google or any other search engine for a particular keyword and pay Google for every click on your website. When you run Ads, Google displays your site on the top of the search engine result page.
Now when you understand the approach to rank on the search engine result page. Let us find out SEO v/s Google Ads- the better marketing option?
Organic SEO is highly cost-effective, but you have to spend a lot on PPC. If you are short on budget, you should never opt for PPC because PPC works till you pay. The moment you stop paying for Google Ads, PPC stops working.
Today DotCreative is here to discuss Organic SEO tips to improve google ranking. There are a lot of small businesses that have great products and services to offer. But they lag behind because of a shortage of budget. If you are one of them, continue reading to know every single tip to improve your Google rankings through SEO.
Write for readers, not for search engines: When you frame content for search engines, you always focus on keywords stuffing. But as per Google SEO guidelines, keyword stuffing is unacceptable. Instead, while drafting the content, you should always focus on what draws readers' attention and give them a better user experience.

While writing content, focus on content quality instead of SEO. As correctly said, Great content provides better SEO you maintain quality with proper keywords use; SEO will automatically improve. You are not required to please search engines. All you need to do is just write what your business wants to convey information about.

Post blog regularly: Why blogging is important for business is the commonly buzzing question of any website owner's mind.
When you use blog posts regularly, you deliver information to your readers regularly. You actually provide more content on your website, which automatically optimizes your website for google search.
Actually, blogging is the best way to improve your organic SEO. But while framing blog, do maintain the relevancy of the blogs related to the business niche. Always prepare original content, never use duplicate content. It will not benefit your business; instead, harm it tremendously in the long term.
It helps you implement organic keywords and convey a lot of details about the business, its products, and services.
Share blogs on the blogosphere: The most commonly used blogosphere that drives a lot of organic keywords is "Quora." It is a platform where you can participate in the question-answer session with your potential customers. You can answer all the relevant questions you are an expert in and even link your website to it.
There are many other platforms where you can read, comment, and link your website. Generally, engage in this type of activity with the marketers of a similar business niche.
Basically, the blogosphere means an online platform where you can share blogs and links to get more potential audiences.
Use attractive meta titles and meta descriptions: Title tags and meta descriptions are the first things that the visitors see before visiting your site. The title and description should be engaging that ensures the visitors to visit the site.
It does not matter how good you rank on a particular keyword if the visitors are not attracted to your site. If you cannot persuade the visitors to visit your website, you will not get the traffic. While framing title and description, give equal time to it as you provide for the content.
Keep in mind it creates the first impression, and you should always aim to make it remarkable to gain more traffic.
Focus on long-tail keywords: Instead of using single keywords, try using keyword phrases or long-tail keywords. For instance: You are a digital marketing company, instead of using digital marketing as the keyword. Try using a digital marketing company in Kolkata. You target different keywords, ' Digital Marketing,' Marketing company,' and 'company in Kolkata.'
It improves your chance to rank on different keywords along with the opportunity to rank on a long-tail keyword. It is not possible if you target short keywords only. Try to use the long-tail keywords in anchor text to improve your organic SEO.
Maintain content quality and quantity: The quality of content is equally important as its quantity. You cannot ignore any of these while framing maintains its quality that attracts the readers. Quality content does not mean you should use university-level language. You should use simple language with short sentences that make the content understandable.
Quantity of content is a vital factor for SEO ranking. We do not mean that you should write a blog or article of 2000 or 3000 in length when we say quantity. No, write in a decent quantity that genuinely delivers the information you want to convey.
Update existing content: If you are ranking on Google through organic search, it does not mean you should not change or upgrade your website content. You need to change the content from time to time because you need to adapt your content as per the latest SEO guidelines.
If you do not change the content, there are high chances to get an extreme dip in your rankings as your competitors are regularly updating.
Optimize for voice search: Most of the search happens through the mobile device. Every search engine is adapted for voice search, and no one bothers to exert himself instead use a voice search. Your website must be voice search optimized to get the traffic who searches your website through voice search.
Here are 7 steps to optimize your website for voice search, which will ease your effort, and you will still be in the run to rank first on Google.
Use internal links: Analyze the underperforming and well-performing web pages of your website and plan a strategy to improve the underperforming page's rank.. Now internally link the underperforming page with the well-performing page to gain traffic to the underperforming page as well. It helps to keep visitors on the page for a longer duration and boost your rankings.
Target local searchers: Generally, you can provide the products and services to the persons of your locality. So try targeting local searchers; it boosts your local organic traffic, you can get local reviews. There are chances you can retarget the local customers if they loved your product or service.
Try using the locality in your keyword phrase to get more local searches as there are low competition and higher conversion rates. For more details, go through Why targeting GEO so important in modern SEO?
Do not avoid technical SEO: SEO is a technical area, which you cannot avoid. While you want to get more organic traffic, you need to follow certain technicals such as schema markup, proper use of H tags, maintain a proper hierarchy.
You need to have a user-friendly website to rank on Google. Certain technicals act as essential factors to rank on Google.
Use Social media: You should actively participate in different social media such as Facebook, Instagram, LinkedIn, Twitter, etc. It helps you gain trust in front of search engines. Do not forget to link your social media pages with your website to get direct organic traffic.
Though Social media do not directly affect your SEO, but Google identifies your effort and gives you a better ranking for your extra effort.
Follow SEO report regularly: Use Google analytics and get monthly and weekly reports to see your improvement in the ranks and the ranking keywords. Always keep in mind SEO is a long term process; you should keep patience and understand the trend and accordingly amend your strategies.
After reading the full blog, you have adequate knowledge to get the audience to visit your site. Now, if you think SEO is too technical and you cannot work on your web page SEO. You can easily hire affordable SEO services in Kolkata. Here are 5 tips to choose a reliable SEO company.
We are the top SEO agency in Kolkata, who works dedicatedly to boost your online presence with a proper marketing strategy. You can contact us on 7980238244 or email us at i[email protected] for any queries related to digital marketing.
P.S: We strictly condemn the use of Black hat SEO, which is illegal and can affect your SEO health adversely.