How Long Does It Take To Rank A Website On Google?
---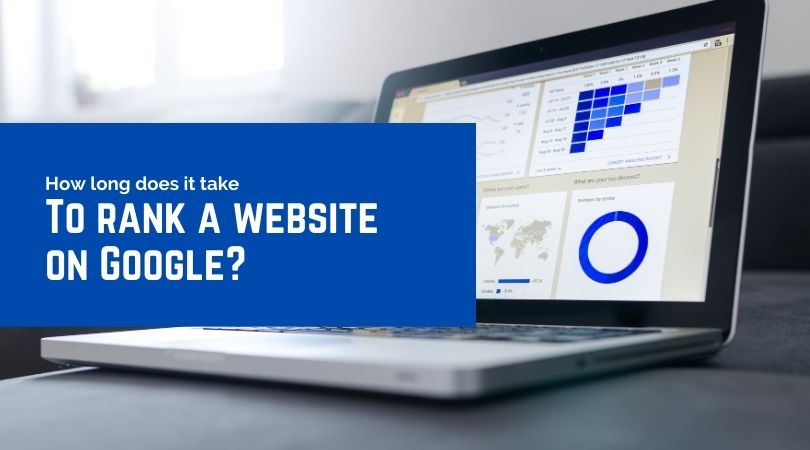 Website rankings play an important role to survive in this competitive market. When you rank on Google or any other search engine for the relevant keywords, you stand a better chance to get the targeted traffic to increase your sales.
To increase your website visibility, you need to rank your website on Google for the organic search; otherwise, you can opt for PPC but when it come to us SEO v/s Google Ads- The better marketing option? We strongly suggest SEO is better in increasing traffic in the long run as you rank organically without running paid Ads.
Getting traffic to your website is useful only when it brings relevant results. You need to do proper keyword research to get your website to the top.
In the early 2000s getting your website, a higher ranking was relatively easy. All you need to do was to use the targeted keyword in the URL, title, anchor text, meta descriptions and content. Boom! You got your site ranking in just a few weeks or even just days for less competitive keywords.
But in recent years, the search algorithm has changed substantially. You just cannot do keyword stuffing to rank your website. You need to maintain a keyword density of 3% along with other search engine ranking factors.
Before we elaborate the answer to the time taken to rank on the first page, we want you to go through the benefits of SEO for any business. After reading the blog, you now have accurate knowledge about the benefits of SEO.
Now let us come to this blog. Whether you are doing SEO of your website or for your clients' you must have come across the question; how long does it take to rank on Google first page.
The simple answer is six months to one year, but we will say it depends in an elaborate form. Every business is different from others and accordingly have a different level of competition. To improve your ranking and calculate the time required to rank, you need to know the topmost SEO ranking factors in 2021.
Here is the step by step guide to help you in understanding the various SEO ranking factors.
Quality content: Whenever you think of taking up SEO services, the first thing you need to do is to focus on your website content. If you have unique and engaging content, then it is well and good enough. But if not, you need to take up content marketing services to get unique content. Also, the content written must be grammatically correct and original content to gain traffic to your website.
Site speed: Speed of the site plays a vital role in getting your website rank if your website is optimized, you will lose traffic as nobody will wait for long to load the website. You can check your website speed on xxxx and get it optimized if it is not fast enough to gain user's attention.
Mobile Friendliness: With most of the user searching online on their mobile devices, you need to have a website that is user friendly. If your website is not responsive, the mobile users will not see half of the screen, so you need to optimize the site as per the screen size to get traffic from the mobile users as well.
Authority score: The more the website's authority score, the more chances it stands at to get ranking on the search engines. It is a time taking process, and you need to get backlinks from the reputed websites. Websites with a suffix such as .gov, .edu, .org provides the best kind of backlinks.
Age of domain: The older the domain, th better the SEO of that website. Age plays an integral part in rankings. If the domain age of four years and two years competing to rank for a particular, there are chances for four years older domain to rank comparatively early, keeping other factors aside.
Bounce rate: When visitors visit, the need to engage in your website. If they like the interface, they will surely stay, and it will decrease the bounce rate. When you have a less bounce rate, it means users love your website; thus, the search engine will grow your ranks.
Quality of Backlinks: Alongside outbound links, you must also have a robust inbound link building with no broken links in your website. When you have a proper link building strategy, you rank higher in less than the stipulated time.
Competition: The keywords you choose have separate competition and keyword difficulty to rank on a page of Google. So, the keyword's competitiveness decides upon the time required to rank the website on that particular keyword search.
Schema markup: Use codes to make it easy for the crawlers to understand what the website is about. The extra effort you take marks as a good impression in the eyes of artificial intelligence, and you will rank faster as compared to a standard website. You also need to maintain a proper hierarchy using the keywords in the heading tags as per the preference.
Budget: Obviously, the professional will work as per the budget you finalize, now you must be thinking of how to decide upon an SEO budget. You must not worry; go through the linked blog, and you will get all your answers. The more the budget, the more dedicatedly the SEO expert will rank to get your website rank.
After reading the ranking factors, you must be sure by now, that you need an SEO professional to grow your online business. Here are specific tips to choose a reliable SEO company. We do not insist upon choosing us, but we want to choose a company who work ethically and follows all the SEO guidelines. If you go for any cheap SEO services, you might get a penalty from search engines. So choose wisely the SEO that can boost your business visibility instead of something adverse.
DotCreative is the best SEO agency in Kolkata with a dedicated team of SEO experts who keep themselves updated with the latest updates and accordingly plan a strategy to start with your company's SEO. Starting from keyword research to technical SEO or off-page SEO, we know the importance of all. While doing SEO for your business, we keep track of your website traffic and follow Google analytics to change the plan as required.
We can assure you that you will get to see the visible results from the sixth month if you take service from us. For any further queries, you can contact us on 7980358244 or email us on [email protected].