What Are The Topmost SEO Ranking Factors In 2021?
---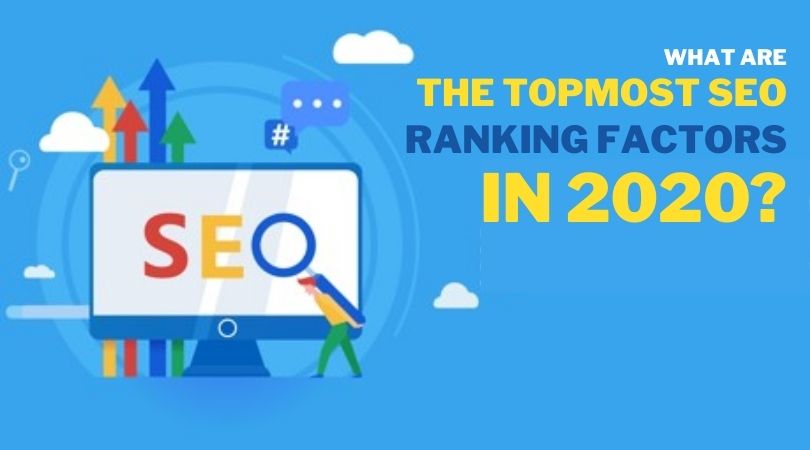 How to rank on Google's first page? It is the most common yet popular question for website owners.
Ranking on Google or improving your Google rankings is not difficult as long as you know the Google ranking factors. Before we get into the ranking factors, we should first understand the importance of website ranking.
To rank on Google or any other search engine result pages(SERPs), we need to have a proper SEO strategy. By saying Proper keyword strategy, we mean your website must have focused on On-page SEO, Off-page SEO, Technical SEO, and link building.
SEO is an essential section of digital marketing. When you focus on-page optimization, it increases your brand visibility and online reputation. In simpler terms, we can say Search Engine Optimization (SEO) is a method to improve your search engine rankings with proper planning.
Before moving further, read how to get more traffic on search engines through SEO in 2020.
After understanding the benefits of SEO for any business, it is time to discuss the ranking factors.
DotCreative is back to discuss the SEO ranking factors. There are more than 200+ ranking factors. But we are here to point out some of those which you cannot neglect. Ignoring any of the given points can lead you to adverse SEO health, and Google may penalize you.
Originality : Whether you are framing content for blog posts, articles, profile content, product descriptions, it needs to be authentic. If you create original yet engaging content, it helps your SEO strategy. The originality of the content is a vital factor that immensely affects SEO. If your content is plagiarized or even if you have used a spinned, you will not rank on Google. Imagine if Google already has the original content, why it will rank a copied content. You cannot lose your spot to your competitor because of duplicate content. Always read your competitors' blog and take inspiration and frame unique content.
Content Quality The sentence "Great Content provides better SEO" is highly relevant in digital marketing. While framing content alongside originality, you must maintain a decent content quality. Just think about your potential readers while drafting the content. Always frame the content in a way, which makes it interesting for the readers. Avoid monotonic and dull sentences, which makes the readers sleepy. Search engines work on artificial intelligence, but after all, it is a machine and cannot read humanly. In order to write quality content, you need to frame simple and short sentences. Try making it a bit interesting, which keeps the readers intact and engaged on the website for a longer duration.
Content-Length : Another important factor is the length of the content. It is generally heard that the more the words, the better the ranking. But it is not the complete truth that you believe. You need to maintain a specific word limit, but it does not mean you should unnecessarily elongate the content. An adequately framed content that expresses your views ultimately is what matters. The content with properly used alt text and internal links make it perfect for improving your rankings. So while comparing the quality and quantity, always focus on quality with the decent quantity to rank on Google.
Right keywords use : SEO entirely depends on the keywords you select for your business to rank. You need to be accurate while choosing the relevant keywords. Before choosing any keyword, you should always focus on what your business is searched for. Do proper keyword research and finally determine the keywords you want to use. Always keep in mind, the keywords you choose are what you rank for. If you target irrelevant keywords, you will only get website traffic which will not convert into your customers anytime soon. Another essential factor you must keep while choosing keywords is, try to focus on keywords phrases, which is generally used by the potential audience to search your industry.
User-friendliness : While optimizing a website, you should always make it device compatible. It means your site must be user-friendly. When you make the site responsive, the site adjusts itself as per the screen size. On a mobile device, it appears more compact as compared to desktops. When your website is responsive, Google trusts you for your effort and appreciates you for the extra effort you put in for better user experience.
Website Security : Google always prefer secured sites to display on the first page. To detect if your site is secured or not, you can differentiate it as follow. If your site has HTTP means it is not secured, but if it has https means your website is secured. Website security makes it trustable as there is no chance of data leakage to any third party. Any visitor will prefer a secured website, which makes google pick secure sites for better rankings.
Quality Backlinks : You need to get quality backlinks from the trusted sites. If your site has obtained links from ".gov," ".edu," it indicates your website has a solid impression in front of search engines. You need to focus on getting Do-follow links instead of No-follow links. Backlinks are essential to get your website on Google's first page.
Page Speed : Your web page loading speed is yet another factor that needs your attention. Suppose you made a fully animated website, which looks excellent when open. But because of the animation, the loading time increased, it negatively affects your SEO. Google will not favor a site that exerts an extended time to load. The visitors will get pestered with the delayed load time and will move to your competitor. Thus, to create a better user experience, Google will not bring you to the top.
Domain age : How old is the website domain; act as another vital element. The more aged the domain is, the more trustworthy it is. An old domain will have a higher chance of ranking as it is more reliable as compared to a newer domain. Have patience; SEO is a time-consuming process that you cannot ignore. With time, you will reach the top of the page when you follow all the other ranking SEO guidelines.>
Business listings : Always create a Google My Business Page to make your business legitimate. When you have a Google my business listing, it makes your business visible on Google search as well as google maps. Make sure you have given a valid address with your contact details in your Google profile. If your business is listed on Google, you have a higher chance of ranking.
Freshness : The date of the post plays an essential role in the SEO/ Google always displays the results based on the latest publish. The trends change with time, so you need to frequently update your content to maintain your position. Suppose you have a furniture business, but you updated the content somewhere in 2017. Your competitors have updated the same in 2020; Google will obviously show your competitors' website instead of yours.
Page authority score : The website authority score determines how well the website will rank on Google. The better the authority score, the better the chance for your page to rank on Google. Page authority score depends on different factors such as backlinks, alt tags, titles, descriptions, and other technicals.
Crawlability : Google does not have a mind of its own; it works on machine language. While creating the content, you must go through the SEO guidelines of Google to make it possible to crawl your website. If Google's spiders and crawlers are not recognizing your website, you will not attain anyplace. Your website must allow Google to crawl your website and determine the keywords for which your website should rank.
Schema markup : It is a process to ease the work of Google to search the details of your website. When you use Schema markup, you need to use specific codes to highlight your business's particular features. For instance, you possess a web designing website; you require to apply the code @type": "web design." It defines your website as a web design company, and Google simply; identifies your site as a web design company.
Social media involvement : When you have a website, and you are planning to rank on search engines, you must have social media pages. You need to frequently engage in social media for posting and communicating with your audience. Though social media do not affect your website SEO, it plays a vital role. When you are using social media, Google likes how you give importance to your potential customers and rewards your site with improved rank on Google.
DotCreative knows the importance of professional SEO services. We are here to boost your online presence with a proper marketing strategy. You cannot ignore the importance of SEO and content marketing for your business. Here are specific trends to know in SEO and content marketing
Being a technical field, we cannot suggest you implement it; personally, you will need an SEO expert. We are the top SEO agency in Kolkata, who knows to analyze the web pages accordingly and adequately optimize it. Choosing a reliable SEO Company is difficult. Here are 5 tips for choosing a reliable SEO company.
You can anytime contact us to get the best professionals with up-to-date knowledge of the Google Search engine norms. We have varied SEO packages for small businesses to big firms. The package actually depends on the location you want to target and the business niche. You can contact us on 7980358244 or email us at [email protected].