Reduce The Time Spent On Social Media Without Killing Results?
---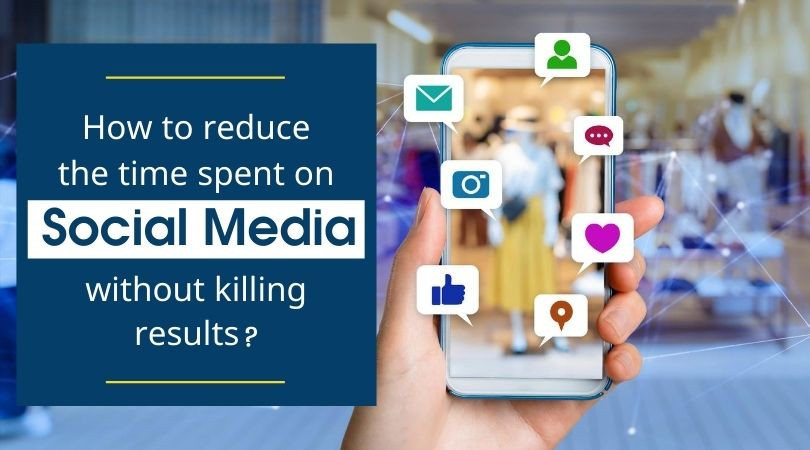 Social media is a widely used networking platform where you can meet many new people. You can also see the products and services of different businesses and decide to choose them online.
Social media is a great way to advertise your product or service online. This will increase brand visibility, and others will trust you
If you advertise your product online, you will reduce your marketing cost. If you pay, you will pay for the targeted traffic you get for the relevant keywords. This will increase the traffic on your website and ultimately lead to sales conversion.
But spending extra time on social media is not advisable. You spend extra time on social media, just by looking at memes and pretending as if you are working. This is a really bad practice. You can use this time in something more fruitful, which can be good for your business.
Are you spending much of your time on social media?
This is not okay, as you're likely wasting a lot of productive time you could have spent on other important tasks that may help scale your business.
Thus, making a proper layout and strategy for social media marketing is compulsory. With proper planning, you can become really productive. You can carry out your social media promotion as well as your business works efficiently.
If you're like many small business owners, you would like to get more social media results while spending less time there. And according to a study by Vertical Response:
43% of business owners spend approximately 6 hours each week on social media; this is equivalent to a single workday.
90% of those are on Facebook.
55 percent of small companies have blogs, and the average post takes 1-3 hours to create.
Many small business owners articles about Facebook and Twitter several times a week.
While it's tough to run a successful business, it is even harder to keep an active social media presence. Just how can you follow the 80/20 principle and still achieve remarkable effects on social networking?
How To Use Social Media Marketing Precisely?
1. Know Your audience before marketing on Social Media
Featuring all the social media craziness, it is easy to jump on the bandwagon without a social media strategy that makes sense to your small business. Some companies rely on interpersonal websites solely to let their customers know where they are, such as urban food trucks. But this probably doesn't work for your industry.
The secret to social media marketing would be to accomplish your customers while they're on the move. However, if your clients are not on Instagram, the very best content won't achieve anything for your company. And however, much time spent on Instagram, you won't benefit much in this circumstance.
Think about your target audience demographics and in which they spend the majority of their time. Prioritizing your social media presence has become the most precious thing you can do to reduce and optimize your time on social media.
So choose wisely the social media platform you want to use to promote your business online.
2. Schedule Content in Advance
If you would like to reduce and help save time, you need to schedule your content beforehand. By way of instance, Facebook has an unbelievable in-built quality, which allows business owners to program their posts.
This way, you are able to save and plan more time during the week. And utilize the time you've saved to react to customers and focus on other crucial regions of your business.
This assists to stay on the post and track consistently, without physically sitting in front of your social media account.
3. Use Social Media Management Systems
The most fundamental component of producing a successful social media marketing strategy is understanding what content to article. Once you have the articles, you need to log in to different types of social media platform and post it.
However, there is a convenient way to do this. You may use tools such as Post Planner. This tool helps your program content, and its other attributes include:
Status thoughts It's over 13,000 ideas to Pick from
Viral photographs You can easily find viral pictures to share
Trending articles You can search for the most popular topics by keywords
Using Post Planner, it is possible to easily locate and schedule content inside a few clicks easily. You would not require to bother about content for weeks or months.
SEO V/s Google Ads- The Better Marketing Option?
4. Utilize Facebook's Characteristics
That means you can log in on Facebook and concentrate on what you would like to follow. Your friend's adorable cats should not be on this list!
Facebook's Save -- This feature helps you to save content which you like. All you need to do is click on"Save," and you can view them later.
Favourites -- By managing your favourite pages, you can spend less time on Facebook. Since you won't need to look at your newsfeed frequently and stress, you will miss important posts. Once you add a web page to your favourites, you will receive notifications when that web page posts anything.
As you know, social media can be important for your business. It can help you attract new customers, improve traffic, and boost earnings, and you do not have to spend too long there.
DotCreative is a top social media marketing company in Kolkata which enables you to market and advertise your product or service online via social media marketing. Here are the most commonly asked questions about social media marketing by our clients, which can be read by you. For any further assistance, please feel free to contact us and get all the answers you want.
The only suggestion we give is that, without social media marketing, your online presence cannot be robust enough to make you visible. You need to have a strong social media strategy that makes a great social media presence. This will help you grow big in a limited time.
Facebook is the best social media marketing platform to run facebook ads, which is widely used by all age groups. So, to begin social media promotion, Facebook is the best platform.