How To Use Social Media Marketing Precisely?
---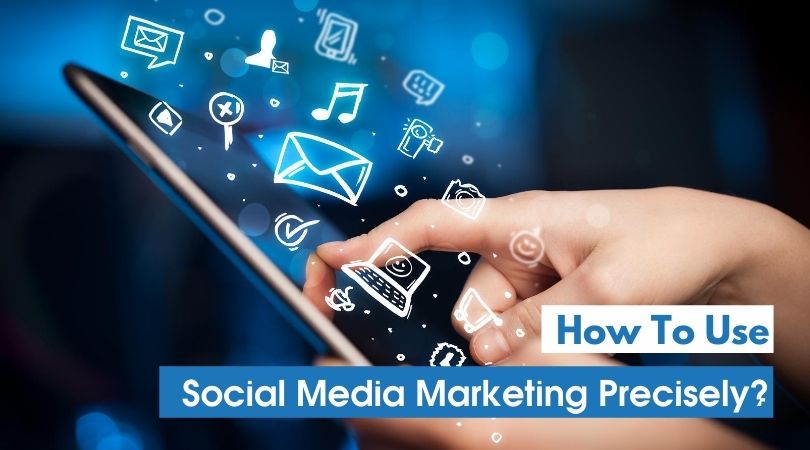 Social Media is a vividly used platform when a user is online. It is used by the persons of all age groups irrespective of their field of interest. Thus, using Social Media is a great way to increase your online presence. While promoting your business online, you need to keep in mind that Social Media is not a short-term match. It takes time and dedication, in addition to a particular goal in mind.
Having a website, alongside social media marketing, brings the best results. Because 30% of customers trust on a particular brand if they have a website, there are many other reasons why a business needs a website today.
Now when you have a website, and you have started social media marketing. You must know the advantages of social media sites in 2020. There are a lot of advantages, but how to use social media to get those advantages is necessary. DotCreative being the best Social media marketing company in Kolkata gives you some tips on using social Media precisely.
Complete Your Profiles
Fill out your profiles completely, using Keywords that your audience, in addition to search engines, will use to locate you. Present your self, link your website, and make sure people can connect with you quickly. It would be better if you provide your website link in the bio as well. It will increase the trust of the users on your brand.
Post Quality Content
When you post anything on social networking, take the opportunity to consider if the content is applicable, has quality components, and will provide your audience with a reason to want to keep following you. The content you provide must be relevant to your business, which is unique and engaging to engross your audience into it.
Play the Long Game
Social media marketing results do not happen overnight. It takes months of constant and concentrated activity to find the outcomes you want. Do not expect it to happen straight away. When you start posting on Social media, you must be patient to wait for the results without compromising the post's quality.
Engage Influencers
Use the search function on all social media networks like Facebook, Twitter, Instagram, LinkedIn, etc. to find movers and shakers inside your business so that you can participate with them. Getting their attention is a great way will help raise your influencer too.
Avoid wasting time
When you spend time on social media websites, it is very tempting to get started taking a look at memes, talk to your family and friends, play games, and pretend you're working. This is the wrong way to work on Social media. It would be best if you were dedicated to your work and do the requisite to improve your brand visibility.
Do Unto Others
If you want people to comment and discuss your information, make sure that you do the same for other people. The most appropriate course of action is if someone markets into the same audience but isn't direct competition. Work together to promote each other and reach the targeted audience in a limited time.
Pay for Promotion
Whenever you are attempting to get more likes, followers, or newsletter sign-ups, it is a good idea to cover promotion. On Facebook, you can pay to promote specific articles or conduct a pay-per-click ad relatively inexpensively. This is how you can use Facebook for marketing. You just need to select your audience and promote your post.
Add Value
Don't just like and post things without adding something to the relevant conversation. The more value you can add to societal networking talks, the more people will want to get to know you, add you as a friend, like you or even follow you.
Using social platforms to advertise your business is a great way to get more visitors to your site and make more sales. Nonetheless, you have to be willing and dedicated to taking the opportunity to do what is needed to reach your goals.
Avoid faking to"work" on social media websites even though you're really only socializing. Set specific objectives, develop strategies to reach the aims, and you will be prosperous.
Although everything about Facebook isn't ideal, they would like you to succeed in using their promotion platform. This only makes sense. Should you accomplish your business goals while spending cash on Facebook advertising, you're likely to use that marketing exercise again later on. To find out the advantages of Facebook marketing, read this blog of ours.
Every social media platform has its marketing technique, so you need to study the same and decide which social media platforms you want to start promoting. Based on the queries, we have prepared a list of some of the frequently asked questions about social media marketing. Apart from this, if you have any more doubts, you can contact us and ask us all your questions without any hesitation.