10 Instagram Marketing Trends For 2021
---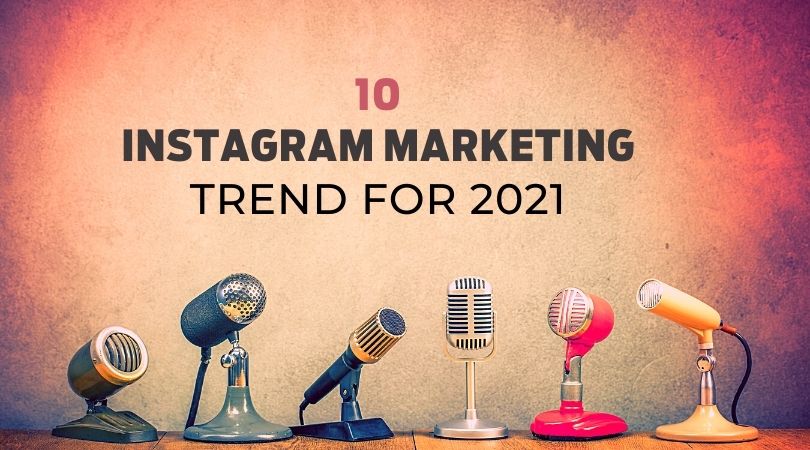 Instagram is one of the famous and fastest-growing social media platforms. The most renowned app, Instagram was launched in 2010; and ever since it never disappointed to decree the online market.
The business must have an active social media presence. While preferring a social media marketing strategy, you cannot overlook Instagram promotion.
Instagram has more than 800 million monthly active users, and 500 million Instagram accounts are active on a daily basis. You cannot ignore this prominent number when you are on social media.
It does not matter if you are the owner of a multi-national company or just a small business; you should be on Instagram. Here are specific tips for small business on Instagram marketing.
According to a survey, around 70% hashtags evolves from business profiles; it implies though you are not on Instagram, your competitors are. So buckle up your shoes and generate a robust Instagram marketing strategy to target your potential customers online.
DotCreative is back to acknowledge a topic to get your business to an increased height of victory. Here are some Instagram trends that you necessitate to ensure to build your brand considerably.
Set up a business account: The first and foremost property that you must keep in mind is to set a business account. In case if you have skipped this important feature. You should modify it to a business account. There are some features that you cannot access with a personal account.

Some of those include Instagram Insights, Instagram ads, Instagram Shopping, Contact information and a call-to-action button on your profile. These are the vital features that can improve your brand visibility.

Mark the best first impression: Whenever an Instagram user visits your profile, the first thing he discerns is the profile picture and Instagram bio. When they admired your profile picture and bio, they move on to see what you have posted on Instagram.

We indicate the photos and videos that define the quality of your page.Use the most excellent quality pictures to symbolize your company. Always aim to create the best first impression. If the visitors like your profile, they are convinced to follow it for regular updates.

Increase your followers: Without many followers, there is a low possibility for your content to be seen. You need to grow your followers. Unless you are a totally new set up, you will have customers. Target those customers, invite them to follow your channel through newsletters.

Do not forget to tempt them with some discounts and offers that they can see on your Instagram posts. When you are new on being an entrepreneur, you need to target your potential customers. It is a tiresome and tricky process, but when you have found some, you can get healthy followers for your account.

Use more visual content: Instagram is the more casual platform as compared to Facebook, LinkedIn or Twitter. You need to focus more on posting photos and videos. Moreover, Instagram has launched its video uploading platform, where you can upload videos of longer duration. Yes, we are addressing about IGTV video, it is a segment for uploading videos of longer duration as coressponded to the main account.

Advance through these seven ways to use Instagram video for business./

Post content regularly You require to be uniformly active on Instagram. Upload photos and videos frequently or preferably every day. But you should not always concentrate on selling your products or services as it can irritate your followers. You need to have a precise content strategy. It assists to determine the posts that you need to update. You should also analyze the most suitable time to post when your post has maximum reach.
Use Hashtags wisely: Hashtags can either make your brand famous or destroy it. So you need to choose the hashtags accurately. You can use explore tab and search for the hashtags your competitors are choosing. As per Instagram guidelines, you can use 30 hashtags per posts, but realistically you should not do so.

We recommend you to use five to nine hashtags, and use of more hashtags can make it look like hashtag stuffed post and spam. You will surely not want that, so use the best five to nine hashtags to define that particular post.

Write engaging captions: Earlier, we told to create compelling visual content, but that never means that you can write anything on the caption and post it. You need to be very selective in writing your caption.

How to write catchy social media content? You need to be very cautious while framing that one-liner. Use keywords and frame the content in a unique way that captivates your audience's attention. You should give equal importance to the captions as you give to the photos, videos or hashtags.

Partner with micro-influencers: You need to hire influencers to endorse your brand. Get your products or services marketed from some renowned faces such as celebrities. It is called influencer marketing. It becomes easy to trust a brand when a famous face shows trust in that particular brand. Though most business is low on budget, you can hire Instagram or Youtube celebrities from the particular locality.

For instance- if you have a soft toy business in Kolkata, you can hire influencers that are popular and prevalent among Kolkata. It can be a Tollywood celebrity, a politician or any other local famous person.

Encourage user-generated content: Encourage your users to post the products or services they took from you on their personal account. You can run contests to assist your customers. For instance- You are a soft toy business owner. You can provide some prize for the best picture click using the soft toy as a prop. Another great way is to feature your customers' photo on your page and grow confidence among them. Using this technique, you can be visible to the friends of your customers. It sequentially expands your account followers.
Do not avoid Instagram stories: Instagram stories are the content that remains displayed for 24 hours. You should ignore to post on Instagram stories. Normal post can go missing, but stories remain on the top of the page. Each of your followers mostly views it. In the stories, you can go for polls or start a question-answer session to interact with your users and attract them for genuine business.
After viewing the full blog, you would have understood; does marketing on social media works?.
The answer to it is obviously yes. Marketing on any social media platform is beneficial when you know the latest trends to keep yourself updated.
DotCreative is the top social media marketing company in Kolkata, who regularly posts a blog to keep our readers updated with the latest norms and guidelines to increase your conversion rates with online marketing.
For any further queries, you can contact us on 7980358244 or email us at [email protected]. DotCreative is ever enthusiastic about serving you with its social media marketing services that too at affordable packages.