Tips For Small Business On Instagram Marketing
---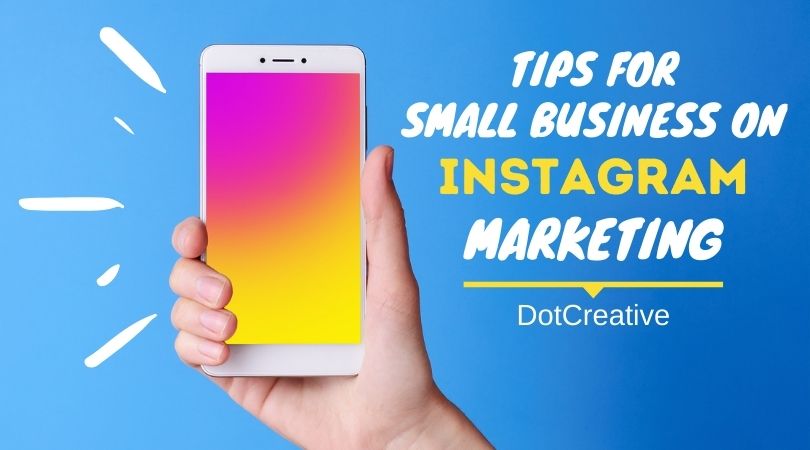 Instagram is the most used social media platform, especially among the young generation. Irrespective of age and gender, it is used by all. You simply cannot ignore the fact that Instagram yields the highest engagement rates among all social networks.
What did you see when you scrolled Instagram last time?
Maybe you would have seen some motivational quotes, delicious food, some pet animals, or some known selfies. But most probably, you would not have seen many posts from small businesses.
It is a fact that many small businesses are not even on Instagram when it can be the best platform to gain users' attention.
Would you like to expand your reach and improve your company's reputation?
Boasting more than 500 million users on Instagram, it can be the correct place to showcase your products or services. It is currently the fastest growing social network that offers excellent marketing offers to every business.
How To Build Better Engagement For Your Small Business? It is the most common question among the mind of small business owners.
DotCreative is back with another burning topic. We are here to discuss some of the Instagram marketing tips to make your Instagram for business success.
Set up your Instagram account
It is high time when you need to have an Instagram account for your business. It does not matter if you have a small business or a big company. You can always rock on Instagram if you post something great on it.
When you create your Instagram account, your primary focus will be to get the maximum benefit from it. While creating your account you can, link your other business account to it, Facebook, Twitter, etc.
You should also keep in mind the privacy setting should be public. Everyone should see and comment on your post. If your post on Instagram is not visible, then it is of no use. You should also set the profile picture as your business logo to make your business a brand on Instagram.
When you set up your account, you should carefully examine all the necessary settings to make it visible.
Write your Instagram bio, thoughtfully
Apart from the guidelines that you need to follow while writing the Instagram bio, we are talking about the presentation. It is not LinkedIn or Facebook bio that needs to be formal and professional.
The use of emojis and humorous one-liners is absolutely perfect. Instagram is a more casual social media, and no Instagram user expects something very formal or boring here.
Present Your bio so that it attracts the users and delivers all the necessary information about the business. You need to have a good sense of humor to rule on Instagram.
Create content to target audience
Now you know your targeted audience, but do you know what can engage them into your post?
If not, it is the best time to start researching. Go through your competitors' Instagram account to see what captures more engagement. Follow the type of content your competitors post and gains engagement.
Indeed, you will get some idea. You must not copy the posts, but you can anytime take inspiration from them. Now, if you are still confused about what to post.
You can always do trial and error. Try posting different patterns of content related to your business. Some of our suggestions are:
Products and services
Photos of business locations
inspirational quotes
products arrangements
selfies of the employees
Short videos describing your business
Post some or all of these to see what gains more engagement. Depending on the engagement, you can further decide your Instagram strategies. Use the strategy that boosts your brand engagement for future posts.
Continue branding
While writing, it always focuses on creating brand awareness. Always post the content relevant to your business. Create a proper strategy to become a content leader in your niche. Design a strong logo and present yourself confidently to portray your firm image.
Branding is necessary for a business in the long run. When your brand gets recognition, it becomes easy for you to develop your audience into your customers. It will boost your conversion rate and overall sales.
Branding is making your brand famous. You should always aim to improve your brand awareness among your audience. All your posts should be somehow relevant to your brand.
Post photos regularly
You need to be frequently engaging with your audience. If you post today, and then you disappear, you will not be able to create a mark on your audience. It is as many times to post. You should actually post daily or on two days maximum to get frequent attention from your potential audience.
We know Instagram focuses more on photos or video content, instead of text content. So you need to post high-quality images. A blur and hazy image have a negative impact on your business.
You should not focus on blog posts here. Instead, use some catchy lines to give more of a better experience to your visitor.
Here your audience will judge your business based on the posts you make on Instagram. Frankly speaking, no one will read your blog posts here. It is better to use Visual medium to attract the audience.
Write attractive captions
Do not underestimate the power of captions. We said Instagram focuses on photo and video content, but that does not mean we can avoid caption.
It is the caption that decides you get one like or 1000 likes. So write killer captions that are relevant for your business. Your Instagram stories and post should be relevant, attractive, and captioned photos or videos that describe your business.
Share correct information
Your Instagram marketing is an effort to bring a targeted audience. It is not only about engagement. It is rather about converting your audience into your customers to increase your business turnover.
Your account must have contact details. You must include a direct link to your business website. Instagram users are more inclined to call. They call and get all the answers they want.
Always share the correct information because it is the information that brings leads to your business. If you represent your business falsely, you get false leads that will never convert into customers. In the end, it is the sales conversion that you want. Always share correct data to get a genuine audience.
Use hashtags
Hashtags are used to group similar content together. When you are using hashtags, you should always focus on your relevant market. Use specific hashtags that actually represent your business.
For instance- You have a food recipe website. You can use hashtags such as Delicious recipe, yummy taste, etc. Simply consider what audience might search you through. Use the hashtags properly to improve your Instagram presence.
Here is a tool that can help you choose the top hashtags that will help you select the most used and searched hashtags relevant to your business. Try and usehashtagify.me.
Make your Instagram feed attractive
Your feed must look attractive. Try using similar types of creatives to represent your brand. It makes it easier for Instagram users to search your brand and distinguish it from others. For instance, a model uses black and white images to portray it on its Instagram handle, making it look cohesive.
It is not mandatory to select black and white images only. Study your customers and make accordingly decorate your feed that suits your business niche.
When you have an attractive feed, you will have more engagement. Which means you have a greater chance of increasing conversion rates.
Be fun and professional simultaneously
By fun, we mean you can use your sense of humor to impress your customers without hurting anybody's sentiments.
While doing business, you need to be professional. You cannot just always chill around. At the end of the day, it is the business that you want.
You need to balance your company between fun and professional. You need to be funny to attract users' attention. In contrast, you have to think logically and professionally to get sales conversion.
Offer discounts
It is a general trend that the customers are more inclined towards a discount. Suppose if you see an Instagram Ad displaying a discount on imitation. You will more likely purchase it. Contrary to when you do not see any deals.
Try giving some discounts to your potential customers, which will bring your competitors' audience to you. While showing discount ads, all you need to do is use canva and design an incredible creative to capture your audience's attention.
Improve your Instagram experience with these apps
When you are new to this field, you can take help from some of the tools to guide you. There are tools to edit pictures, choose hashtags, edit and add captions, and many more. You can use some of the tools to boost your marketing strategy and gain more audience. Some of the tools are:
Canva- Design creatives
Hashtagify- Choose related hashtags
Afterlight- image editing app
Crello- design banners and templates using it.
layout- make a photo collage
magisto- Create awesome video
Ad espresso- To run Instagram advertising campaigns
Try using some or all of these tools to get the best marketing experience for your start-up days. Decrease your workload and provide better results on Instagram. After all, you want to spend less time on social media without killing the results.
DotCreative is the top digital marketing agency. We know how to market your business in the minimum budget to give you the best results. We know how to handle the Instagram app and creatively deliver user-generated content. We make proper planning to execute our strategy. It marks your presence on Instagram.
Do contact us for any further queries. You can call us at 7980358244, or email us at [email protected]. We are always there to help our clients with the best business solutions.