What Is Content Writing, And Tips For Writing Quality Content?
---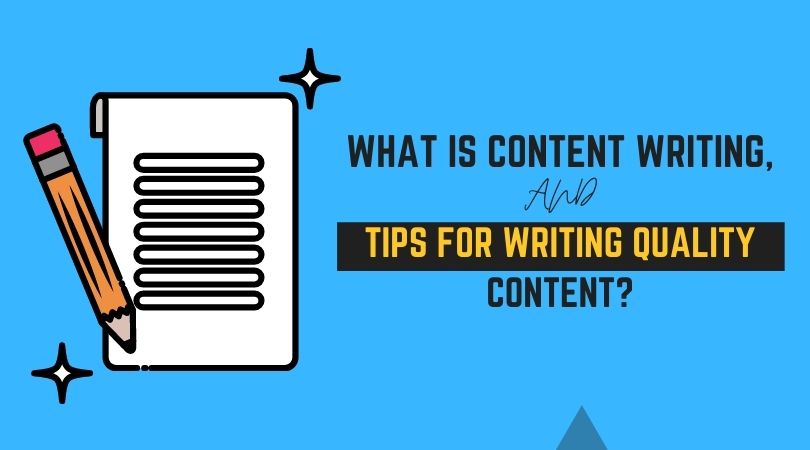 As rightly said, Content is the king," you need to know the importance of quality content in digital marketing. But before we move on to the importance and tips to frame great content. We want you to learn what exactly is content writing and how it differs from content marketing?
Content can be anything that draws the targeted audience to your website; it may be video content, images, gifs, podcasts, etc., but it is definitely not content writing. Content writing is a field of digital marketing where you write high-quality content of various types such as blog posts, web content, and social media content.
Content writing is not about showcasing your writing skills; you need to do a lot of research to deliver successful content. All the content you write must be for readers and search engines to recognize your SEO content and give you higher rankings on Google to improve your online visibility. Great content provides better SEO; you cannot avoid the SEO to gain more traffic, hence write content that is unique, engaging, and SEO friendly.
After going through the introduction, you must have realized the importance of content writing. But you must be thinking of how to write high-quality content?
Being a top content writing company, we are here with some tips that will improve your writing skills:
Topic Ideas: When you start writing, the first step is to do the topic research and select the most engaging topic to draw most users' attention. Researching on a topic is not an easy job, and you cannot just pick up anything and start writing. You need to have proper knowledge about the niche and accordingly frame content that is distinct from others.
Short paragraphs: When you start writing, you need to focus on keeping paragraphs short. Long sections are bad from an SEO point of view, and also, the users start feeling boring reading an enormous paragraph. Alongside paragraphs, you also need to write simple and short sentences that everyone quickly understands.
Editing: Do not write a single paragraph and go for editing; initially frame the complete content and later check the content for any grammatical errors and spelling mistakes. You should also read the drafted content and edit it if you can frame it in a better way.
Time selection:& You should choose the best time when you can create the content with all your creativity. Some are morning birds, and some are night owls, so it entirely depends on you that at what time you can calmly think and frame engaging content to target your audience with the required keywords included in the text.
Avoid distraction:Whenever you choose to write, search for a place where no one disturbs you. While writing, keep your mobile phone in silent mode and turn off the notifications on your system. Your main aim is to create content that nobody else can and get more traffic on your website with less bounce rate.
Practice:Continue writing and editing; nobody can become a professional overnight. All you need to do is practice; Practice makes a man perfect. Thus you will also become a successful writer with time. Till then, you should not give up on your passion and continue editing and framing great content.
When you start content writing as your career, you must know the ways to write your online content faster and deliver the content within the given deadline.
Till then, you need professional content writers who can take up to your website and grow your business online. We want to warn you with you, you will get a lot of freelance writers who will offer you content writing services, but in the end, you need to check their professionalism, which can grow your business and give you more lead generation.
DotCreative is the best content writing company in Kolkata, which will work dedicatedly to deliver SEO friendly, engaging content that will increase your online visibility and boost your brand recognition.
For any further queries, you can contact us on 7980358244 or email us at [email protected].