What Free SEO Tools Are Available In 2023?
---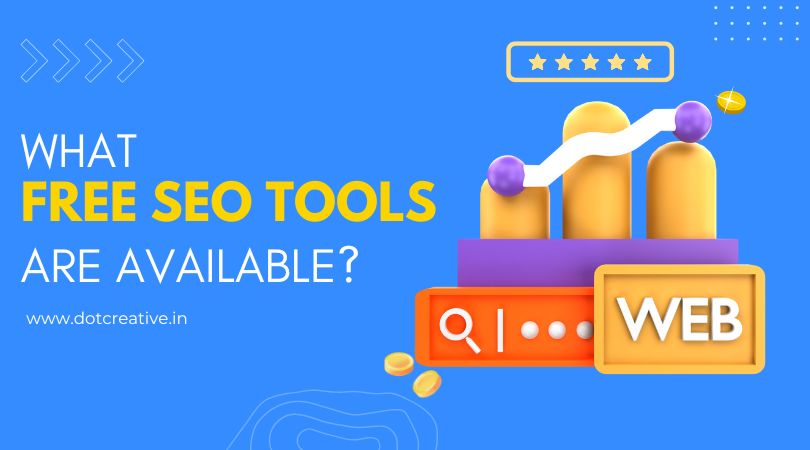 In the ever-evolving digital landscape, search engine optimization (SEO) is crucial for driving organic traffic and improving online visibility. While paid SEO tools offer advanced features, many free tools can be valuable assets for website owners, marketers, and SEO enthusiasts. In this blog, we will explore a range of essential free SEO tools that can help you optimize your website, conduct keyword research, analyze competitors, track performance, and enhance your overall SEO strategy.
Top Free SEO Tools in 2023
Google Keyword Planner: A versatile tool that provides keyword ideas, search volumes, competition levels, and historical data, helping you identify valuable keywords for your content.
Ubersuggest: This tool offers keyword suggestions, search volume data, and competitive insights. It also provides additional features such as domain analysis and backlink data.
AnswerThePublic: By generating a visual representation of commonly asked questions related to a keyword, this tool helps you discover content ideas that address users' search queries effectively.
Google Search Console: This powerful tool offers valuable insights into your website's performance, including indexing status, search queries, and click-through rates (CTRs). It also helps identify and fix crawling and indexing issues.
Yoast SEO: A popular WordPress plugin that analyzes the content and provides suggestions to optimize on-page elements such as meta tags, headings, readability, and keyword usage.
MozBar: This browser extension allows you to analyze on-page elements and access valuable metrics, such as page authority and domain authority. It also highlights nofollow links and provides quick insights into a webpage's SEO.
SEMrush: While it offers a paid version, SEMrush's free plan provides access to limited but useful features, including competitor analysis, organic research, and backlink data. It offers valuable insights into competitor keywords, top-performing pages, and traffic estimates.
SimilarWeb: With its free version, SimilarWeb allows you to analyze competitor websites and uncover their traffic sources, top referring websites, and popular keywords. This information can guide your own SEO efforts.
Google Search Console: Alongside its other features, the Search Console provides a list of backlinks pointing to your website. It offers insights into the number of links, linking domains, and anchor text distribution.
Ahrefs Backlink Checker: Ahrefs provides a free version of its backlink checker tool that offers a glimpse into a website's backlink profile. It displays the top 100 backlinks and allows limited analysis of anchor text and referring domains.
Google PageSpeed Insights: It is a free tool that analyzes a website's performance and provides suggestions for improving page speed and user experience on both desktop and mobile devices.
Ahrefs Webmaster Tools: It is a free tool that provides website owners with valuable insights, such as backlink analysis, keyword data, site health checks, and search engine performance metrics.
Google Analytics: It is a powerful web analytics tool provided by Google, allowing website owners to track and analyze website traffic, user behavior, conversions, and other valuable insights for optimizing online performance.
SERP Snippet Optimization Tool: A SERP Snippet Optimization Tool helps optimize how your website appears in search engine results pages by allowing you to customize and preview your title tag, meta description, and URL snippet.
Google Trends: Google Trends is a free tool that provides insights into the popularity and search interest of specific topics over time, helping users analyze and compare trends in search behavior.
Ahrefs' SEO toolbar: Ahrefs' SEO toolbar is a browser extension that provides quick access to important SEO metrics such as domain authority, page authority, and backlink data for any webpage you visit.
Moz Local Listing Score: Moz Local Listing Score is a metric that assesses the accuracy and completeness of a business's online listings, helping businesses evaluate their local search presence in just a few clicks.
Yoast SEO: Yoast SEO is a popular WordPress plugin that provides on-page optimization suggestions and analysis for improving meta tags, headings, readability, and keyword usage on your website.
JSON-LD Schema Generator: A JSON-LD Schema Generator is a tool that automatically generates structured data in JSON-LD format for websites. It simplifies the process of implementing Schema.org markup, enhancing search engine visibility and enabling rich snippets in search results.
Classy Schema Structured Data Viewer: The Classy Schema Structured Data Viewer is a tool that allows users to view and validate structured data markup on a webpage. It helps ensure that the schema markup is correctly implemented and enhances the website's visibility in search engine results.
SERP Robot: SERP Robot is a tool that helps track and monitor a website's search engine ranking position (SERP) for specific keywords. It provides valuable insights into organic search performance and allows users to analyze and optimize their SEO strategies accordingly.
Robots.txt Generator: A Robots.txt Generator is a tool that helps website owners create a Robots.txt file. It allows them to specify which parts of their website should be crawled by search engines and which should be excluded, improving website visibility and SEO.
Copyscape: Copyscape is a plagiarism detection tool that helps identify duplicate content on the internet. It scans web pages and documents to ensure originality, assisting website owners, bloggers, and content creators in maintaining the integrity of their work.
Google Alerts: It is a free tool provided by Google that allows users to monitor the web for specific keywords or topics. It sends email notifications whenever new content matching the selected criteria is found, helping users stay updated on relevant information.
Exploding Topics: Exploding Topics is a platform that identifies emerging trends and topics with high growth potential. It helps users stay ahead of the curve by providing insights into up-and-coming subjects across various industries and niches.
Keyword Surfer: Keyword Surfer is a free browser extension that provides keyword data directly in Google search results. It displays search volume, related keywords, and domain metrics, making it convenient for conducting on-the-go keyword research.
Google Mobile-Friendly Test: Google Mobile-Friendly Test is a tool that analyzes a website's mobile-friendliness, assessing its responsiveness and usability on mobile devices. It provides insights into potential issues and helps optimize the site for a better mobile user experience.
Website Authority Checker: Website Authority Checker is a tool that measures the authority and credibility of a website. It evaluates factors like domain age, backlinks, and search engine rankings to provide insights into a website's overall authority in the online domain.
Screaming Frog: It is a powerful website crawler tool that analyzes websites for SEO purposes. It helps identify issues such as broken links, duplicate content, and missing metadata, allowing for comprehensive website optimization and improved search engine rankings.
Woorank: Woorank is an SEO tool that provides website analysis and optimization recommendations. It evaluates factors such as on-page SEO, mobile-friendliness, usability, and backlink profiles to help improve overall website performance and visibility in search engines.
Bing Webmaster: Bing Webmaster is a free tool provided by Microsoft that helps website owners optimize their sites for the Bing search engine. It offers features like site crawling, indexing status, keyword research, and performance tracking.
Conclusion
While premium SEO tools offer comprehensive features and in-depth analysis, numerous free alternatives can significantly contribute to your SEO efforts. The tools mentioned in this blog provide valuable insights into keyword research, on-page optimization, competitor analysis, and backlink profiling. By utilizing these free SEO tools effectively, you can enhance your website's performance, increase organic visibility, and drive sustainable growth in the competitive digital landscape. Remember, a combination of both free and paid tools can yield the best results, so it's worthwhile to explore different options based on your specific needs and goals.