How To Write High-quality Content?
---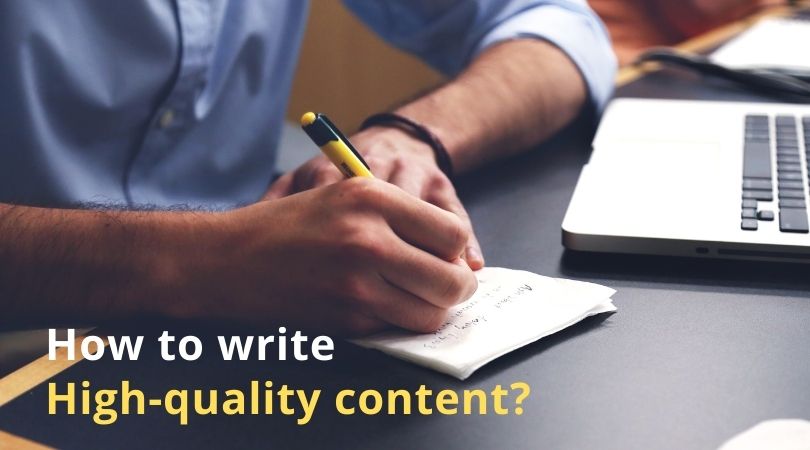 Does content writing only means to create a piece of content?
Creating content is much more than drafting the content you write. You just cannot have a poor content marketing strategy where you write anything. While writing, you need to focus on creating quality content.
With Google improving its ranking factors. It focuses on content quality instead of keywords stuffing. The only way to rank on a search engine is to produce what customers want to read.
To rank on search results, you need to define quality.
Now, the confusion comes, which is more important, quality, or quantity?
DotCreative is here to give you the answer for the same. As content marketers, we often think of quality and quantity. We need to focus on both. As it says, Great content provides better SEO.
Quantity is necessary to meet the SEO guidelines. And deliver all the necessary information. In comparison, we need to produce high-quality content to keep our readers the best user experience.
Whether you are looking for a blog post, social media content, or web content. You need to do keyword research, link building, and target keywords to improve page ranking. But in building trust, you need to deliver the quality content.
Here are some of the tips and tricks that you must follow to write high-quality content.
Research for relevant topics
Writing content, especially blog posts is not easy. You need relevant topics to write on but finding topics is a great deal. You need to find the topics that readers engage on.
There are various ways to research topics. Some of those include:
Monitor social media- You should keep a close notice on social media trends that captures more attention. You should strictly follow social media posts that gain engagement.
Follow your competitors- You should not copy on what your competitors write. But you can take inspiration from your competitors. You can have an idea from your competitors about what your potential customers like reading or what information they are actually looking for.
Follow google search trends- Study the Google trends and understand what your potential customers are searching for. You get a clear idea about what to write that can get a lead generation. Here are 4 ways to write online content faster. It will help you save time and deliver good content.
Draft original content
The originality of the content plays a vital role in SEO. Original content stands out from the crowd. It has a google impression on Google and readers that benefits in the long run.
You must always focus on creating original content. It helps you save from the Google penalty. Using spinned (content that is copied but mechanically unplagiarized) version can initially improve your ranking. Still, it will adversely affect you when you in the long run. Google will penalize you for your cheating.
You will surely not want to fall back, so follow a slow and steady method to reach the top and stay there.
Write an engaging headline
Give equal time creating the title or heading of the contents you give for drafting the content. It the catchy headline that gains users' attention. It is the heading that decides whether the reader will your post or not.
You cannot ignore the fact that you will not gain your customers' interest in reading it if you do not write an engaging title.
Your heading should be such that
sparks interest among your audience
Creates emotion to read more
It makes the audience curious to look at what's inside.
You can try Title Generator to decide what your heading could be.
Write in your unique style
Do not try to copy your competitors' style of writing. Write in a way that suits you. You should have a unique and creative way to deliver your content. It acts as your brand's personality and will make give you loyal readers who like your content.
Your content is your company's voice. When you do not lend anybody else's voice to communicate with others, why lend someone else's way of representing your business. Write anything in your way to give the information to your audience, But try to be different and creative to lure the audience.
Focus on one single topic
Discussing different topics under the same heading makes the content inconsistent. The first you should do when you sit for writing is to decide your key point.
You should strictly stick to your bottom line. Go through repeated edits to keep it on point. Staying on a single topic makes it easy for Search engines to rank you. On the other hand, readers understand your words easily.
Use simple language
It is not that your audience is a fool, but it becomes easy to read when you use simple language. You should maintain a standard quality of content that is easily understandable. No one will spend time to understand what you want to convey.
Your language must not be casual or formal. It should be more neutral, which creates a good impression. Convey your message and do not try to advise your audience. Leave it on them and let the readers decide what they want.
Optimize your content
It is now time to optimize your content as per SEO. Use all the necessary SEO guidelines to make your content land on the first page of Google rankings.
We should use link building techniques, meta tags, alt tags in a proper manner. It helps to generate SEO optimized content.
Use photos and videos
Making it attractive is an important area. We cannot avoid its necessity. At last, you should carefully choose the images and videos that suit your content. Use them to decorate your blog and make it more engaging for better lead generation.
After reading the complete blog, we can now tell why blogging is important. With time, blogging is becoming a great platform to convey the information to the potential customers and improve your ranks in google search.
Now comes, many freelance writers assure to provide SEO content. Should we trust the freelancers?
We cannot take the risk of generating content from freelancers. Instead, we should hire a professional content writer who can make your website or blog posts stand out from the rest.
For any SEO content advice, you can anytime contact DotCreative. It is the best Content writing agency in Kolkata. We are happy to serve you with our skilled and professional team of SEO content writers. You can contact us on 7980358244 or email us at [email protected].