Tips For Creating A Flawless Website
---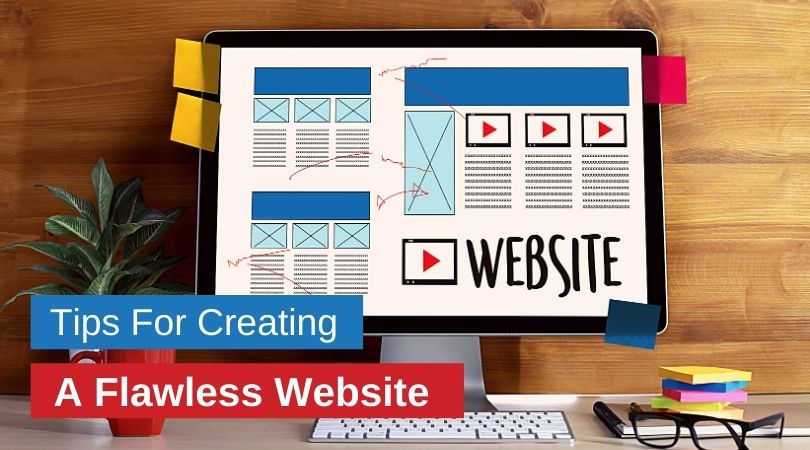 Creating great and valuable content attracts visitors. This, in turn, produces a loyal audience that likes and trusts you. Content is the king for a website, which draws the viewers' attention and increases brand visibility through SEO.
But suppose that you never draw the attention of the audience? Imagine if your site visitors take a look at your engaging content, and they leave as your site appears dull, bland, and substandard? You'll lose your target audience at a blink, and your content won't take
How To Reduce The Time Spent On Social Media Without Killing Results?
Thus, the design is crucial. It engages and brings on your customers, so they engage with the unique and high quality content.
Do you wish to make appetite for your articles? Here are six suggestions to create your site flawlessly.
1. Consider Your Visitors
A flawless design starts with a transparent comprehension of who you're targeting. If you would like to select colors, images, and typefaces that resonate with your target audience, you must understand them and know what they will respond to.
While designing, you must know the taste of your target audience and design. Suppose you are making a website on girls' clothing. You can choose pink as the color as it is the favorite of most girls. The images should of the girl models wearing your company manufactured dress.
What exactly do you need to know about your target market?
Preferably, you have to be aware of their age group, gender, and education level. Also, understanding precisely what motivates them, their beliefs, and other companies they prefer buying from will help you produce a website that resonates with your target audience.
Targetting the correct audience is difficult, but as soon as you get them, you are on the run to become successful. You just need to focus on the demands and choices of the target audience.>
How To Use Social Media Marketing Precisely?
2. Keep Your Fonts Simple
One thing that makes a site look fantastic is readability. This does not mean you should use a single font. However, please don't overdo it. Try to maintain only one or two text elements inside the same font collection.
Experiment with fonts to find out what resonates more with your target audience. Or you may use picture editors that are online based, such as Canva, to add and use Google fonts.
Link -- https://www.canva.com/
Remember, curved and dramatic fonts are challenging to read, and they make your website look inferior. Use fonts that are easy to read and look simple and straight. This will give your website better readability. Standard and eye catching fonts make a website look classy. The more dramatic font you use, the more childish it seems.
Just remember to explore different fonts that suit your target audience and apply them to your website because the main motto is to make your website look flawless, which attracts the audience, to boost up your online presence and ultimately leads to sales conversion.
3. Utilize Colors That Make Sense to Your Target Audience
Knowing who your target audience will be providing you a notion of what colors will resonate together. However, as you start up, select two primary colors to represent your brand.
Having said that, be sure that you choose overriding colors that will make your readers recall you and set you apart from the competition. Particularly use these two colors in your brand logo and overall website that creates a different identity for your business. As soon as the audience sees the particular blend, it should recall you in mind.
Now, how do you select just two colors? Look at the consumer products your target audience already buys. And see what colors appeal to them?
Start by looking at color combinations that are used to sell to your target market and take inspiration from them. Finally, decide the colors and implement them into your website to make it look engaging.
4. Tell Your Story Using Appealing Images
Locating a good picture that works with your content can be a dilemma because you want to compose your article first and then look for graphics that fit perfectly with that report. So, this seems like just one more thing you have to do.
On the other hand, the work is well-deserving of it. You do not want your words to sit dead and lonely on the webpage. Therefore it's better to pair them with a compelling image.
A great image gives readers an invitation to engage with your articles. If you pick an attractive picture that produces a little bit of curiosity, it will draw readers into your headline and your content's first paragraph. So choose a relevant image that is appealing to get more audience on the website.
5. Order Your Information Hierarchically
Visual hierarchy helps readers browse through your site quickly and consume information from the order you would like.
Begin by taking a look at the info on your web pages. What do you want visitors to see? Perhaps it's your site's name. What would you like them to notice next? Maybe it's your headline or the image you have used in your first post.
As soon as they notice your website's name and you've attracted their focus in your content, what do exactly want them to view then?
Make the vital information bolder, brighter, and more prominent. And provide important information to some breathing room by adding white space; this brings attention.
Then make the next-most-crucial information less daring, less glowing, and smaller. And as you go down the visual hierarchy, do not forget that the less significant the information is, the less visual "weight" it ought to have.
Arrange a proper visual hierarchy to make sure the readers read what you want them to read first and follow the sequence as set up by you.
6. Keep Everything Together with a Style Guide
Now you have the right colors, fonts, attractive graphics, and visual hierarchy to make a perfect site. Then what?
Maintain the consistency using an elementary style guide. Plus, it doesn't need to be a complex ten-page document. Use this advice:
Open a Word document and note your official colors.
Produce a file name for your official logo or header art.
Notice the tools for images so that you'll know where to locate attractive photos in the future.
Keep adding to this document as you continue creating more design decisions about your site.
After creating a flawless website, keep viewers coming back for more by serving valuable content consistently.
But making a professional website is not that easy. You must create a responsive website, I.e., mobile-friendly, and get the search engine optimization to rank on Google. To do SEO, you need proper keyword research, analysis, and study. After that prepare, a keyword-stuffed content that is unplagiarized, engaging, and attractive.
SEO V/s Google Ads- The Better Marketing Option?
After following the tips mentioned above, you get an excellent website for your company. This is what we do. We follow the whole process while making a website and our clients' importance. Thus we work hard to keep our clients happy. The website you want can be designed and developed by us, which will be UI/UX friendly. Get in Touch with DotCreative- a top website design and web development company in Kolkata. For any further assistance, feel free to call us at 7980358244.