SEO Trends 2021: Every Marketer Should Know!
---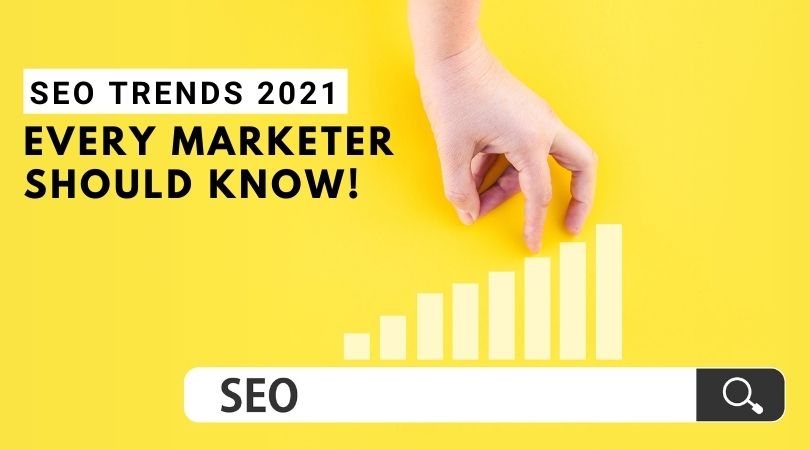 Search engine optimization (SEO) is a powerful way to entice customers to your online platforms if you apply it correctly. SEO is continually growing, and staying on top of the advanced updates can be a difficulty. However, it's meriting the effort: Some 70% to 80% of users concentrate solely on organic results and neglect paid listings. What's further, some 28% of those searches transform, resulting in a purchase.
Top-ranking SEO performance claims notice many metrics, including traffic, backlinks, and social shares. Our team provides you insights into some of the most appropriate and modern search engine optimization trends to apprehend for 2021, providing you to make your SEO strategy consecutively. Here are the 10 SEO trends to follow in 2021:
Artificial Intelligence Will Play a Larger Role in SEO: Artificial intelligence (AI) transforms how people communicate with online content. Google's AI algorithm is particularly worth remarking on. Revealed some years ago, the algorithm named RankBrain plays a vital role in Google's ranking constituents for search engine results pages (SERPs) results. Though the search engine giant won't share details, specialists consider that user experience signs are the main determinant. These could involve factors from click-through rate to time allocated on the page. You require to fascinate and retain readers with valuable, well-framed content. It can assist you in assessing page strength based on details like readability, backlinks, and more.
Voice Search Will Impact Search Queries: Thanks to inventions like Google Assistant, Apple's Siri, and Amazon's Alexa, voice search technology has reached a long way. As technology has become advanced, it's also become more prevalent. In fact, the percentage of households predicted to have a smart speaker by 2022 is 55%. To optimize for voice search, analyze your keywords. Classify longer phrases that people apply in daily discussion. Voice searches manage to do great with longer terms. When people type, they intend to abbreviate. For example, a person might voice search, "What are the new bike models in 2021?" but type the words, "bike models 2021."
Core Web Vitals as a Google ranking factor: In May 2020, Google published three new metrics, described Core Web Vitals for measuring user experience: Loading, Interactivity, and Visual Stability. All three metrics are basically related to just one thing: page speed: how quick does the page load, how fast it gets interactive, and how stable it is while loading. Core Web Vitals will be amongst Google's ranking factors in May 2021, indicating you will have to pay close attention to them to arrive on the first page. For example, if there are two pages with fairly associated content, then user experience metrics will help search engine bots determine which one should be ranked above.
Mobile-Friendliness Will Impact Search Rankings: In 2019, Google turned out mobile-first indexing, determining the search engine resemblance primarily at the mobile variant of a website, considering this the "primary" variant rather than the desktop version. This shift makes sense, given that almost 73% of internet users will use the internet entirely via mobile devices by 2025. Check how efficient your mobile website is with Google's unpaid mobile-friendly test. Next, take a look at the "mobile usability" statement in Google Search Console.
Long-Form Content Will Help Improve SERPs: According to a report, long writing of 3,000 plus words accepts three times more traffic and four times added shares. They also produce 3.5 times more backlinks than articles of an average length of 1,200 words. Start concentrating on long-form content to obtain higher search rankings. But your content must sustain quality.
Featured Snippets Will Become More Prominent: You won't have to produce long-term content, particularly if you want to scale the Google rankings. Featured snippets, which Google rolled out in 2017, are a sort of alternative to gain influence in Google, and they're very short. Sometimes, when you type something into Google, you may see a box at the top of the SERPs over the accurate results. That is a snippet. Featured snippets display a piece of information, usually structured as Q&A, concise bullet-point, or how-to guide. There are also valuable snippets involving pictures, star-based reviews, product prices, and similar types of information.
Image Optimization Will Play a Larger Role in Search: Visual image search has grown drastically. It used to be that people could view pictures. In the future, people will be able to use photographs to purchase goods, gather information, and more. Google has long emphasized the proper naming and optimization of images, so it makes sense that this is a component of their long-term strategy. If the pictures on your website aren't optimized, optimize them at the earliest. Use high-quality, appropriate illustrations, and make sure to label the file name; marking the photo file is essential so that it's related to the content on the corresponding page. Use alt tags, which crawlers utilize to analyze images. Finally, attach pictures to your site map, where they can crawl even more easily.
Local Search Listings Will Play a Larger Role in SEO Strategies: When people hold the internet, they frequently think of its global reality. The fact is, maximum people, utilize search engines to obtain localized goods and services. For example, they might be inquiring about a neighborhood mall. Thus local SEO is important, and it's growing. This progression is partly because of the growth of zero-click searches, which some SEO specialists are denominating the new normal.
Google still wants original content: Since high-quality content plays a significant part in SEO and ranking, genuine content is essential for businesses in more than just branding. In simpler terms, this is unique content that has not previously been published anywhere else.
Data and Analytics Should Become Your Priority If You Want to Remain Ahead in Rankings: Data analytics enables you to understand buyers, envision campaigns, and create targeted messages. Analytics can assist you in verifying which URLs are being crawled, recognize referral sources, check page loading time, indexing, bounce rates, and more. You can also apply data science to distinguish pages that you do not want crawlers indexing and pinpoint particular traffic sources, such as potential spam sites.
With the technology, you must tackle everything, from rank tracking to competitive research, on-page SEO, technical SEO, link building, and more. Remaining above these features enables you to see where you are succeeding and failing. This method permits you to address difficulties and continuously enhance your web presence.
In Conclusion, these are the basics that will help you drive more traffic to your website. But being non-technical, it must be difficult for you to work on these. Contact DotCreative, the best SEO company in Kolkata, to get all the services under a customized package with the assured hike in Google rankings. Call us on 7980358244 or email us at [email protected].