Why Is Digital Marketing The Future Of Marketing?
---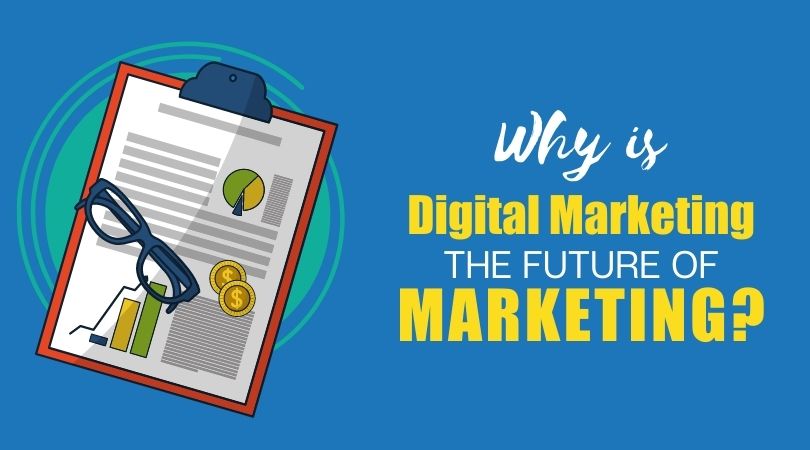 With millions of internet users, the marketing trend has shifted from traditional marketing to online marketing for a better customer experience. If you opt for online business in the competitive world, you need to have a robust digital marketing strategy to survive here. You need to have a proper blend of web design, social media marketing, search engine optimization (SEO) to create brand awareness and sell your products or services online.
To learn about any digital marketing topic, you can go through the best online learning platform FutureLearn and have detailed access to every digital marketing service we offer.
Tons of digital marketing websites promise to provide the best user experience through email marketing or affiliate marketing. But you should not come in their words; you must decide for your business what strategy can lead you to success.
DotCreative, the best digital marketing agency, is here just to inform you why you must start digital marketing to continue growing your business. You must have a firm grip on offline business, but you must be lagging behind in getting a large section of potential customers who might be searching you online.
Let us take an instance when you want to purchase any goods or service; What is the first thing you do? Most probably, you must search it online before exploring the offline market. It is what most of us do to research for the best quality products or services.
Now let us assume that you must have understood the importance of digital marketing in the coming future. Before we proceed further, we want you to read "What are the digital marketing trends for 2021". After reading this blog, you will be sure about the trends you need to pay heed to seize your online market.
A cluster of servers combinedly makes it an entire package of Digital marketing. We suggest you apprehend every particular service to grow your business globally, but if you are low on budget and you want to be on the top of your competitors, here are some combined packages that you must opt for.
Web design and SEO: If you are new to online business, you must initially build a website according to your business niche. The website must be SEO friendly and SEO optimized, making your brand visible on search engine result pages SERPs.

It is a one-time investment, where you necessitate to hire a professional SEO writer who can frame SEO optimized content and a website designer and developer who will look after the design of the website. While building the website, the main things that must be kept in mind are technical SEO and mobile-friendliness.

Most of the users search using mobile devices, so you must have a mobile and browser-compatible site. It is the first stage to start your online business with Digital marketing.
SEO and PPC: Everyone knows, business is not a short-term deal, that we start today and end it whenever required. It is a long-term process, and you need to improve and update your website continuously. You must search for the keywords that drive more traffic and accordingly maintain your website for higher ranking on search engines. You should also run paid campaigns on Google, the most used search engine, to make your website visible on Google. It is called Google Ads, where you need to pay a certain amount to Google for every click. Using Google Ads increases your brand reputation and trust among the visitors.
Social Media Marketing, SEO, and PPC: For better results, you can combine SEO and PPC with social media marketing. Here along with maintaining your site and lead generation, you can frequently interact with your potential customers on social media and widen your network slowly and steadily.
You should regularly post on social media networks such as Facebook, Instagram, Twitter, LinkedIn, and YouTube to engage and inform your customers about the latest terms and conditions of your business. You can also update about the offers and discounts or any other important information.
Bulk SMS Marketing and Email Marketing: When your aim is to reach thousands of persons at a time, you can go for bulk marketing or email marketing. The mentioned marketing strategy excellently works when you offer bumper discounts on the products or services you offer.
We recommend you try this method for better lead generation; you can also ask your visitors to subscribe to newsletters to get regular updates about your business and the articles your post.
Social Media Marketing and SEO: According to us, when you have a website are you have a firm grip on the online market, you should use this combination for the best results. Here you continuously interact with your audience on social media and keep them updated and engaged with your brand. Also, you maintain and update your site as per SEO guidelines and sustain your ranks in the top position.
So when you want your business to get profit in the long term, you can cut PPC in the later stages and continue managing your website as per SEO and frequently post and update on social media. Following this method, there is minimal chance for you to lose any of your potential customers. It will lead you to a better user experience, which in turn converts to sales and ultimately help you grow your business.
After going through this blog of ours, you, yourself, can decide the combination you need to implement to boost your marketing strategy.
In conclusion, we want to say, you must have heard of the proverb; ' the more, the better,' same is the case here. The more services you take, the more results you get in less duration. But we do not recommend taking all the digital marketing services. You should just take the ones that can genuinely benefit your business.
For example: If you are the owner of a shoe store, you can opt for affiliate marketing instead of email marketing, but in case if you are a teacher, you should go for email marketing. It is one such instance where we distinguish on th basis of business niche and variety.
You should feel free to contact us for further more queries, either email us at [email protected] or call us on 7980358244. We will get back to you as soon as possible, and you can also follow us on our social media handle to get regular updates about all the digital marketing services.