Why Is Content Writing Important For Business?
---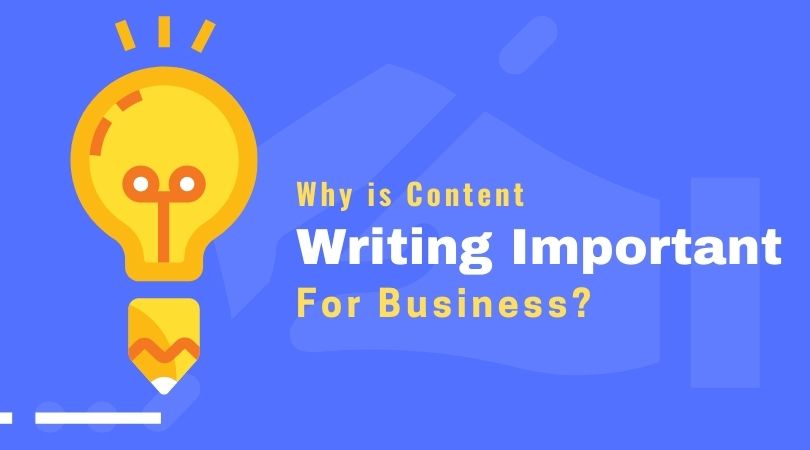 When we hear the term Content writing, we take it very casually. It is not only about showcasing your writing skills or creating grammatically correct content but a lot more. You need to engage your audience, focus on SEO, check for plagiarism.
Content precisely is all the updates that provide information related to your marketing services. In the field of Digital Marketing, Content is the king, and thus you need to have a good content writer who can create a strong content strategy and understand the importance of content writing.
When we talk about content writing, we avoid the picture and video content and focus on writing content such as product descriptions, press releases, blog posts, SEO content, and more to target potential customers.
In this blog, we will highlight some of the important points for why content writing services are important. But before we move on that let us describe how to create high-quality content.
Content writing is not an easy task but instead is a trial and error process. You need to constantly work on creating great content, engage customers, deliver your brand message, and target new customers.
If you need professional assistance, you can visit DotCreative and get fresh content on all types of business niches.
Below we have listed some of the ways we have pointed to describe the importance of content writing:
Build Brand Awareness: When you have a great content marketing strategy, you have a sound grip on the marketing techniques, and you build brand awareness among your potential customers. All you need is to push information about the products or services you are selling. Whenever they get the necessary information, you become their first choice. You can convey your message through various social media channels, newsletters, websites, and blog posts.
Improves SEO: Creating content helps you improve your Search engine optimization strategy. You can use keywords in your content to improve your website ranking and visibility. Written content is always the best option to enhance your rankings. When you post a youtube video, it ranks better when the description is added to it with the required keywords. So to improve your SEO, you need to use more written content with keywords.
Get links from other websites: A great content writing strategy will help you get links from other websites. Suppose the content you wrote is engaging your potential customers. In that case, there are high chances to get links from other reputed websites that will boost your backlink strategy to help your website to rank better ultimately.
Builds audience retention: Being a business owner, you must want to increase your audience retention. Content strategy can help you boost this plan. When you frequently engage with your audience, there are chances that you will have more customer trust than your competitors. It helps you retain your audience and convert them into your customers.
Higher conversion rates: when you create great content, there are chances that you will have higher conversion rates because of the trust your website has because of the reputed content you have posted. It helps you generate leads from the strong SEO strategy and get leads who are interested in the products or services you offer.
In the end, we can conclude that for improving your online business strategy, you need to have a firm grip on content writing services. DotCreative is the best content writing company in Kolkata, which knows the best to deliver unique and engaging content.
You will get many freelance writers, but you should not trust them; instead, opt for a recognized company to get content writing services. You can visit our website DotCreative, call us on 7980358244 or email us at [email protected].