10 Tips To Improve The Facebook Marketing Strategy
---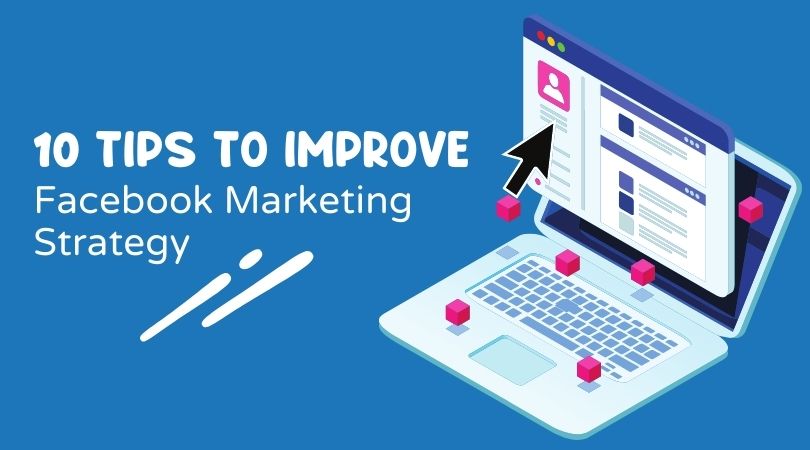 With the wide use of mobiles and tablets, Facebook builds its influence in the online world. It is not only used to connect with friends on social media but also for Facebook advertising. Be it a small firm or a big corporation, taking Facebook marketing services to a target audience is quite prevalent.
Ignoring facebook services is like ignoring television advertisements in the early 2000s. You cannot avoid the advantages of Facebook marketing because it can improve your brand recognition among Facebook users. It is the type of content that improves user engagements. While posting on Facebook, you need to focus on high-quality content.
The thought that might befall your inclination immediately is How Facebook can be used for marketing?; when it is an entertainment platform.
DotCreative, the top Facebook marketing company in Kolkata, is back to bestow some valuable tips for Facebook marketing that helps grow your business. While following the mentioned tips, you are sure to succeed. Facebook marketing is a good idea only when you know how to share your content on this social media network.
Here are the ten key points that you must follow to enhance your marketing strategy on Facebook. You must know Facebook advertising is different from other marketing techniques, so you need to focus on growing your business on Facebook with the means that promote your online presence.
Do not use Facebook to increase sales: Facebook is not a platform where users visit to engage in the purchase of goods or services. They instead visit here to spend their leisure time and relax. You need to understand that Facebook is an entertainment platform and not a marketing platform.

Focus on posting anything about your business that attracts and engages audiences. You should not engage yourself in hard-sell tactics; instead, try and become a part of the community discussions.

If you continuously think about selling, you will not reach anywhere; instead, it will affect you adversely. You should here concentrate on engaging with your potential customers.
Create a separate identity for your business: You should not post about your business from your personal Facebook account. You should have a separate Facebook business page where you share the stuff related to your business.

When you and your business have a separate legal identity, so must have a separate identity here as well.

Also, when you post on a personal account, you cannot promote posts. In this way, your post will only reach your friend circle, and you cannot expand your business. When you have a business page, you can promote your posts and, in turn, grow your followers and business.
Set facebook goals: Before you start marketing on Facebook, you should set your goals on Facebook. You should know what you are aiming at before starting marketing your goods and services.

According to a survey, 34% of users promote their business on Facebook to create brand awareness. 21% of users want community engagement, and 11% are here to boost their sales and lead generation.

If you have not set your Facebook goal, it is high time you should set your goals. Analyze your competitors' goals and decide that benefits your business.
Understand your audience: Facebook Marketing is not about posting on Facebook; you should know who your target audience is. For instance- You have a ladies' clothing business in Surat, you should target ladies of age group 20-50 years in Surat. Following this process, you get a genuinely interested audience for your business, who can soon become your customers. You can distinguish your customers based on age, gender, demographics, and fields of interest. You should focus on what your targeted customers are interested in. Whether they are interested in blog posts or visual content, you need to determine their choice and accordingly start your Facebook Promotions.
Post regularly: Suppose you just post content one day and are absent for the rest one month; do you think it benefits your business.

No, it will not profit your business but instead affect it adversely. You need to keep in touch with your audience regularly. When you are regularly visible, you become their first option whenever they need your business's products and services.

When you post regularly, you gain more trust from users and want to do business with you. You should also add a call to action button on your page and posts so that the audience can contact you hassle-free whenever required.
Use photos and videos: Generally, the first thing that captures our attention is the visual content. You need to use attractive pictures and videos that gain the users' attention. The profile picture and cover photo should be beautiful because it is the first thing that captures attention. You should make your page attractive and engaging with lots of photos and videos on your business page. You can also share live videos of some special events in your office. It creates trust among the users to get more chances of lead generation.
Schedule facebook content: Content creation and curation are the most important factors of a social media marketing strategy. You have both free and paid tools to schedule posts on Facebook. Scheduling a post on Facebook helps you to post on a regular interval and in a proper manner. When you schedule a post, you can arrange videos, photos, or drafted updates formally. For instance- You can post an image today, a video tomorrow, and the written content the day after and repeat the same procedure. It depends on you that how you can arrange your posts.
Share great content: When you intend to build the right Facebook audience, you should provide them the great content. You need to maintain a steady content creation because you want your audience to visit your page repeatedly. There is only one approach to compose high-grade content; imagine, explore, frame, and organize. You will have to continuously search for unique ideas and topics that can raise your brand reputation.
Interact frequently with audience: When you are into Facebook marketing, you need to communicate with your audience continually. It is you who can reciprocate the missions and visions of your business. You need to answer all your potential customers' queries and create a trust bond and maintain a healthy relationship with your audience.
Promote your Facebook page You should also promote your Facebook page to get more page followers, who can become your customers. When you have more followers, your job becomes a bit comfortable as you can use Facebook insights to find out when your fans are online. Using Facebook insights, you can post when your maximum fans are online, and it will increase your organic reach among your audience. Here are specific tips to optimize Facebook ad campaigns and get more reach and click-through rates on your posts.
There are the primary tips that can compete with your competitors taking marketing services from Facebook advertising agencies. You can carry on Facebook marketing, but you should know how to spend less time on social media without killing its results? It is a time-consuming process, and you cannot afford to leave the rest of your work on hold.
If you are not sure how to do Facebook marketing personally, you can contact us at 7980358244 or email us at [email protected].