Why Is Good Web Design Important?
---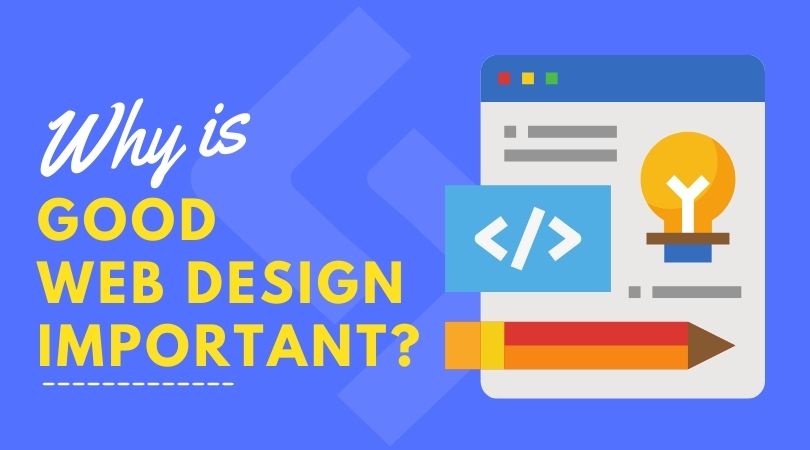 By now, each one of us knows the importance of web design. After all, it is a website that can make or break your online presence. You cannot afford to lose a large range of targeted audiences to your competitors.
But it becomes quite complicated for small business owners to get a quality web design with the resources available. They are low on budget and cannot afford to get a web design that can match up to their competitors.
Leave your worries, we don't promise to build a website at no charge, but we design a high-quality website with necessary features in a cost-effective way as well.
Now let's come to what are the benefits of web design. Below are some of the important benefits that you get from a good web design:
Makes Navigation Easy: The website must have easy navigation to create a great impact on your audience. If your website fails to provide easy navigation to different parts of your website, your user will leave your website and move to your competitors. Besides developing a website, one must continuously update and monitor the website to check for any error and rectify it for a better user experience.
Sets the First Impression: Whenever a user visits a website, the first thing that he notices is the look and feel of the website. If he is tempted to look, he will read your content and move to different parts of the website. You should carefully choose the color combinations and fonts to attract the users' attention. If you fail to do so, you will lose your audience to your competitors, who might never return to your website.
Boosts Your SEO Strategy: When you have a website designed in accordance with your user experience, you will indirectly boost your SEO strategy. In the end, Google loves the effort you make for your audience. If you have proper navigation, faster load speed, call-to-action-buttons, and mobile responsiveness, Google will give you an extra mark to improve your Google rank. Your main aim is to reach your targeted audience, so aim to provide them with the best user experience and get an extra reward from Google and boost your SEO strategy.
Increase The Sales: When your audience will love your website and the content, they might want to purchase the products or services. After all, the user has moved to your web page for a reason. Try to build trust among your user to increase your sales. When you have built trust among your audience, and your website looks absolutely fabulous, no one can stop you from growing your online business and ultimately sales.
Improve User Engagement: Before moving on to expecting sales return, you need to check the user engagement rate of your website. If the user is spending quite some time on your page, you can expect a sales return. But if not, you need to buckle up your shoes and find out the probable cause of the low bounce rate. If all the other factors are up to the mark, it is the content that fails to impress the audience, so you need to focus more on the content in such cases.
Creates Consistency: The style guide of your website should be consistent. It is you who choose the color, format, typography, and more, and thus it needs to be the same on all the web pages of your website. Having a consistent style guide will build trust among your audience. You just cannot ignore the fact that you need to create brand awareness among your audience. It is the best way to do so, as you will get a sense of stability from the particular format, font, color, and look.
Call to Action Buttons: A good website will have a properly built and linked call to action button in the website. The user might use these call-to-action buttons to contact you. If the person fails to contact you to clear any queries, he will simply leave your website and move to some other website like yours. Thus it is highly recommended to have a functional call to action button integrated into your website for a better user experience.
Fast Load Speed: The loading speed of your website must be low. It means as soon as the user clicks the link, it should open without any delay. No user will wait for long for your website to open and move to some other website ithout any further delay. All of us know that time is precious, and no one will bother to waste that time waiting for a website to load. Thus you need to have a faster loading website that attracts more users to your website.
After reading the full blog, you must have now got an understanding of the entire topic. But for those who want a short description we want to conclude it as follows:
Web design is highly essential in today's modern world.
Having a website with proper navigation is a must.
Create a strong first impression among your audience.
It aids in an SEO strategy to improve your search engine rankings.
A good website will drive traffic and increase your sales.
It grows the user engagement that will ultimately benefit your business to grow.
A website designer will make a consistent website to create brand awareness.
Properly integrated call to action button in a website to clear your audience query.
Your website must be faster loading as it will decide the user will stay or leave.
I hope this blog was useful to you. For any further queries related to web design, you can contact DotCreative, the best web design company in Kolkata. You can call us on 7980358244 or email us at [email protected].