Why Do You Need To Do SEO? | Seo Company In Kolkata
---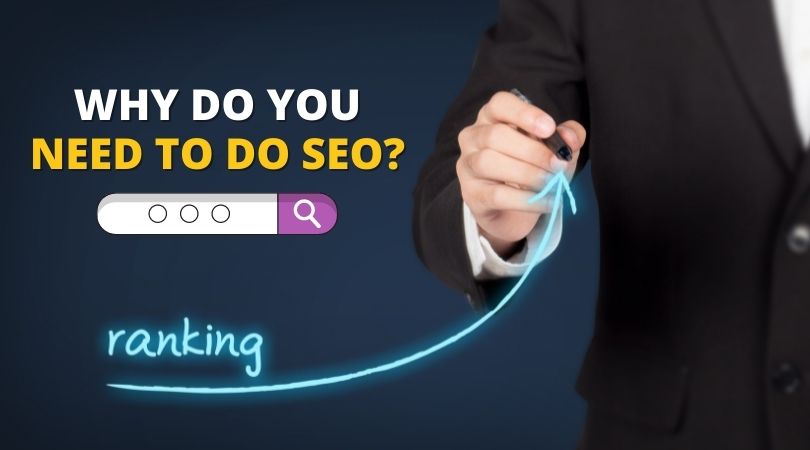 Nowadays, people use Google or other search engines to locate everything they want. That also means they are searching for the same things that your company sells. In this case, SEO(Search Engine Optimization) is helpful to attract those people to your website. I think you have already heard the word SEO which is a vital strategy of digital marketing. The SEO services of the best SEO company in Kolkata increase the visibility of the websites that means the massive portion of organic traffic for successful websites and more opportunity to convert prospects into customers. As organic traffic outnumbers other traffics today, SEO becomes more crucial for search engines like Google. Also, SEO is a powerful tool for brand awareness and establishing oneself as a trustworthy and authoritative expert in their respective field.
Therefore, we want you to know what SEO is and the importance of SEO.
What is SEO?
The full form of SEO is Search Engine Optimization. SEO increases the visibility of web pages in search engines such as Google. Individuals find their things by using search engines. The higher the visibility of your pages in search engine results, the more it will attract new and existing clients to your website.
When you search for something on Google, you see some paid advertisements at the top of the result page. It is called paid search. SEO generates organic search traffic, which is different from paid search traffic. SEO agency in Kolkata can also develop quality content, optimize content for certain keywords, and create backlinks and increase organic search traffic.
Why do you need to do SEO?
Website traffic: The primary aim of SEO is to increase your site's rating on search engine result pages. High ranking attracts more traffics to your website, and that traffic turns into more customers. You can improve your website's traffic by increasing your brand's ranking and visibility. SEO services in Kolkata increase organic search, which is a significant component of the companies to drive traffic to their websites. As we know, Google is the most visited search engine in the world. There are also various search engines in the search market except for Google like Bing, Yahoo, Yandex, etc. They also help in brand awareness. But the thing is, we always have to follow the rules of Google because Google controls a large portion of the global search market. However, the other engines are also significant to brands. Brands can rank at the top of these search engines with a high-quality website and strong SEO.
Better client experience: The goal of Google is to provide users with the information they need in fewer clicks, swiftly and conveniently. Google leads people to websites that consist of relevant content and ensures that the users can get a good experience. The website's performance and good user experience play a significant role increase visibility and ranking on search engines. SEO generates high-quality content and optimizes that content which increases the usability of your site. Thus, it creates a better client experience. Today everybody uses mobiles and computers for searching. So, to get more visitors to your site, make it responsive. Responsive websites are user-friendly for mobile users as well as computer users. Also, if your website takes a lot of time to load, it will lower your conversions and higher the bounce rate. Most visitors anticipate a website to load in less than two seconds. So, take measures to increase your website's loading speed. You can hire the best SEO expert in Kolkata to optimize your site for a better user experience. Quality SEO integrates a good user experience that can impact your sales.
Credibility and trust: The Internet has been substantially altered the sales process of any organization. Because customers can get the desired content that can help them in learning about the products and services, you can also be a part of this learning process if your website is SEO optimized. The reason behind this is the combined effort of content marketing and SEO strategies of the SEO company in Kolkata. When you generate useful, informative material, you have the opportunity to establish trust and credibility with potential customers early in the research process. Other factors bring credibility and trust over time, such as good user experience, machine learning signals, natural links, etc. Another thing is trust and credibility can't be created immediately. They are developed over time. Establishing a brand authority requires time, effort, and commitment, and it is dependent on providing a valuable, high-quality product or service that allows customers to trust a brand.
Ranking and visibility: SEO agency in Kolkata allows you to gain more visibility and rank higher in search engine result pages. Increasing brand visibility means customers will easily find your website on the search engine result page when they search for the products or services you offer. More customers will see you and visit your website with increasing rank in search engines. Higher ranking and visibility are also proportional to successful SEO efforts.
SEO is cost-effective: It requires money to do SEO but, it also does various things for your business. SEO is the least expensive digital marketing. This is because you are engaging the customers who have already taken the action of coming to Google and searching for a product or service you are selling. When you get traffic from these types of search phrases, the customers are already interested in what you offer. You have to persuade them that you are the ideal place for them. Once you begin ranking well, you will profit from the incoming traffics that the particular search term generates each month. It ensures that your flow of potential customers continues. When you pay for SEO services in Kolkata, it is not a marketing expense. It is called a long-term investment for your firm.
SEO will continue to exist indefinitely: SEO will always exist as consumers will continue to buy products or services online, and companies will always find ways to increase their sales. Though the functionalities and techniques of SEO change, new opportunities enter in the forms of applications, Internet of Things, voice, etc. It is expected that machine learning and deep neural networks will drive the market value of new generation search engines to skyrocket in the future.
SEO is measurable: Yes, you can measure SEO with adequate tracking and analytics. It is one of the significant advantages of SEO. Unlike traditional tactics, which frequently rely on searching for correlations between sales and marketing campaigns, it is simple to measure the return on investment of SEO. You can track your conversions, referral sources, and traffics with the help of Google analytics. In this way, you can also comprehend how specific acts are meant to affect performance and progress. Be confident when investing in SEO services in Kolkata because it has a huge impact on your business goals.
SEO can aid in the development of your brand: Branding is frequently thought of as a traditional marketing technique, while SEO is firmly in the digital realm, the two entail similar stages. Your customer will not search your brand name unless it is a well-known brand. Branding depends on two things- what you offer and what others say about it. Customers will notice your brand when they search for some product or services in the search engine that your brand offers, and then your brand name will appear at the top of the search engine result pages. It takes a lot of time to increase your brand awareness. When your audiences find their relevant and informative content on your site, they get a better user experience. So, you must generate content that is relevant to the needs of your audience and then identify ways to get links to that content from other websites. SEO helps create content relevant to your audience's interests, promote brand awareness, and give a better user experience. It will also be beneficial for your target audience if your site is mobile-friendly and the loading time of your site is less than 2 seconds. Thus, if you spend on SEO, the customer will give a good review about your brand.
SEO increases offline sales: Nowadays, customers use Google to search for local businesses, examine inventory online and compare reviews. In recent years, Google has observed a 16% increase in searches conducted in a store. If your site does not appear in the user's search process, you are not considered for that particular transaction.
Growth: SEO is a critical aspect of the growth of your company. As we already know, if your company ranks higher in search engine result pages, more traffic will be directed to your website. SEO also can help you improve the customer experience, give you a competitive advantage, develop better relationships with your audience, boost your authority, and increase conversions. SEO optimized website is more likely to earn sales and get loyal customers. Thus, your company grows more. After finding your website via a search engine, people are more inclined to share your brand on other social networks.
Best SEO techniques
Keyword research: Keyword research is the most vital technique of SEO. Keywords are specific words that customers use to search online to get results. Choose the right keywords that your target audience is searching for and which are necessary for ranking in search results. Identifying the search keywords used by the customers in Google and other search engines guides what new content can be developed and what existing material may be optimized.
On-page SEO: Upgrading the structure of the webpage can have enormous benefits for SEO. You have to tell the search engines what the content is about in many ways by optimizing your web pages. On-page SEO involves optimizing the page's URL to contain keywords, dealing with the structure of your website, altering the page's title tag to include relevant search phrases, dealing with internal links, describing images using the alt attribute, and other tactics to assist search engines in assessing the content of your website. On-page SEO also includes updating meta tags of the page, which doesn't help to higher the rank on search engines but enhance click-through rates from the search engine result page. These changes apply to the content of the website to make it search engine friendly.
Off-page SEO: Off-page SEO tactics entail efforts performed on websites to raise your ranking. Backlinks are one of the most vital components of off-page SEO and ranking criteria in all search engines, including Google. Backlinks refer to the process of having other high-traffic websites link directed to your site. It can also include reaching out to other websites and developing connections, obtaining press to draw links from other websites, promoting good content, and submitting the website to relevant web directories. Backlinks are marks of trust to search engines and can have a significant impact on your ranking position. Make sure the links are coming from well-known and reliable sites; otherwise, your ranking will decrease. If you try to deceive search engines into recognizing improper connections, you will be penalized or backlisted from search results.
Local SEO: Local SEO is becoming increasingly crucial for people searching using their mobiles. If your business serves only in a particular area, your business will not rank in other cities. Search engines use the user's location to generate suggestions within a radius. It allows them to make a decision rather than sorting through businesses that are not nearby at the time. If you operated a restaurant, local SEO would ensure that when people in your area conduct a Google search for the restaurants in town, they find your site at the top of the search results. So, if your business does not appear in the search engine result pages when it should, people will go elsewhere. Use local keywords, claim directory listings, create location-specific pages for your site, and build pages for your businesses on platforms like Google My Business, Google+, and Google Maps to increase local SEO.
Conclusion
The role of SEO has grown dramatically in recent years. It includes many tactics, best practices, and approaches. SEO assists consumers when they are in need. New technologies arise due to change in the user's behaviour. Google also develops new algorithms. Quality SEO will increase website traffic, brand awareness, conversions of your business. That's why SEO is critical for digital marketing. If you want to reap the benefits of SEO for your business, use the professional SEO services of DotCreative. They guarantee you that they will optimize your site to the best of their ability. Contact DotCreative today.