7 Ways To Write Quality Content Your Audience Will Love
---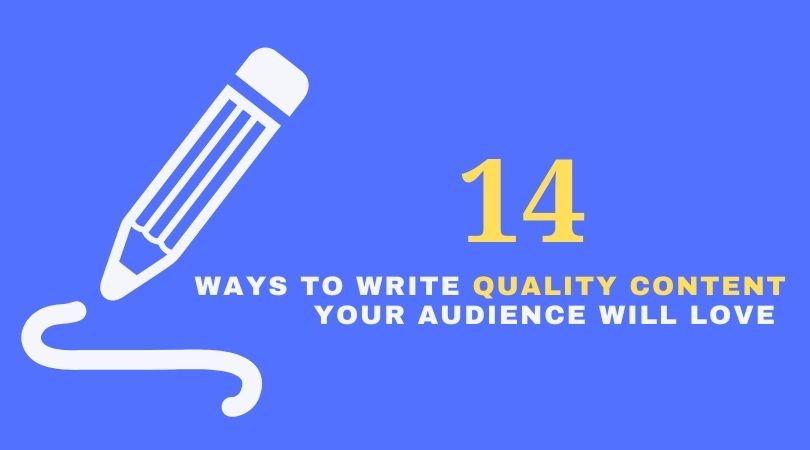 Content writing has become the nerves of an online business. Creating content is essential but what matters the most is quality content.
With the trend of online business, individuals, businesses, and brands are writing a highly tremendous amount of content every single minute. It leads to most of the content goes missing even without creating a mark for itself. So you must focus on creating high-quality content that engages and impresses the audience.
But before the audience, content needs to be recognized by the search engines and display in the search results. Does that really happen with your content? You are writing quality but with no results. It is not true; the definition of your quality content is wrong.
Many so-called content writers have created a fantasy on the importance of attributes rather than statistics. They focus more on traits like:
Length
Visual appeal
Spelling and grammar
Formatting
Readability
Expertise, authoritativeness, and trustworthiness
Overall "value."
These are important in their own way, but you also need to focus on the quality. Creating a piece of content is like adding a bucket of water in an ocean which gets no recognition.
What actually defines quality content? The answer is the four primary points that distinguish your content from the rest.
Quality content achieves marketing objectives: When you write good content, you will achieve your marketing objectives. Content quality is not based on the inputs you give but on the outputs you achieve. Ultimately it is the lead generation, traffic engagement, and conversions that describe the quality of the content.
Quality content ranks well on Google: Google adopts machine learning as part of its RankBrain algorithm, used on every search. So you need to frame content that is understandable by the machine as well. Machine learning provides high engagement that is what you need the most when you are into content marketing.
Quality content has remarkable CTR: If your ad has a high, Quality Score, you need to pay less, and your ad will appear more prominently; if your ad has a low, Quality Score, you pay more, but your ad impression is much lower. Hence the content that maintains quality has a higher click-through-rate as compared to others.
Gets lots of social media engagement: When we talk about social media engagement, it means the post where people clicked on, shared, and commented. Basically, in general terms, the content that goes viral has a higher engagement rate. But fake content is not of high quality but something original that gains attention.

After learning the true definition of quality content, it is now time to get into how to write high-quality content?

Quality content depends on these seven things. When you follow these, you will surely draft content that your audience will love and engage in, be it social media content or blog posts.

Conduct thorough research on a given topic: When you need to think of a topic, you need to analyze the details that need to be put in correctly. You just cannot begin writing on the topic before the research. The more you research, the more chance you have to gather the latest facts and figures to use in your content. The content that describes well engages the audience well, so the first step for writing quality content is the research.
Write in your own unique way: Everybody in this world has their own set of chronobiology, which needs to be followed. Chronobiology is a different natural rhythm that every individual has for a creative life. So you need to find out the unique way which no other has. In this way, you will create your own unique way to communicate with your targeted audience and mark an impression of yourself on them.
Follow all the SEO metrics: When you write content, it is also for the search engines, so you need to follow all the SEO metrics while framing the content. You need to focus on the character length of the meta title, meta descriptions, H1, alt tags, etc. When you follow the SEO metrics, it increases your content's chance to rank on google for the given keyword when searched for.
Monitor your competitors: Before you start writing, you need to check what your competitors are writing to capture the audience's attention. Do not copy what they are writing; just take some suggestions and frame better content with your chronobiology. It will help you get the content ideas that will help you research the topic as well.
Review the final draft before publishing: After creating a final draft, review the complete copy before final publish. Check for grammatical errors, spelling mistakes, and voice tone. You can also check and correct any sentence if you think it is required. Writing content takes time, but editing is a more complex process that needs to be carefully done.
Try and involve blog posts in your writing: Blog posts help you elaborately describe some of the things which might be beneficial for you, as here you can expressively use the desired keywords. You can also use the SEO metrics in a better way when you write blog posts. But while framing a blog post, you need to focus that the content you write must be unplagiarized as plagiarized content won't get any recognition from search engines.
Measure your content performance: When you create and publish what "you think" is high-quality content, you cannot tell it really is! Until you look at the engagements after publication. Some of the content performance measuring statistics are:

Ranking on Google.
Increasing customer engagement.
Improving brand awareness.
Increasing conversions.
Yeah! We know getting through all these points for a non-professional is not easy. You need to hire the best content writing company to provide you with the best content writing services.
After all, you need a professional content writer who can increase your content's visibility alongside fulfilling all the SEO metrics. We have a talented team of content writers in Kolkata who knows to do their work best. Simultaneously we have top SEO professionals in Kolkata who will obviously look after all the SEO metrics that need to be followed while framing content.
For any further queries, you can contact us at +91 7980358244 or email us at [email protected].