Google Search Console And How It Affects SEO Of The Website?
---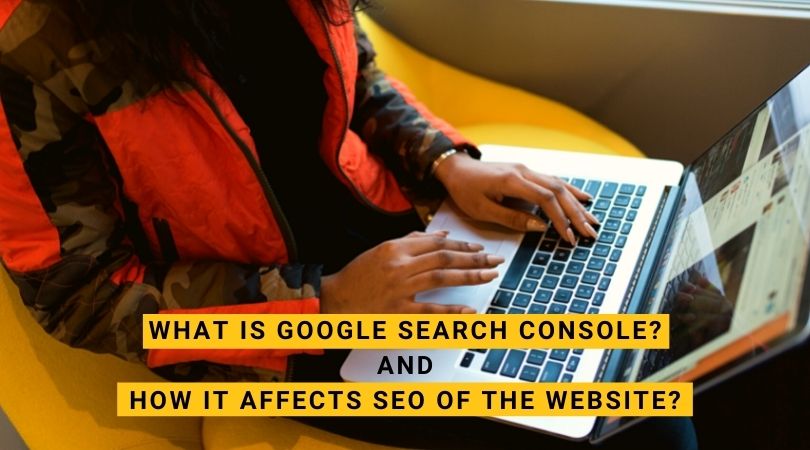 Google Search Console is a web service of Google that allows webmasters to review indexing status and optimize the visibility of the websites.
Until May 20, 2015, this service was called Google Webmaster Tools. However, in January 2018, Google launched a newer version of the search console, changing the user interface. In September of 2019, old Search Console records were eliminated, including the home and dashboard pages. But what is it, exactly?
It's a communication channel: Search Console accounts are the primary and official way through which Google interacts with individual website owners. Google can send webmasters information about site issues, errors, or even penalties by having a registered account. It also gives some limited tools to allow you to contact them about site problems and feature demands.
It's a control center: If you continually optimize your website, you realize that SEO is never concluded. You need to be constantly updating your content, polishing your site settings, and decreasing your errors.

Search Console provides tools that help with this day-to-day management. It permits you to do things like submitting and observing your XML sitemaps, asking Google to evaluate your errors, or recognizing how Google sees particular web pages and URLs on your website.

It's a performance dashboard: Your Google Search Console account is full of helpful information about your website displaying and working in search results. From mobile usability reports to visibility and click-through tracking, and many more.

If you're serious about controlling and optimizing your website, your Google Search Console profile is your main center for recognition when, where, and how your site is appearing in Google.

It's a data source: Most of the information in Google Search Console can be cited and integrated into other systems, like Google Analytics and Yoast SEO!
That means, if you're operating a Yoast SEO plugin, you can use some of your Google Search Console details directly into your website. As a result, it can make it much simpler to handle your errors, analysis, and redirects!
How to set up a Google Search Console profile?
To get started, move over to the Google Search Console landing page and click "Start now." After that, you will need to sign in to the Google account that you'd link with your website's Search Console account. If this is the initial time you are using Search Console, you'll be asked what business type you'd like to build: a domain property or a URL prefix property.
Insert the URL of your website, then click continue. Next, you'll be asked to confirm that you own the website in one of four ways:
If you have access to the source of your website, you can upload an HTML file.
If you control your hosting yourself, you can verify via your hosting provider.
If you use Google Tag Manager, you can confirm via Google Tags.
Or, by far the fastest and simplest method, prove ownership via your Google Analytics Tracking ID.
Features of Google Search Console
The service tools enable webmasters to:
Check and submit a sitemap.
Review the crawl rate, and observe statistics when Googlebot accesses a particular site.
Write and review a robots.txt file to help find pages that are barred in robots.txt unexpectedly.
Arrange internal and external pages that link to the website.
Get a list of links that Googlebot had difficulty crawling, including the error that Googlebot received when accessing the URLs in question.
View what keyword searches on Google directed to the website being indexed in the SERPs, total clicks, total impressions, and the average click-through rates of such listings. (Previously named 'Search Queries'; rebranded to 'Search Analytics' on May 20, 2015, with extensive filter opportunities for devices, search types, and date periods).
Set a preferred domain that defines how the site URL is presented in SERPs.
Highlight to Google Search components of structured data, which are used to enhance search hit listings.
View website speed reports from the Chrome User Experience Report.
Search Console presents knowledge on how Google crawls, indexes, and serves websites. It helps website owners to observe and optimize Search performance.
How Google Search console affects SEO of the website?
SEO helps to increase your website's visibility, and Google Search Console is the tool that helps to check the same and the process that you need to follow further.
Instead of working through each Search Console report in extremely boring detail, we're moving to focus on a few actionable steps to use to improve SEO.
Improve rankings for underperforming keywords: Underperforming keywords are those where you don't yet rank in positions one or two. They're underperforming because most people click one of the first two results, which means that you're missing out on tons of traffic if you rank in lower positions. For example, roughly 1.8% of searchers will click on your result if you rank in the eighth position.
Optimize pages with high keyword rankings but low CTR: Not every page that ranks in the first position will get 30% clicks. That is just an average. Some will work better than average, and some will make worse. So what we can do is discover the pages that do worse than normal, examine why that's the case, then understand if there's a way to expand their CTR to get more traffic.
Fix sitemap issues: If there are problems with the sitemaps you offered to Google, that may cause difficulties and confuse crawlers. It leads to misused time and resources on their end and causes them to record the wrong URLs in some cases.
To monitor for issues with submitted sitemaps, proceed to the "Sitemaps" report, click on the icon beside a sitemap, then click on the "See index coverage" button.
Learn which content types and topics get the most backlinks: Backlinks are an essential ranking factor. Google has shown us this on various occasions, and we also obtained a clear real relationship between organic search traffic and backlinks when we examined 920 million pages. So getting more backlinks to your content should be a preference if you desire more traffic.
Find pages that need more internal links or to be pruned: Assume that you're publishing a new page about handbags. If you previously have a blog post about ladies' handbags and another about handbag trends, then it would make sense to join internal links from those to your new page.
Conclusion:
From the entire blog, you have gained the importance of Google Search Console for a website. We focus on SEO and check the latest console updates to improve the rankings. If you desire to get the SEO of your website, contact DotCreative, the best SEO company in Kolkata. Contact us on 7980358244 or email us at [email protected].