7 Reasons You Should Invest In A New Website Design
---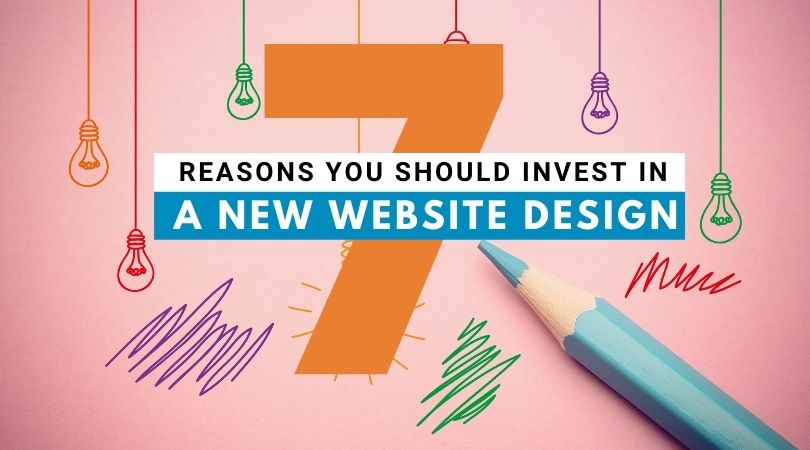 Having a website is irrelevant to the size of your business; your company requires a professional website. With the internet moving at a fast pace, your website is usually the first impression your potential customers have for your business. You and your colleagues have apparently considered fresh new marketing actions and new targets for sales, but have you thought of online business?
If so, you must have a website, but when was the last time you updated it or did you profit from it?
Developing a website and leaving it unused over the years isn't a good business tactic. New marketing and design trends help you gain new customers to influence and keep the old ones each year.
Mobile internet browsing is enormous. Studies reveal that in 2016, 67% of users consume time on the internet utilizing mobile devices. That number is rising every year.
Keeping in mind the statistics, it's absolutely essential to have your website optimized for the majority of users who will visit you from some other device instead of a desktop PC.
Why do you need a great website?
Before we jump in, it's essential to know that we are a website development company in Kolkata that presents many business owners with affordable website solutions. So we produce strategies that will best serve small, medium-sized, and corporate companies.
Having a website is the primary step to producing leads from the web.
People are always hunting for information on the internet, and it is no distinct when it is on business. However, it's somewhat surprising that 36% of companies are still functioning without websites.
You may be questioning how website design can influence your overall business. Here are seven key reasons why you should spend on professional website design.
To showcase your brand: Modern marketing is all about branding. Maybe your business offers better than your competitors; the power of your brand is what brings people to your store. With only offline marketing, your ability to stand out from the crowd will be handcuffed. When potential customers see a cookie-cutter website, they see a cookie-cutter company. An attractive website design with a solid and focused brand makes your company more responsible, professional, and trustworthy. An excellent web designer will operate with you to ensure that all the best aspects of your advertising are displayed on your website to provide your visitors with complete knowledge about your company.
Your Customers Require You to Have a Website: With every passing year, technology and our entities become more entangled. Watches, phones, tablets, laptops, computers are throughout, and your customers are using them to grow more informative than past generations of consumers. According to a report issued by Salesforce and their research associates, the audience of mobile devices accounts for 92% of all e-commerce expansion. These figures clearly demonstrate that you require to have a website that's optimized for mobile users. Do you want to be present where your consumers are? 87% of customers start their purchase procedure with online research. If you don't have a website or your present website is out of date or has working problems, you're going to have a hard time drawing in new business or keeping past customers returning back.
You Own Your Website: Facebook, Instagram, LinkedIn, Twitter, Google My Business are leading digital channels for your company, but don't be misled. You don't have those profiles. At any instant, all the effort you've put into your profile could vanish if something happens to these organizations. You need a balanced plan for how to market your company in the digital world, and while various channels are frequently needed, the only one you entirely own and control is your website.
Stay Ahead of Your Competition: A well-composed, modern website puts you in a better place in your industry, and there's no denying it. Whether you exceed them or not depends on the content you write, but a good web design will keep you at pace with them. Research shows that a massive 88% of users are less inclined to revert to a website after lousy exposure, and possibilities are that they're moving over to your competitor's site instead. With that in mind, an excellent way to make the ball rolling is to glance at your competitor's website and compare it to yours. Put yourself in your customer's place and choose which business would you feel more satisfied shopping from? If you think it's your competitors, then it's time to fix up your web design.
Boost Your Return on Investment: Ultimately, you're in the market to make money. With every business decision you make, you should ask yourself if that decision contributes to your bottom line. Therefore, you should approach your website the same way. Is your site just an online business card, or is it empowering your company? When it comes to web design, a customized design is always going to generate better ROI. That's why it's smart to see your website as an investment instead of an expense. A compelling website will pay off many times over by operating for you to produce new business.
Your business is open 24/7: If you have a physical store location or you work from home, there is only a restricted number of hours a day you can use to contact your potential clients. Having a website enables your customers to contact you after your working hours, place an order for your merchandise or get more knowledge about your business.
Stay Modern: Technology is changing rapidly. The means people use the web constantly change, whether it's the latest phones, switching browsers, or other unexpected contenders are joining the scene. With a custom website design, you can stay on top of that transition to guarantee that your site visitors and potential customers get the most modern browsing encounter.
These are some reasons that prove that your company needs to invest in a new website to capture your potential customers and stay ahead of your competitors.
DotCreative is the best website design company in Kolkata that serves every business to increase your company's ROI and boost your online sales. You can contact us on 7980358244 or email us at [email protected] for any further queries.